Abstract
BACKGROUND/OBJECTIVES:
In this study, we hypothesized that dietary salt intake may be related with inflammation and albuminuria independently from blood pressure (BP) in non-diabetic hypertensive patients.
SUBJECTS/METHODS:
A total of 224 patients with primary hypertension were included in the study. Serum C-reactive protein (CRP) levels, 24-h urine sodium and albumin excretion were measured in all patients. The subjects were divided into tertiles according to the level of 24-h urinary sodium excretion: low-salt-intake group (n=76, mean urine sodium: 111.7±29.1 mmol/24 h), medium-salt-intake group (n=77, mean urine sodium: 166.1±16.3 mmol/24 h) and high-salt-intake group (n=71, mean urine sodium: 263.6±68.3 mmol/24 h).
RESULTS:
Systolic and diastolic BP measurements of patients were similar in the three salt-intake groups. CRP and urinary albumin levels were significantly higher in high-salt-intake group compared with medium- and low-salt-intake groups (P=0.0003 and P=0.001, respectively). CRP was positively correlated with 24-h urinary sodium excretion (r=0.28, P=0.0008) and albuminuria, whereas albuminuria was positively correlated with 24-h urinary sodium excretion (r=0.21, P=0.0002). Multiple regression analysis revealed that urinary sodium excretion was an independent predictor of both CRP and albuminuria.
CONCLUSIONS:
These findings suggest that high salt intake is associated with enhanced inflammation and target organ damage reflected by increased albuminuria in treated hypertensive patients independent of any BP effect.
Relevant articles
Open Access articles citing this article.
Kaname Tagawa

,

Yusuke Tsuru

…

Junichiro Hashimoto

European Journal of Clinical Nutrition Open Access 16 August 2023

Yang Chen

,

Min Wu

…

Long Zhou

Nutrition & Diabetes Open Access 15 September 2022

Michele Celestino

,

Valeria Balmaceda Valdez

…

Carla Mucignat-Caretta

Scientific Reports Open Access 12 January 2021
Access options
Subscribe to this journal
Receive 12 print issues and online access
$259.00 per year
only $21.58 per issue
Rent or buy this article
Prices vary by article type
from$1.95
to$39.95
Prices may be subject to local taxes which are calculated during checkout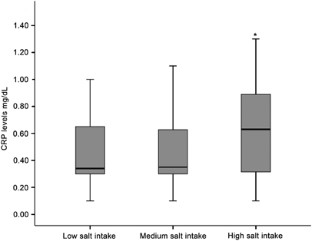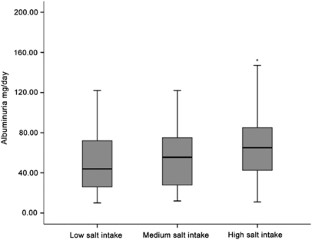 References
Tuomilehto J, Jousilahti P, Rastenyte D, Moltchanov V, Tanskanen A, Pietinen P et al. Urinary sodium excretion and cardiovascular mortality in Finland: a prospective study. Lancet 2001; 357: 848–851.

Ritz E, Dikow R, Morath C, Schwenger V . Salt—a potential 'uremic toxin'? Blood Purif 2006; 24: 63–66.

Messerli FH, Schmieder RE, Weir MR . Salt. A perpetrator of hypertensive target organ disease? Arch Intern Med 1997; 157: 2449–2452.

Verhave JC, Hillege HL, Burgerhof JG, Janssen WM, Gansevoort RT, Navis GJ et al. PREVEND Study Group. Sodium intake affects urinary albumin excretion especially in overweight subjects. J Intern Med 2004; 256: 324–330.

Gerstein HC, Mann JF, Yi Q, Zinman B, Dinneen SF, Hoogwerf B et al. HOPE Study Investigators. Albuminuria and risk of cardiovascular events and heart failure in diabetic and nondiabetic individuals. JAMA 2001; 286: 421–426.

Pedrinelli R, Dell' Omo G, Di Bello V, Pontremolli R, Microalbuminuria Mariani M . an integrated marker of cardiovascular risk in essential hypertension. J Hum Hypertens 2002; 16: 79–89.

du Cailar G, Ribstein J, Mimran A . Dietary sodium and target organ damage in essential hypertension. Am J Hypertens 2002; 15: 222–229.

Matavelli LC, Zhou X, Varagic J, Susic D, Frohlich ED . Salt loading produces severe renal hemodynamic dysfunction independent of arterial pressure in spontaneously hypertensive rats. Am J Physiol Heart Circ Physiol 2007; 292: 814–819.

Mattar AL, Machado FG, Fujihara CK, Malheiros DM, Zatz R . Persistent hypertension and progressive renal injury induced by salt overload after short term nitric oxide inhibition. Clinics 2007; 62: 749–756.

Tian N, Gu JW, Jordan S, Rose RA, Hughson MD, Manning RD . Immune suppression prevents renal damage and dysfunction and reduces arterial pressure in salt-sensitive hypertension. Am J Physiol Heart Circ Physiol 2007; 292: 1018–1025.

Rosón MI, Cavallero S, Della Penna S, Cao G, Gorzalczany S, Pandolfo M et al. Acute sodium overload produces renal tubulointerstitial inflammation in normal rats. Kidney Int 2006; 70: 1439–1446.

Franco M, Martínez F, Rodríguez-Iturbe B, Johnson RJ, Santamaría J, Montoya A et al. Angiotensin II, interstitial inflammation, and the pathogenesis of salt-sensitive hypertension. Am J Physiol Renal Physiol 2006; 291: 1281–1287.

Sanders PW . Effect of salt intake on progression of chronic kidney disease. Curr Opin Nephrol Hypertens 2006; 15: 54–60.

Ridker PM, Hennekens CH, Buring JE, Rifai N . C-reactive protein and other markers of inflammation in the prediction of cardiovascular disease in women. N Engl J Med 2000; 342: 836–843.

Shimizu K, Mitchell RN, Libby P . Inflammation and cellular immune responses in abdominal aortic aneurysms. Arterioscler Thromb Vasc Biol 2006; 26: 987–994.

Sprague AH, Khalil RA . Inflammatory cytokines in vascular dysfunction and vascular disease. Biochem Pharmacol 2009; 78: 539–552.

Chae CU, Lee RT, Rifai N, Ridker PM . Blood pressure and inflammation in apparently healthy men. Hypertension 2001; 38: 399–403.

Lijnen PJ, Petrov VV, Fagard RH . Association between transforming growth factor-beta and hypertension. Am J Hypertens 2003; 16: 604–611.

Ruiz-Ortega M, Ruperez M, Lorenzo O, Esteban V, Blanco J, Mezzano S et al. Angiotensin II regulates the synthesis of proinflammatory cytokines and chemokines in the kidney. Kidney Int 2002; 82: S12–S22.

Franco V, Oparil S . Salt sensitivity, a determinant of blood pressure, cardiovascular disease and survival. J Am Coll Nutr 2006; 25: S247–S255.

Obarzanek E, Proschan MA, Vollmer WM, Moore TJ, Sacks FM, Appel LJ et al. Individual blood pressure responses to changes in salt intake: results from the DASH-sodium trial. Hypertension 2003; 42: 459–467.

Moore TJ, Vollmer WM, Appel LJ, Sacks FM, Svetkey LP, Vogt TM et al. Effect of dietary patterns on ambulatory blood pressure: results from the Dietary Approaches to Stop Hypertension (DASH) Trial. DASH Collaborative Research Group. Hypertension 1999; 34: 472–477.

Weinberger MH . Salt sensitivity of blood pressure in humans. Hypertension 1996; 27: 481–490.

Guyton AC . Dominant role of the kidneys and accessory role of whole-body autoregulation in the pathogenesis of hypertension. Am J Hypertens 1989; 2: 575–585.

Guyton AC, Coleman TG . Quantitative analysis of the pathophysiology of hypertension. Circ Res 1969; 24: S1–S19.

Engström G, Lind P, Hedblad B, Stavenow L, Janzon L, Lindgärde F . Long-term effects of inflammation-sensitive plasma proteins and systolic blood pressure on incidence of stroke. Stroke 2002; 33: 2744–2749.

Parissis JT, Korovesis S, Giazitzoglou E, Kalivas P, Katritsis D . Plasma profiles of peripheral monocyte-related inflammatory markers in patients with arterial hypertension. Correlations with plasma endothelin-1. Int J Cardiol 2002; 83: 13–21.

Miles EA, Rees D, Banerjee T, Cazzola R, Lewis S, Wood R et al. Age-related increases in circulating inflammatory markers in men are independent of BMI, blood pressure and blood lipid concentrations. Atherosclerosis 2008; 196: 298–305.

Visser M, Bouter LM, McQuillan GM, Wener MH, Harris TB . Elevated C-reactive protein levels in overweight and obese adults. JAMA 1999; 282: 2131–2135.

Jones-Burton C, Mishra SI, Fink JC, Brown J, Gossa W, Bakris GL et al. An in-depth review of the evidence linking dietary salt intake and progression of chronic kidney disease. Am J Nephrol 2006; 26: 268–275.

Yu HC, Burrell LM, Black MJ, Wu LL, Dilley RJ, Cooper ME et al. Salt induces myocardial and renal fibrosis in normotensive and hypertensive rats. Circulation 1998; 98: 2621–2628.

Tobian L, Hanlon S . High sodium chloride diets injure arteries and raise mortality without changing blood pressure. Hypertension 1990; 15: 900–903.

Ying WZ, Sanders PW . Dietary salt modulates renal production of transforming growth factor-beta in rats. Am J Physiol 1998; 274: 635–641.

Ying WZ, Aaron K, Sanders PW . Mechanism of dietary salt-mediated increase in intravascular production of TGF-beta1. Am J Physiol Renal Physiol 2008; 295: 406–414.

Pedrinelli R, Dell'Omo G, Di Bello V, Pellegrini G, Pucci L, Del Prato S et al. Low-grade inflammation and microalbuminuria in hypertension. Arterioscler Thromb Vasc Biol 2004; 24: 2414–2419.

Tsioufis C, Dimitriadis K, Antoniadis D, Stefanadis C, Kallikazaros I . Inter-relationships of microalbuminuria with the other surrogates of the atherosclerotic cardiovascular disease in hypertensive subjects. Am J Hypertens 2004; 17: 470–476.

Tsioufis C, Dimitriadis K, Chatzis D, Vasiliadou C, Tousoulis D, Papademetriou V et al. Relation of microalbuminuria to adiponectin and augmented C-reactive protein levels in men with essential hypertension. Am J Cardiol 2005; 96: 946–951.

Tsioufis C, Dimitriadis K, Taxiarchou E, Vasiliadou C, Chartzoulakis G, Tousoulis D et al. Diverse associations of microalbuminuria with C-reactive protein, interleukin-18 and soluble CD 40 ligand in male essential hypertensive subjects. Am J Hypertens 2006; 19: 462–466.

Stuveling EM, Bakker SJ, Hillege HL, Burgerhof JG, de Jong PE, Gans RO et alPREVEND Study Group. C-reactive protein modifies the relationship between blood pressure and microalbuminuria. Hypertension 2004; 43: 791–796.

Tsioufis C, Dimitriadis K, Andrikou E, Thomopoulos C, Tsiachris D, Stefanadi E et al. ADMA, C-reactive protein, and albuminuria in untreated essential hypertension: a cross-sectional study. Am J Kidney Dis 2010; 55: 1050–1959.
Ethics declarations
Competing interests
The authors declare no conflict of interest.
About this article
Cite this article
Yilmaz, R., Akoglu, H., Altun, B. et al. Dietary salt intake is related to inflammation and albuminuria in primary hypertensive patients. Eur J Clin Nutr 66, 1214–1218 (2012). https://doi.org/10.1038/ejcn.2012.110
Received:

Revised:

Accepted:

Published:

Issue Date:

DOI: https://doi.org/10.1038/ejcn.2012.110
Keywords