Abstract
Background:
N-3 fatty acids are associated with favorable, and obesity with unfavorable, concentrations of chronic disease risk biomarkers.
Objective:
We examined whether high eicosapentaenoic (EPA) and docosahexaenoic (DHA) acid intakes, measured as percentages of total red blood cell (RBC) fatty acids, modify associations of obesity with chronic disease risk biomarkers.
Methods:
In a cross-sectional study of 330 Yup'ik Eskimos, generalized additive models (GAM) and linear and quadratic regression models were used to examine associations of BMI with biomarkers across RBC EPA and DHA categories.
Results:
Median (5th–95th percentile) RBC EPA and DHA were 2.6% (0.5–5.9%) and 7.3% (3.3–8.9%), respectively. In regression models, associations of BMI with triglycerides, glucose, insulin, C-reactive protein (CRP) and leptin differed significantly by RBC EPA and DHA. The GAM confirmed regression results for triglycerides and CRP: at low RBC EPA and RBC DHA, the predicted increases in triglycerides and CRP concentrations associated with a BMI increase from 25 to 35 were 99.5±45.3 mg/dl (106%) and 137.8±71.0 mg/dl (156%), respectively, for triglycerides and 1.2±0.7 mg/l (61%) and 0.8±1.0 mg/l (35%), respectively, for CRP. At high RBC EPA and RBC DHA, these predicted increases were 13.9±8.1 mg/dl (23%) and 12.0±12.3 mg/dl (18%), respectively, for triglycerides and 0.5±0.5 mg/l (50%) and −0.5±0.6 mg/l (−34%), respectively, for CRP.
Conclusions:
In this population, high RBC EPA and DHA were associated with attenuated dyslipidemia and low-grade systemic inflammation among overweight and obese persons. This may help inform recommendations for n-3 fatty acid intakes in the reduction of obesity-related disease risk.
Relevant articles
Open Access articles citing this article.
Andrea Heras

,

Rika Gomi

…

Stefan Worgall

Scientific Reports Open Access 17 November 2022

Subash Raj Susai

,

Colm Healy

…

David Cotter

Translational Psychiatry Open Access 28 October 2022

John M Casey

,

William J Banz

…

Jeremy E Davis

Lipids in Health and Disease Open Access 19 October 2013
Access options
Subscribe to this journal
Receive 12 print issues and online access
$259.00 per year
only $21.58 per issue
Rent or buy this article
Get just this article for as long as you need it
$39.95
Prices may be subject to local taxes which are calculated during checkout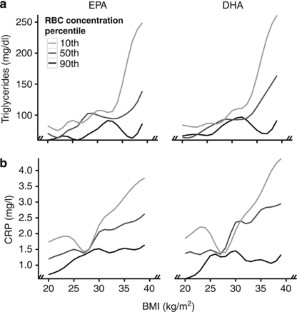 References
Alexander J (1998). Immunonutrition: the role of omega-3 fatty acids. Nutrition 14, 627–633.

Arterburn LM, Hall EB, Oken H (2006). Distribution, interconversion, and dose response of n-3 fatty acids in humans. Am J Clin Nutr 83, 1467S–1476S.

Bersamin A, Luick BR, King IB, Stern JS, Zidenberg-Cherr S (2008). Westernizing diets influence fat intake, red blood cell fatty acid composition, and health in remote alaskan native communities in the center for alaska native health study. J Am Diet Assoc 108, 266–273.

Block RC, Harris WS, Reid KJ, Sands SA, Spertus JA (2008). EPA and DHA in blood cell membranes from acute coronary syndrome patients and controls. Atherosclerosis 197, 821–828.

Bonaa KH, Bjerve KS, Nordoy A (1992). Habitual fish consumption, plasma phospholipid fatty acids, and serum lipids: the Tromso study. Am J Clin Nutr 55, 1126–1134.

Boyer BB, Mohatt GV, Lardon C, Plaetke R, Luick BR, Hutchison SH et al. (2005). Building a community-based participatory research center to investigate obesity and diabetes in Alaska natives. Int J Circumpolar Health 64, 281–290.

Cao J, Schwichtenberg KA, Hanson NQ, Tsai MY (2006). Incorporation and clearance of omega-3 fatty acids in erythrocyte membranes and plasma phospholipids. Clin Chem 52, 2265–2272.

Cowie CC, Rust KF, Ford ES, Eberhardt MS, Byrd-Holt DD, Li C et al. (2009). Full accounting of diabetes and pre-diabetes in the US population in 1988–1994 and 2005–2006. Diabetes Care 32, 287–294.

Damsgaard CT, Frøkier H, Andersen AD, Lauritzen L (2008). Fish oil in combination with high or low intakes of linoleic acid lowers plasma triacylglycerols but does not affect other cardiovascular risk markers in healthy men. J Nutr 138, 1061–1066.

Dewailly E, Blanchet C, Gingras S, Lemieux S, Holub BJ (2002). Cardiovascular disease risk factors and n-3 fatty acid status in the adult population of James Bay Cree. Am J Clin Nutr 76, 85–92.

Dewailly E, Blanchet C, Gingras S, Lemieux S, Sauve L, Bergeron J et al. (2001a). Relations between n-3 fatty acid status and cardiovascular disease risk factors among Quebecers. Am J Clin Nutr 74, 603–611.

Dewailly E, Blanchet C, Lemieux S, Sauve L, Gingras S, Ayotte P et al. (2001b). n-3 Fatty acids and cardiovascular disease risk factors among the Inuit of Nunavik. Am J Clin Nutr 74, 464–473.

Egert S, Kannenberg F, Somoza V, Erbersdobler HF, Wahrburg U (2009). Dietary α-linolenic acid, EPA, and DHA have differential effects on LDL fatty acid composition but similar effects on serum lipid profiles in normolipidemic humans. J Nutr 139, 861–868.

Farzaneh-Far R, Harris WS, Garg S, Na B, Whooley MA (2008). Inverse association of erythrocyte n-3 fatty acid levels with inflammatory biomarkers in patients with stable coronary artery disease: the heart and soul study. Atherosclerosis 205, 538–543.

Fernandez-Real JM, Broch M, Vendrell J, Ricart W (2003). Insulin resistance, inflammation, and serum fatty acid composition. Diabetes Care 26, 1362–1368.

Ferrucci L, Cherubini A, Bandinelli S, Bartali B, Corsi A, Lauretani F et al. (2006). Relationship of plasma polyunsaturated fatty acids to circulating inflammatory markers. J Clin Endocrinol Metab 91, 439–446.

Fritsche K (2006). Fatty acids as modulators of the immune response. Ann Rev Nutr 26, 45–73.

Fujioka S, Hamazaki K, Itomura M, Huan M, Nishizawa H, Sawazaki S et al. (2006). The effects of eicosapentaenoic acid-fortified food on inflammatory markers in healthy subjects--A randomized, placebo-controlled, double-blind study. J Nutr Sci Vitaminol 52, 261–265.

Harris WS (2009). The omega-3 index: from biomarker to risk marker to risk factor. Curr Atheroscler Rep 11, 411–417.

He K, Liu K, Daviglus ML, Mayer-Davis E, Jenny NS, Jiang R et al. (2008). Intakes of long-chain n-3 polyunsaturated fatty acids and fish in relation to measurements of subclinical atherosclerosis. Am J Clin Nutr 88, 1111–1118.

Hornung RW, Reed LD (1990). Estimation of average concentration in the presence of nondetectable values. Appl Occup Environ Hyg 5, 46–51.

Hu G, Jousilahti P, Tuomilehto J, Antikainen R, Sundvall J, Salomaa V (2009). Association of serum C-reactive protein level with sex-specific type 2 diabetes risk: a prospective Finnish study. J Clin Endocrinol Metab 94, 2099–2105.

James PT, Leach R, Kalamara E, Shayeghi M (2001). The worldwide obesity epidemic. Obesity 9, 228S–233S.

Johnson JS, Nobmann ED, Asay E, Lanier AP (2009). Dietary intake of Alaska native people in two regions and implications for health: the Alaska native dietary and subsistence food assessment project. Int J Circumpolar Health 68, 109–122.

Kelley DS, Siegel D, Vemuri M, Mackey BE (2007). Docosahexaenoic acid supplementation improves fasting and postprandial lipid profiles in hypertriglyceridemic men. Am J Clin Nutr 86, 324–333.

Klein-Platat C, Drai J, Oujaa M, Schlienger JL, Simon C (2005). Plasma fatty acid composition is associated with the metabolic syndrome and low-grade inflammation in overweight adolescents. Am J Clin Nutr 82, 1178–1184.

Kris-Etherton PM, Harris WS, Appel LJ (2002). Fish consumption, fish oil, omega-3 fatty acids, and cardiovascular disease. Circulation 106, 2747–2757.

Lamon-Fava S, Wilson PWF, Schaefer EJ (1996). Impact of body mass index on coronary heart disease risk factors in men and women: the framingham offspring study. Arterioscler Thromb Vasc Biol 16, 1509–1515.

Leigh-Firbank EC, Minihane AM, Leake DS, Wright JW, Murphy MC, Griffin BA et al. (2002). Eicosapentaenoic acid and docosahexaenoic acid from fish oils: differential associations with lipid responses. Br J Nutr 87, 435–445.

Lepage G, Roy CC (1986). Direct transesterification of all classes of lipids in a one-step reaction. J Lipid Res 27, 114–120.

Lopez-Garcia E, Schulze MB, Manson JAE, Meigs JB, Albert CM, Rifai N et al. (2004). Consumption of (n-3) fatty acids is related to plasma biomarkers of inflammation and endothelial activation in women. J Nutr 134, 1806–1811.

Madsen T, Christensen JH, Blom M, Schmidt EB (2003). The effect of dietary n-3 fatty acids on serum concentrations of C-reactive protein: a dose–response study. Br J Nutr 89, 517–522.

Makhoul Z, Kristal AR, Gulati R, Luick B, Bersamin A, Boyer B et al. (2010). Associations of very high intakes of eicosapentaenoic and docosahexaenoic acids with biomarkers of chronic disease risk among Yup'ik Eskimos. Am J Clin Nutr 91, 777–785.

Maki KC, Van Elswyk ME, McCarthy D, Hess SP, Veith PE, Bell M et al. (2005). Lipid responses to a dietary docosahexaenoic acid supplement in men and women with below average levels of high density lipoprotein cholesterol. J Am Coll Nutr 24, 189–199.

Matthews DR, Hosker JP, Rudenski AS, Naylor BA, Treacher DF, Turner RC (1985). Homeostasis model assessment: insulin resistance and beta-cell function from fasting plasma glucose and insulin concentrations in man. Diabetologia 28, 412–419.

Mohatt GV, Plaetke R, Klejka J, Luick B, Lardon C, Bersamin A et al. (2007). The center for Alaska native health research study: a community-based participatory research study of obesity and chronic disease-related protective and risk factors. Int J Circumpolar Health 66, 8–18.

Mori TA, Burke V, Puddey IB, Watts GF, O'Neal DN, Best JD et al. (2000). Purified eicosapentaenoic and docosahexaenoic acids have differential effects on serum lipids and lipoproteins, LDL particle size, glucose, and insulin in mildly hyperlipidemic men. Am J Clin Nutr 71, 1085–1094.

Motoyama KR, Curb JD, Kadowaki T, El-Saed A, Abbott RD, Okamura T et al. (2009). Association of serum n-6 and n-3 polyunsaturated fatty acids with lipids in 3 populations of middle-aged men. Am J Clin Nutr 90, 49–55.

Nettleton JA, Katz R (2005). N-3 long-chain polyunsaturated fatty acids in type 2 diabetes: a review. J Am Diet Assoc 105, 428–440.

Niu K, Hozawa A, Kuriyama S, Ohmori-Matsuda K, Shimazu T, Nakaya N et al. (2006). Dietary long-chain n-3 fatty acids of marine origin and serum C-reactive protein concentrations are associated in a population with a diet rich in marine products. Am J Clin Nutr 84, 223–229.

Nordestgaard BG, Benn M, Schnohr P, Tybjaerg-Hansen A (2007). Nonfasting triglycerides and risk of myocardial infarction, ischemic heart disease, and death in men and women. JAMA 298, 299–308.

O'Brien DM, Kristal AR, Jeannet MA, Wilkinson MJ, Bersamin A, Luick B (2009). Red blood cell δ 15N: a novel biomarker of dietary eicosapentaenoic acid and docosahexaenoic acid intake. Am J Clin Nutr 89, 913–919.

Ogden CL, Carroll MD, Curtin LR, McDowell MA, Tabak CJ, Flegal KM (2006). Prevalence of overweight and obesity in the United States, 1999–2004. JAMA 295, 1549–1555.

Okuda N, Ueshima H, Okayama A, Saitoh S, Nakagawa H, Rodriguez BL et al. (2005). Relation of long chain n-3 polyunsaturated fatty acid intake to serum high density lipoprotein cholesterol among Japanese men in Japan and Japanese–American men in Hawaii: the INTERLIPID study. Atherosclerosis 178, 371–379.

Pai JK, Pischon T, Ma J, Manson JAE, Hankinson SE, Joshipura K et al. (2004). Inflammatory markers and the risk of coronary heart disease in men and women. N Engl J Med 351, 2599–2610.

Pi-Sunyer FX (2002). The obesity epidemic: pathophysiology and consequences of obesity. Obese Res 10, 97S–104S.

Pischon T, Hankinson SE, Hotamisligil GS, Rifai N, Willett WC, Rimm EB (2003). Habitual dietary intake of n-3 and n-6 fatty acids in relation to inflammatory markers among US men and women. Circulation 108, 155–160.

Pradhan AD, Manson JAE, Rifai N, Buring JE, Ridker PM (2001). C-reactive protein, interleukin 6, and risk of developing type 2 diabetes mellitus. JAMA 286, 327–334.

R-Project (2009). R Development Core Team. R: A language and environment for statistical computing. R Foundation for Statistical Computing: Vienna, Austria.

Rose HG, Oklander M (1965). Improved procedure for the extraction of lipids from human erythrocytes. J Lipid Res 6, 428–431.

Sampath H, Ntambi JM (2005). Polyunsaturated fatty acid regulation of genes of lipid metabolism. Ann Rev Nutr 25, 317–340.

Schwellenbach LJ, Olson KL, McConnell KJ, Stolcpart RS, Nash JD, Merenich JA (2006). The triglyceride-lowering effects of a modest dose of docosahexaenoic acid alone versus in combination with low dose eicosapentaenoic acid in patients with coronary artery disease and elevated triglycerides. J Am Coll Nutr 25, 480–485.

Simopoulos AP (2010). Genetic variants in the metabolism of omega-6 and omega-3 fatty acids: their role in the determination of nutritional requirements and chronic disease risk. Exp Biol Med 235, 785–795.

Tirosh A, Shai I, Bitzur R, Kochba I, Tekes-Manova D, Israeli E et al. (2008). Changes in triglyceride levels over time and risk of type 2 diabetes in young men. Diabetes Care 31, 2032–2037.

Visser M, Bouter LM, McQuillan GM, Wener MH, Harris TB (1999). Elevated C-reactive protein levels in overweight and obese adults. JAMA 282, 2131–2135.

Wood SN (2006). Generalized additive models: an introduction with R. Chapman & Hall/CRC Press: Boca Raton, FL, USA.

Woodman RJ, Mori TA, Burke V, Puddey IB, Watts GF, Beilin LJ (2002). Effects of purified eicosapentaenoic and docosahexaenoic acids on glycemic control, blood pressure, and serum lipids in type 2 diabetic patients with treated hypertension. Am J Clin Nutr 76, 1007–1015.

Yusof HM, Miles EA, Calder P (2008). Influence of very long-chain n-3 fatty acids on plasma markers of inflammation in middle-aged men. Prostaglandins Leukot Essent Fatty Acids 78, 219–228.
Acknowledgements
We thank all study participants and their communities and the CANHR research team that made this study and manuscript possible. We thank Irena King and her staff at the Fred Hutchinson Cancer Research Center, Seattle, Washington, for the red blood cell fatty acid analyses. We thank Mario Kratz for his thoughtful input. This project has been funded by a National Institute of Health (NIH) grant P20 RR016430, a Centers for Biomedical Research Excellence grant from the National Center for Research Resources (NCRR), and NIH grant R01 DK074842 from the National Institute of Diabetes and Digestive and Kidney Diseases (NIDDK). The contents of this manuscript are solely the responsibility of the authors and do not necessarily represent the official views of the NCRR, NIDDK, NIH or the National Science Foundation.
Ethics declarations
Competing interests
The authors declare no conflict of interest.
Additional information
Contributors: ZM, ARK, RG and BB designed the research; BL, AB, SEH, CBS, KS, PJH and BB conducted the research; ZM and RG analyzed the data; ZM, ARK and RG wrote the paper; ZM and ARK had primary responsibility for the final content. All authors read and approved the final manuscript.
Supplementary Information accompanies the paper on European Journal of Clinical Nutrition website
Supplementary information
About this article
Cite this article
Makhoul, Z., Kristal, A., Gulati, R. et al. Associations of obesity with triglycerides and C-reactive protein are attenuated in adults with high red blood cell eicosapentaenoic and docosahexaenoic acids. Eur J Clin Nutr 65, 808–817 (2011). https://doi.org/10.1038/ejcn.2011.39
Received:

Revised:

Accepted:

Published:

Issue Date:

DOI: https://doi.org/10.1038/ejcn.2011.39
Keywords
EPA

DHA

generalized additive models

Yup'ik eskimos

triglycerides

C-reactive protein