Abstract
Background and Aims:
Skipping breakfast influences cognitive performance. The aim of our study was to investigate the relationship between the variation of hormonal and metabolic postprandial parameters induced by breakfast consumption or fasting and cognitive performance in obese children.
Methods:
Cross-sectional study for repeated measures. Memory and attention assessment tests, hormones and nutrient oxidation were measured before and after consuming breakfast vs fasting in 10 prepubertal obese children.
Results:
Fasting induced a significant (P<0.05) increase of the Overall Index of the Continuous Performance Test II (a global index of inattention) and the Test of Memory and Learning Word Selective Reminding (a test of verbal memory), whereas no changes were found after breakfast. Fasting was associated with a reduction of insulin and an increase in glucagon, with no changes in glucose. The increase in inattention was associated with a reduction of carbohydrate oxidation (ρ=−0.66, P<0.05). We found no difference in the area under the curve of peptide YY and glucagon-like peptide-1 after breakfast or fasting, whereas Ghrelin was significantly lower. No association between postprandial hormone variation and cognitive performance was found.
Conclusions:
Attention and visual memory performance in the morning were reduced when the children skipped breakfast. No association was found with hormones or metabolic changes, but we did find an association with a reduction of carbohydrate oxidation. Nevertheless, these preliminary findings need confirmation in larger sample size.
Relevant articles
Open Access articles citing this article.
Fidaa Almomani

,

Nihaya A. Al-sheyab

…

Mazin Alqhazo

BMC Psychiatry Open Access 11 May 2018
Access options
Subscribe to this journal
Receive 12 print issues and online access
$259.00 per year
only $21.58 per issue
Rent or buy this article
Prices vary by article type
from$1.95
to$39.95
Prices may be subject to local taxes which are calculated during checkout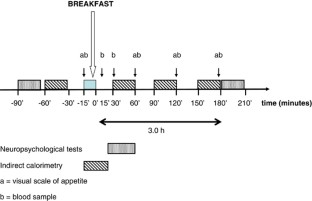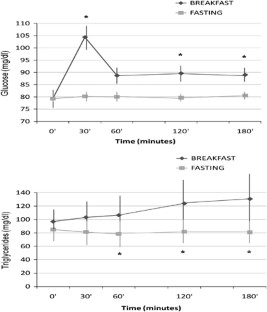 References
Acheson KJ, Schutz Y, Bessard T, Flatt JP, Jéquier E (1987). Carbohydrate metabolism and de novo lipogenesis in human obesity. Am J Clin Nutr 45, 78–85.

Anthony K, Reed LJ, Dunn JT, Bingham E, Hopkins D, Marsden PK et al. (2006). Attenuation of insulin-evoked responses in brain networks controlling appetite and reward in insulin resistance: the cerebral basis for impaired control of food intake in metabolic syndrome? Diabetes 55, 2986–2992.

Bandini LG, Schoeller DA, Dietz WH (1990). Energy expenditure in obese and nonobese adolescents. Pediatr Res 27, 198–203.

Castañeda TR, Tong J, Datta R, Culler M, Tschöp MH (2010). Ghrelin in the regulation of body weight and metabolism. Front Neuroendocrinol 31, 44–60.

Chugani HT (1998). A critical period of brain development: studies of cerebral glucose utilization with PET. Prev Med 27, 184–188.

Cole TJ, Bellizzi MC, Flegal KM, Diez WH (2000). Establishing a standard definition for child overweight and obesity worldwide: international survey. BMJ 320, 1240–1243.

Conners CK (2002). Conners' Continuous Performance Test. Multi-Health System: Toronto, Canada.

Delzenne N, Blundell J, Brouns F, Cunningham K, De Graaf K, Erkner A et al. (2010). Gastrointestinal targets of appetite regulation in humans. Obes Rev 11, 234–250.

Flanagan DE, Evans ML, Monsod TP, Rife F, Heptulla RA, Tamborlane WV et al. (2003). The influence of insulin on circulating ghrelin. Am J Physiol Endocrinol Metab 284, E313–E316.

Hallschmid M, Schultes B (2009). Central nervous insulin resistance: a promising target in the treatment of metabolic and cognitive disorders? Diabetologia 52, 2264–2269.

Hoyland A, Dye L, Lawton CL (2009). A systematic review of the effect of breakfast on the cognitive performance of children and adolescents. Nutr Res Rev 22, 220–243.

Koutkia P, Schurgin S, Berry J, Breu J, Lee BS, Klibanski A et al. (2005). Reciprocal changes in endogenous ghrelin and growth hormone during fasting in healthy women. Am J Physiol Endocrinol Metab 289, E814–E822.

Irwin N, Gault V, Flatt PR (2010). Therapeutic potential of the original incretin hormone glucose-dependent insulinotropic polypeptide: diabetes, obesity, osteoporosis and Alzheimer's disease? Expert Opin Invest Drugs 19, 1039–1048.

Istituto Nazionale della Nutrizione. (1977). Tabelle di Composizione Degli Alimenti. A cura di Carnovale E, Marletta L. Occhipinti Sisar & Gioja Press: Milan.

Lamport DJ, Hoyle E, Lawton CL, Mansfield MW, Dye L (2011). Evidence for a second meal cognitive effect: glycaemic responses to high and low glycaemic index evening meals are associated with cognition the following morning. Nutr Neurosci 14, 66–71.

Li Y, Dai Q, Jackson JC, Zhang J (2008). Overweight is associated with decreased cognitive functioning among school-age children and adolescents. Obesity (Silver Spring, MD) 16, 1809–1815.

Lusk G (1928). The Elements of the Science of Nutrition, 4th edn. WV Saunders Co: Philadelphia.

Maffeis C, Pinelli L, Schutz Y (1995). Increased fat oxidation in prepubertal obese children: a metabolic defense against further weight gain? J Pediatr 126, 15–20.

Maffeis C, Schutz Y, Schena F, Zaffanello M, Pinelli L (1993). Energy expenditure during walking and running in obese and nonobese prepubertal children. J Pediatr 123, 193–199.

Maffeis C, Schutz Y, Grezzani A, Provera S, Piacentini G, Tatò L (2001). Meal-induced thermogenesis and obesity: is a fat meal a risk factor for fat gain in children? J Clin Endocrinol Metab 86, 214–219.

McNay EC, Ong CT, McCrimmon RJ, Cresswell J, Bogan JS, Sherwin RS (2010). Hippocampal memory processes are modulated by insulin and high-fat-induced insulin resistance. Neurobiol Learn Mem 93, 546–553.

Micha R, Rogers PJ, Nelson M (2010). The glycaemic potency of breakfast and cognitive function in school children. Eur J Clin Nutr 64, 948–957.

Nash DT, Fillit H (2006). Cardiovascular diseases risk factors and cognitive impairment. Am J Cardiol 97, 1262–1265.

Nilsson A, Radeborg K, Björck I (2009). Effects of differences in postprandial glycaemia on cognitive functions in healthy middle-aged subjects. Eur J Clin Nutr 63, 113–120.

Porte Jr D, Woods SC (1981). Regulation of food intake and body weight in insulin. Diabetologia 20 (Suppl), 274–280.

Rampersaud GC, Pereira MA, Girard BL, Adams J, Metzl JD (2005). Breakfast habits, nutritional status, body weight, and academic performance in children and adolescents. J Am Diet Assoc 105, 743–760; quiz 761–762.

Reynolds CR (1994). Bigler Test TEMA—Memoria e apprendimento. Ed Erickson: Trento.

Reynolds CR, Bigler ED (1994). Test of Memory and Learning (TOMAL). Pro-Ed: Austin, TX.

Scholey AB, Sünram-Lea SI, Greer J, Elliott J, Kennedy DO (2009). Glucose administration prior to a divided attention task improves tracking performance but not word recognition: evidence against differential memory enhancement? Psychopharmacology (Berl) 202, 549–558.

Suzuki K, Simpson KA, Minnion JS, Shillito JC, Bloom SR (2010). The role of gut hormones and the hypothalamus in appetite regulation. Endocr J 57, 359–372.

Tanner JM, Whitehouse RH (1976). Clinical longitudinal standards from birth to maturity for height, weight, velocity and stages of puberty. Arch Dis Child 51, 170–179.

Wesnes KA, Pincock C, Richardson D, Helm G, Hails S (2003). Breakfast reduces declines in attention and memory over the morning in schoolchildren. Appetite 41, 329–331.

Widenhorn-Müller K, Hille K, Klenk J, Weiland U (2008). Influence of having breakfast on cognitive performance and mood in 13- to 20-year-old high school students: results of a crossover trial. Pediatrics 122, 279–284.
Acknowledgements
The study was sponsored by the Ministry of Health, Research Project of National Interest (PRIN) No. 2008CJ7CTW and supported by funds from the University of Verona and Galbusera Spa (I).
Ethics declarations
Competing interests
Dr Cortese has received financial support to attend medical meetings from Eli Lilly and Company (2007–9) and Shire Pharmaceuticals (2009–10), and has been a co-investigator in studies sponsored by GlaxoSmithKline (2006), Eli Lilly and Company (2007–8) and Genopharm (2008). He has served as a consultant for Shire Pharmaceuticals (2009–10). Dr Cortese is currently supported by a grant from the European Commission ('Marie Curie' grant for Career Development, Outgoing International Fellowship, POIF-253103). The other co-authors declare no conflict of interest.
Additional information
Contributors: CM designed and coordinated the study, submitted the study to the Ethical Committee, collected the data, performed the statistical analysis and wrote the manuscript. EF collected the data, provided data input, collaborated on the statistical analysis and the writing of the manuscript. MGS recruited the children, collected the data, provided data input and collaborated on the statistical analysis. EC participated in the design of the study, collected the data and provided data input. MC participated in the design of the study, carried out sample analysis and provided data input. MT participated in the design of the study and collected the data. IF participated in the design of the study and collected the data. SC designed the study, performed the statistical analysis and wrote the manuscript.
About this article
Cite this article
Maffeis, C., Fornari, E., Surano, M. et al. Breakfast skipping in prepubertal obese children: hormonal, metabolic and cognitive consequences. Eur J Clin Nutr 66, 314–321 (2012). https://doi.org/10.1038/ejcn.2011.206
Received:

Revised:

Accepted:

Published:

Issue Date:

DOI: https://doi.org/10.1038/ejcn.2011.206
Keywords
This article is cited by
Fidaa Almomani
Nihaya A. Al-sheyab
Mazin Alqhazo

BMC Psychiatry (2018)