Abstract
Resveratrol (RS), a polyphenol compound found in grapes and grape products, including wine, peanuts and berries, exists in cis- and trans-isomeric forms. RS is believed to decrease circulating low-density lipoprotein cholesterol levels and reduce cardiovascular disease (CVD) risk. However, it is possible that RS has other mechanisms to reduce the risk of CVD without altering lipid levels. The objective of this review is to critically examine results from recent research concerning potential effects of RS on CVD. RS exerts several health benefits including anti-atherogenic, anti-inflammatory and anti-cancer effects. RS may also prevent lipid oxidation, platelet aggregation, arterial vasodilation and modulates the levels of lipids and lipoproteins. As a potent, anti-oxidant RS reduces oxidative stress and regenerates α-tocopherol, which further strengthens the anti-oxidant defense mechanism. RS has been considered safe as no significant toxic effects have been identified, even when consumed at higher concentrations. This evidence identified RS as an effective anti-atherogenic agent, which could be used in the prevention and treatment of CVD.
Relevant articles
Open Access articles citing this article.
Henry Montero Salazar

,

Raquel de Deus Mendonça

…

Carolina Donat-Vargas

European Journal of Nutrition Open Access 07 March 2022

Anupong Songsaad

,

Thanasup Gonmanee

…

Charoensri Thonabulsombat

Stem Cell Research & Therapy Open Access 14 December 2020

Heba H. Sokkar

,

Ahmed S. Abo Dena

…

Abeer Badr

Future Journal of Pharmaceutical Sciences Open Access 31 October 2020
Access options
Subscribe to Journal
Get full journal access for 1 year
$119.00
only $9.92 per issue
All prices are NET prices.
VAT will be added later in the checkout.
Tax calculation will be finalised during checkout.
Buy article
Get time limited or full article access on ReadCube.
$32.00
All prices are NET prices.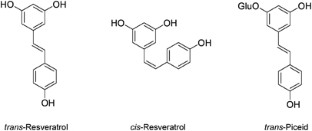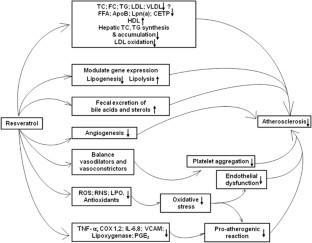 References
Ahn J, Cho I, Kim S, Kwon D, Ha T (2008). Dietary resveratrol alters lipid metabolism-related gene expression of mice on an atherogenic diet. J Hepatol 49, 1019–1028.

Arichi H, Kimura Y, Okuda H, Baba K, Kozawa M, Arichi S et al. (1982). Effects of stilbene components of the roots of Polygonum cuspidatum Sieb. et Zucc. on lipid metabolism. Chem Pharm Bull 30, 1766–1770.

Bertelli AA, Giovanni L, Stradi R, Urien S, Tillement JP, Bertelli A (1996a). Kinetics of trans- and cis-resveratrol (3,4′,5-trihydroxystilbene) after red wine oral administration in rats. Int J Clin Pharmacol Res 16, 77–81.

Bertelli AA, Giovannini L, Bernini W, Migliori M, Fregoni M, Bavaresco L et al. (1996b). Antiplatelet activity of cis-resveratrol. Drug Exp Clin Res 22, 61–63.

Bhat KPL, Kosmeder 2nd JW, Pezzuto JM (2001). Biological effects of resveratrol. Antioxid Redox Signal 3, 1041–1064.

Bhavnani BR, Cecutti A, Gerulath A, Woolever AC, Berco M (2001). Comparison of the antioxidant effects of equine estrogens, red wine components, vitamin E, and probucol on low-density lipoprotein oxidation in postmenopausal women. Menopause 8, 408–419.

Boocock DJ, Faust GES, Patel KR, Schinas AM, Brown VA, Ducharme MP et al. (2007). Phase I dose escalation pharmacokinetic study in healthy volunteers of resveratrol, a potential cancer chemopreventive agent. Cancer Epidemiol Biomarkers 16, 1246–1252.

Bradamante S, Barenghi L, Villa A (2004). Cardiovascular protective effects of resveratrol. Cardiovasc Drug Rev 22, 169–188.

Cao Z, Li Y (2004). Potent induction of cellular antioxidants and phase 2 enzymes by resveratrol in cardiomyocytes: protection against oxidative and electrophilic injury. Eur J Pharmacol 489, 39–48.

Carluccio MA, Siculella L, Ancora MA, Massaro M, Scoditti E, Storelli C et al. (2003). Olive oil and red wine antioxidant polyphenols inhibit endothelial activation: antiatherogenic properties of Mediterranean diet phytochemicals. Arterioscler Thromb Vasc Biol 23, 622–629.

Cavallaro A, Ainis T, Bottari C, Fimiani V (2003). Effect of resveratrol on some activities of isolated and in whole blood human neutrophils. Physiol Res 52, 555–562.

Chen ZH, Hurh YJ, Na HK, Kim JH, Chun YJ, Kim DH et al. (2004). Resveratrol inhibits TCDD induced expression of CYP1A1 and CYP1B1 and catechol estrogen-mediated oxidative DNA damage in cultured human mammary epithelial cells. Carcinogenesis 25, 2005–2013.

Cho IJ, Ahn JY, Kim S, Choi MS, Ha TY (2008). Resveratrol attenuates the expression of HMG-CoA reductase mRNA in hamsters. Biochem Biophys Res Commun 367, 190–194.

Crowell JA, Korytko PJ, Morrissey RL, Booth TD, Levine BS (2004). Resveratrol-associated renal toxicity. Toxicol Sci 82, 614–619.

Culpitt SV, Rogers DF, Fenwick PS, Shah P, De Matos C, Russell RE et al. (2003). Inhibition by red wine extract, resveratrol, of cytokine release by alveolar macrophages in COPD. Thorax 58, 942–946.

Das DK, Maulik N (2006). Resveratrol in cardioprotection: a therapeutic promise of alternative medicine. Mol Interv 6, 36–47.

Davignon J, Ganz P (2004). Role of endothelial dysfunction in atherosclerosis. Circulation 109, III27–III32.

Do GM, Kwon EY, Kim HJ, Jeon SM, Ha TY, Park T et al. (2008). Long-term effects of resveratrol supplementation on suppression of atherogenic lesion formation and cholesterol synthesis in apo E-deficient mice. Biochem Biophys Res Commun 374, 55–59.

Donnelly LE, Newton R, Kennedy GE, Fenwick PS, Leung RH, Ito K et al. (2004). Anti-inflammatory effects of resveratrol in lung epithelial cells. Am J Physiol Lung Cell Mol Physiol 287, L774–L783.

Fan E, Zhang L, Jiang S, Bai Y (2008). Beneficial effects of resveratrol on atherosclerosis. J Med Food 11, 610–614.

Fang JG, Zhou B (2008). Structure-activity relationship and mechanism of the tocopherol-regenerating activity of resveratrol and its analogues. J Agric Food Chem 56, 11458–11463.

Fang JG, Lu M, Chen ZH, Zhu HH, Li Y, Yang L et al. (2002). Antioxidant effects of resveratrol and its analogues against the free-radical-induced peroxidation of linoleic acid in micelles. Chemistry 8, 4191–4198.

Fauconneau B, Waffo-Teguo P, Huguet F, Barrier L, Decendit A, Merillon J-M (1997). Comparative study of radical scavenger and antioxidant properties of phenolic compounds from Vitis Vinifera cell cultures using in vitro tests. Life Sci 61, 2103–2110.

Floreani M, Napoli E, Quintieri L, Palatini P (2003). Oral administration of trans-resveratrol to guinea pigs increases cardiac DT-diaphorase and catalase activities, and protects isolated atria from menadione toxicity. Life Sci 72, 2741–2750.

Frankel EN, Waterhouse AL (1993). Inhibition of human LDL oxidation by resveratrol. Lancet 341, 1103–1104.

Frankel EN, Kanner J, German JB, Parks E, Kinsella JE (1993). Inhibition of oxidation of human low-density lipoprotein by phenolic substances in red wine. Lancet 341, 454–457.

Fremont L (2000). Biological effects of resveratrol. Life Sci 66, 663–673.

Fremont L, Belguendouz L, Delpal S (1999). Antioxidant activity of resveratrol and alcohol-free wine polyphenols related to LDL oxidation and polyunsaturated fatty acids. Life Sci 64, 2511–2521.

Fukuda S, Kaga S, Zhan L, Bagchi D, Das DK, Bertelli A et al. (2006). Resveratrol ameliorates myocardial damage by inducing vascular endothelial growth factor-angiogenesis and tyrosine kinase receptor Flk-1. Cell Biochem Biophys 44, 43–49.

Gaziano JM (1994). Antioxidant vitamins and coronary artery disease risk. Am J Med 97, 18S–28S.

Gescher AJ, Steward WP (2003). Relationship between mechanisms, bioavailibility, and preclinical chemopreventive efficacy of resveratrol: a conundrum. Cancer Epidemiol Biomarkers Prev 12, 953–957.

Gnoni GV, Paglialonga G (2009). Resveratrol inhibits fatty acid and triacylglycerol synthesis in rat hepatocytes. Eur J Clin Invest 39, 211–218.

Goldberg DM, Hahn SE, Parkes JG (1995). Beyond alcohol: beverage consumption and cardiovascular mortality. Clin Chim Acta 237, 155–187.

Hattori R, Otani H, Maulik N, Das DK (2002). Pharmacological preconditioning with resveratrol: role of nitric oxide. Am J Physiol Heart Circ Physiol 282, H1988–H1995.

Hebbar V, Shen G, Hu R, Kim BR, Chen C, Korytko PJ et al. (2005). Toxicogenomics of resveratrol in rat liver. Life Sci 76, 2299–2314.

Holvoet P (2004). Oxidized LDL and coronary heart disease. Acta Cardiol 59, 479–484.

Hung LM, Chen JK, Huang SS, Lee RS, Su MJ (2000). Cardioprotective effect of resveratrol, a natural antioxidant derived from grapes. Cardiovasc Res 47, 549–555.

Ikeda U, Ito T, Shimada K (2001). Interleukin-6 and acute coronary syndrome. Clin Cardiol 24, 701–704.

Imamura G, Bertelli AA, Bertelli A, Otani H, Maulik N, Das DK (2002). Pharmacologic preconditioning with resveratrol: an insight with iNOS knockout mice. Am J Physiol 282, H1996–H2003.

Jang JH, Surh YJ (2001). Protective effects of resveratrol on hydrogen peroxide-induced apoptosis in rat pheochromocytoma (PC12) cells. Mutat Res 496, 181–190.

Jang M, Pezzuto JM (1999). Cancer chemopreventive activity of resveratrol. Drug Exp Clin Res 25, 65–77.

Jawien J (2008). New insights into immunological aspects of atherosclerosis. Pol Arch Med Wewn 118, 127–131.

Juan ME, Vinardell MP, Planas JM (2002). The daily oral administration of high doses of trans-resveratrol to rats for 28 days is not harmful. J Nutr 132, 257–260.

Kirk RI, Deitch JA, Wu JM, Lerea KM (2000). Resveratrol decreases early signalling events in washed platelets but has little effect on platelet in whole blood. Blood Cells Mol Dis 26, 144–150.

Klinge CM, Risinger KE, Watts MB, Beck V, Eder R, Jungbauer A (2003). Estrogenic activity in white and red wine extracts. J Agri Food Chem 51, 1850–1857.

Kollar P, Kotolová H, Necas J, Karpísek M, Bartosíková L, Karesová P (2000). Experimental study of resveratrol and flavonoids in red wine with regard to their possible hypolipemic effects. Vnitr Lek 46, 856–860.

Kovanen PT, Pentikäinen MO (2003). Circulating lipoproteins as proinflammatory and anti-inflammatory particles in atherogenesis. Curr Opin Lipidol 14, 411–419.

Laden BP, Porter TD (2001). Resveratrol inhibits human squalene monooxygenase. Nutr Res 21, 747–753.

Leighton F, Cuevas A, Guasch V, Perez DD, Strobel P, San Martin A et al. (1999). Plasma polyphenols and antioxidants, oxidative DNA damage and endothelial function in a diet and wine intervention study in humans. Drug Exp Clin Res 25, 133–141.

Leiro J, Alvarez E, Arranz JA, Laguna R, Uriarte E, Orallo F (2004). Effects of cis-resveratrol on inflammatory murine macrophages: antioxidant activity and down-regulation of inflammatory genes. J Leukoc Biol 75, 1156–1165.

Leonard S, Xia C, Jiang BH, Stinefelt B, Klandorf H, Harris GK et al. (2003). Resveratrol scavenges reactive oxygen species and effects radical-induced cellular responses. Biochem Biophys Res Commun 309, 1017–1026.

Li Y, Cao Z, Zhu H (2006). Upregulation of endogenous antioxidants and phase 2 enzymes by the red wine polyphenol, resveratrol in cultured aortic smooth muscle cells leads to cytoprotection against oxidative and electrophilic stress. Pharmacol Res 53, 6–15.

Libby P, Ridker PM, Maseri A (2002). Inflammation and atherosclerosis. Circulation 105, 1135–1143.

Lin MT, Yen ML, Lin CY, Kuo ML (2003). Inhibition of vascular endothelial growth factor-induced angiogenesis by resveratrol through interruption of Src-dependent vascular endothelial cadherin tyrosine phosphorylation. Mol Pharmacol 64, 1029–1036.

Liu JC, Chen JJ, Chan P, Cheng CF, Cheng TH (2003). Inhibition of cyclic strain-induced endothelin-1 gene expression by resveratrol. Hypertension 42, 1198–1205.

Losa GA (2003). Resveratrol modulates apoptosis and oxidation in human blood mononuclear cells. Eur J Clin Invest 33, 818–823.

Maccarrone M, Lorenzon T, Guerrieri P, Agro AF (1999). Resveratrol prevents apoptosis in K562 cells by inhibiting lipoxygenase and cyclooxygenase activity. Eur J Biochem 265, 27–34.

Manna SK, Mukhopadhyay A, Aggarwal BB (2000). Resveratrol suppresses TNF-induced activation of nuclear transcription factors NF-κB, activator protein-1, and apoptosis: potential role of reactive oxygen intermediates and lipid peroxidation. J Immunol 164, 6509–6519.

Martinez J, Moreno JJ (2000). Effect of resveratrol, a natural polyphenolic compound, on reactive oxygen species and prostaglandin production. Biochem Pharmacol 59, 865–870.

Matsuda H, Kageura T, Morikawa T, Toguchida I, Harima S, Yoshikawa M (2000). Effects of stilbene constituents from rhubarb on nitric oxide production in lipopolysaccharide-activated macrophages. Bioorg Med Chem Lett 10, 323–327.

Meng X, Maliakal P, Lu H, Lee MJ, Yang CS (2004). Urinary and plasma levels of resveratrol and quercetin in humans, mice, and rats after ingestion of pure compounds and grape juice. J Agric Food Chem 52, 935–942.

Mietus-Snyder M, Gowri MS, Pitas RE (2000). Class A scavenger receptor up-regulation in smooth muscle cells by oxidized low density lipoprotein. Enhancement by calcium flux and concurrent cyclooxygenase- 2 up-regulation. J Biol Chem 275, 17661–17670.

Miller NJ, Rice-Evans CA (1995). Antioxidant activity of resveratrol in red wine. Clin Chem 41, 1789.

Miura D, Miura Y, Yagasaki K (2003). Hypolipidemic action of dietary resveratrol, a phytoalexin in grapes and red wine, in hepatoma-bearing rats. Life Sci 73, 1393–1400.

Miura T, Muraoka S, Ikeda N, Watanabe M, Fujimoto Y (2000). Antioxidative and prooxidative action of stilbene derivatives. Pharmacol Toxicol 86, 203–208.

Mizutani K, Ikeda K, Kawai Y, Yamori Y (2001). Protective effect of resveratrol on oxidative damage in male and female stroke-prone spontaneously hypertensive rats. Clin Exp Pharmacol Physiol 28, 55–59.

Nihei T, Miura Y, Yagasaki K (2001). Inhibitory effect of resveratrol on proteinuria, hypoalbuminemia and hyperlipidemia in nephritic rats. Life Sci 68, 2845–2852.

Olas B, Wachowicz B (2002). Resveratrol and vitamin C as antioxidants in blood platelets. Thromb Res 106, 143–148.

Olas B, Wachowicz B, Bald E, Glowacki R (2004). The protective effects of resveratrol against changes in blood platelet thiols induced by platinum compounds. J Physiol Pharmacol 55, 467–476.

Olas B, Wachowicz B, Saluk-Juszczak J, Zieliñski T (2002). Effect of resveratrol, a natural polyphenolic compound, on platelet activation induced by endotoxin or thrombin. Thromb Res 107, 141–145.

Pal S, Ho N, Santos C, Dubois P, Mamo J, Croft K et al. (2003). Red wine polyphenolics increase LDL receptor expression and activity and suppress the secretion of ApoB100 from human HepG2 cells. J Nutr 133, 700–706.

Penumathsa SV, Thirunavukkarasu M, Koneru S, Juhasz B, Zhan L, Pant R et al. (2007). Statin and resveratrol in combination induces cardioprotection against myocardial infarction in hypercholesterolemic rat. J Mol Cell Cardiol 42, 508–516.

Pervaiz S (2003). Resveratrol: from grapewines to mammalian biology. FASEB J 17, 1975–1985.

Ray PS, Maulik G, Cordis GA, Bertelli AA, Bertelli A, Das DK (1999). The red wine antioxidant resveratrol protects isolated rat hearts from ischemia reperfusion injury. Free Rad Biol Med 27, 160–169.

Rivera L, Morón R, Zarzuelo A, Galisteo M (2009). Long-term resveratrol administration reduces metabolic disturbances and lowers blood pressure in obese Zucker rats. Biochem Pharmacol 77, 1053–1063.

Rocha KK, Souza GA, Ebaid GX, Seiva FR, Cataneo AC, Novelli EL (2009). Resveratrol toxicity: effects on risk factors for atherosclerosis and hepatic oxidative stress in standard and high-fat diets. Food Chem Toxicol 47, 1362–1367.

Rodriguez-Porcel M, Lerman A, Best PJ, Krier JD, Napoli C, Lerman LO (2001). Hypercholesterolemia impairs myocardial perfusion and permeability: role of oxidative stress and endogenous scavenging activity. J Am Coll Cardiol 37, 608–615.

Rotondo S, Rajtar G, Manarini S, Celardo A, Rotillo D, de Gaetano G et al. (1998). Effects of trans-resveratrol, a natural polyphenolic compound, on human polymorphonuclear leukocyte function. Br J Pharmacol 123, 1691–1699.

Saiko P, Szakmary A, Jaeger W, Szekeres T (2008). Resveratrol and its analogs: defense against cancer, coronary disease and neurodegenerative maladies or just a fad? Mutat Res 658, 68–94.

Sato M, Maulik G, Bagchi D, Das DK (2000). Myocardial protection by protykin, a novel extract of transresveratrol and emodin. Free Radic Res 32, 135–144.

Savaskan E, Olivieri G, Meier F, Seifritz E, Wirz-Justice A, Müller-Spahn F (2003). Red wine ingredient resveratrol protects from beta-amyloid neurotoxicity. Gerontology 49, 380–383.

Shigematsu S, Ishida S, Hara M, Takahashi N, Yoshimatsu H, Sakata T (2003). Resveratrol, a red wine constituent polyphenol, prevents superoxide-dependent inflammatory responses induced by ischemia/reperfusion, platelet-activating factor, or oxidants. Free Radic Biol Med 34, 810–817.

Soares DG, Andreazza AC, Salvador M (2003). Sequestering ability of butylated hydroxytoluene, propyl gallate, resveratrol, and vitamins C and E against ABTS, DPPH, and hydroxyl free radicals in chemical and biological systems. J Agric Food Chem 51, 1077–1080.

Soleas GJ, Diamandis EP, Goldberg DM (1997). Resveratrol: a molecule whose time has come? And gone? Clin Biochem 30, 91–113.

Sun AY, Simonyi A, Sun GY (2002). The 'French Paradox' and beyond: neuroprotective effects of polyphenols. Free Radic Biol Med 32, 314–318.

Sun W, Wang W, Kim J, Keng P, Yang S, Zhang H et al. (2008). Anti-cancer effect of resveratrol is associated with induction of apoptosis via a mitochondrial pathway alignment. Adv Exp Med Biol 614, 179–186.

Szewczuk LM, Forti L, Stivala LA, Penning TM (2004). Resveratrol is a peroxidase-mediated inactivator of COX-1 but not COX-2: a mechanistic approach to the design of COX-1 selective agents. J Biol Chem 279, 22727–22737.

Tsai SH, Lin-Shiau SY, Lin JK (1999). Suppression of nitric oxide synthase and the down regulation of the activation of NFκB in macrophages by resveratrol. Br J Pharmacol 126, 673–680.

Turner RT, Evans GL, Zhang M, Maran A, Sibonga JD (1999). Is resveratrol an estrogen agonist in growing rats? Endocrinology 140, 50–54.

Turrens JF, Lariccia J, Nair MG (1997). Resveratrol has no effect on lipoprotein profile and does not prevent peroxidation of serum lipids in normal rats. Free Radic Res 27, 557–562.

Udenigwe CC, Ramprasath VR, Aluko RE, Jones PJ (2008). Potential of resveratrol in anticancer and anti-inflammatory therapy. Nutr Rev 66, 445–454.

Wang Q, Xu J, Rottinghaus GE, Simonyi A, Lubahn D, Sun GY et al. (2002a). Resveratrol protects against global cerebral ischemic injury in gerbils. Brain Res 958, 439–447.

Wang Z, Zou J, Cao K, Hsieh TC, Huang Y, Wu JM (2005). Dealcoholized red wine containing known amounts of resveratrol suppresses atherosclerosis in hypercholesterolemic rabbits without affecting plasma lipid levels. Int J Mol Med 16, 533–540.

Wang Z, Zou J, Huang Y, Cao K, Xu Y, Wu JM (2002b). Effect of resveratrol on platelet aggregation in vivo and in vitro. Chin Med J (Engl) 115, 378–380.

Wilson T, Knight TJ, Beitz DC, Lewis DS, Engen RL (1996). Resveratrol promotes atherosclerosis in hypercholesterolemic rabbits. Life Sci 59, PL15–PL21.

Yen GC, Duh PD, Lin CW (2003). Effects of resveratrol and 4- hexylresorcicol on hydrogen peroxide-induced oxidative DNA damage in human lymphocytes. Free Radic Res 37, 509–514.

Yla-Herttuala S (1999). Oxidized LDL and atherogenesis. Ann NY Acad Sci 874, 134–137.

Zhong M, Cheng GF, Wang WJ, Guo Y, Zhu XY, Zhang JT (1999). Inhibitory effect of resveratrol on interleukin-6 release by stimulated peritoneal macrophages of mice. Phytomedicine 6, 79–84.

Zini R, Morin C, Bertelli A, Bertelli AA, Tillement JP (1999). Effects of resveratrol on the rat brain respiratory chain. Drugs Exp Clin Res 25, 87–97.
Ethics declarations
Competing interests
The authors declare no conflict of interest.
About this article
Cite this article
Ramprasath, V., Jones, P. Anti-atherogenic effects of resveratrol. Eur J Clin Nutr 64, 660–668 (2010). https://doi.org/10.1038/ejcn.2010.77
Received:

Revised:

Accepted:

Published:

Issue Date:

DOI: https://doi.org/10.1038/ejcn.2010.77
Keywords
resveratrol

atherosclerosis

lipids

anti-inflammatory

anti-oxidant