Abstract
Background/Objectives:
Observational studies document the inverse relationship between cardiovascular disease (CVD) and moderate alcohol intake. However, the causal role for alcohol in cardioprotection remains uncertain as such protection may be caused by confounders and misclassification. The aim of our study was to evaluate potential confounders, which may contribute to putative cardioprotection by alcohol.
Subjects/Methods:
We evaluated clinical and biological characteristics, including cardiovascular (CV) risk factors and health status, of 149 773 subjects undergoing examination at our Center for CVD Prevention (The Urban Paris-Ile-de-France Cohort). The subjects were divided into four groups according to alcohol consumption: never, low (⩽10 g/day), moderate (10–30 g/day) and high (>30 g/day); former drinkers were analyzed as a separate group.
Results:
After adjustment for age, moderate male drinkers were more likely to display clinical and biological characteristics associated with lower CV risk, including low body mass index, heart rate, pulse pressure, fasting triglycerides, fasting glucose, stress and depression scores together with superior subjective health status, respiratory function, social status and physical activity. Moderate female drinkers equally displayed low waist circumference, blood pressure and fasting triglycerides and low-density lipoprotein-cholesterol. Alcohol intake was strongly associated with plasma high-density lipoprotein-cholesterol in both sexes. Multivariate analysis confirmed that moderate and low drinkers displayed better health status than did never drinkers. Importantly, few factors were causally related to alcohol intake.
Conclusions:
Moderate alcohol drinkers display a more favorable clinical and biological profile, consistent with lower CV risk as compared with nondrinkers and heavy drinkers. Therefore, moderate alcohol consumption may represent a marker of higher social level, superior health status and lower CV risk.
Relevant articles
Open Access articles citing this article.
Rachel Jenkins

,

Caleb Othieno

…

Bernhards Ogutu

BMC Psychiatry Open Access 25 September 2015

Chul H Kim

,

Ann Vincent

…

Terry H Oh

Arthritis Research & Therapy Open Access 15 March 2013
Access options
Subscribe to this journal
Receive 12 print issues and online access
$259.00 per year
only $21.58 per issue
Rent or buy this article
Prices vary by article type
from$1.95
to$39.95
Prices may be subject to local taxes which are calculated during checkout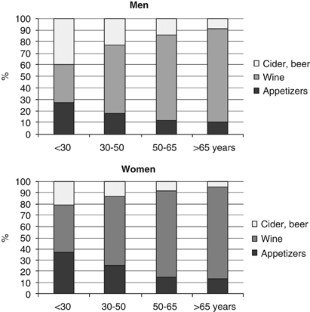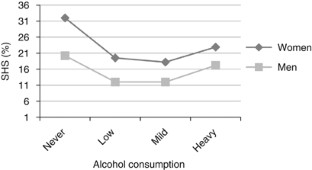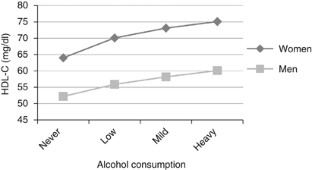 References
Arif AA, Rohrer JE (2005). Patterns of alcohol drinking and its association with obesity: data from the third national health and nutrition examination survey, 1988–1994. BMC Public Health 5, 126.

Beck AT, Rial WY, Rickels K (1974). Short form of depression inventory: cross-validation. Psychol Rep 34, 1184–1186.

Chapman MJ (2006). Therapeutic elevation of HDL-cholesterol to prevent atherosclerosis and coronary heart disease. Pharmacol Ther 111, 893–908.

Cleophas TJ (1999). Wine, beer and spirits and the risk of myocardial infarction: a systematic review. Biomed Pharmacother 53, 417–423.

Cohen BH, Celentano DD, Chase GA, Diamond EL, Graves CG, Levy DA et al. (1980). Alcohol consumption and airway obstruction. Am Rev Respir Dis 121, 205–215.

Cohen S, Kamarck T, Mermelstein R (1983). A global measure of perceived stress. J Health Soc Behav 24, 385–396.

Colditz GA, Giovannucci E, Rimm EB, Stampfer MJ, Rosner B, Speizer FE et al. (1991). Alcohol intake in relation to diet and obesity in women and men. Am J Clin Nutr 54, 49–55.

Corrao G, Rubbiati L, Bagnardi V, Zambon A, Poikolainen K (2000). Alcohol and coronary heart disease: a meta-analysis. Addiction 95, 1505–1523.

Di Castelnuovo A, Costanzo S, Bagnardi V, Donati MB, Iacoviello L, de Gaetano G (2006). Alcohol dosing and total mortality in men and women: an updated meta-analysis of 34 prospective studies. Arch Intern Med 166, 2437–2445.

Di Castelnuovo A, Rotondo S, Iacoviello L, Donati MB, De Gaetano G (2002). Meta-analysis of wine and beer consumption in relation to vascular risk. Circulation 105, 2836–2844.

Fagrell B, De Faire U, Bondy S, Criqui M, Gaziano M, Gronbaek M et al. (1999). The effects of light to moderate drinking on cardiovascular diseases. J Intern Med 246, 331–340.

Fillmore KM, Stockwell T, Chikritzhs T, Bostrom A, Kerr W (2007). Moderate alcohol use and reduced mortality risk: systematic error in prospective studies and new hypotheses. Ann Epidemiol 17, S16–S23.

Fillmore KM, Stockwell T, Chikritzhs T, Bostrom A, Kerr WC (2008). Debate: alcohol and coronary heart disease. Am J Med 121, e25.

Friedman GD, Klatsky AL, Siegelaub AB (1976). Lung function and risk of myocardial infarction and sudden cardiac death. N Engl J Med 294, 1071–1075.

Hannuksela M, Marcel YL, Kesaniemi YA, Savolainen MJ (1992). Reduction in the concentration and activity of plasma cholesteryl ester transfer protein by alcohol. J Lipid Res 33, 737–744.

Idler EL, Benyamini Y (1997). Self-rated health and mortality: a review of twenty-seven community studies. J Health Soc Behav 38, 21–37.

Kontush A, Chapman MJ (2006). Functionally defective high-density lipoprotein: a new therapeutic target at the crossroads of dyslipidemia, inflammation, and atherosclerosis. Pharmacol Rev 58, 342–374.

Lange P, Groth S, Mortensen J (1988). [Alcohol and pulmonary disease]. Ugeskr Laeger 150, 837–839.

Lebowitz MD (1981). Respiratory symptoms and disease related to alcohol consumption. Am Rev Respir Dis 123, 16–19.

Leikert JF, Rathel TR, Wohlfart P, Cheynier V, Vollmar AM, Dirsch VM (2002). Red wine polyphenols enhance endothelial nitric oxide synthase expression and subsequent nitric oxide release from endothelial cells. Circulation 106, 1614–1617.

Lukasiewicz E, Mennen LI, Bertrais S, Arnault N, Preziosi P, Galan P et al. (2005). Alcohol intake in relation to body mass index and waist-to-hip ratio: the importance of type of alcoholic beverage. Public Health Nutr 8, 315–320.

Maclure M (1993). Demonstration of deductive meta-analysis: ethanol intake and risk of myocardial infarction. Epidemiol Rev 15, 328–351.

Marmillot P, Munoz J, Patel S, Garige M, Rosse RB, Lakshman MR (2007). Long-term ethanol consumption impairs reverse cholesterol transport function of high-density lipoproteins by depleting high-density lipoprotein sphingomyelin both in rats and in humans. Metabolism 56, 947–953.

Mortensen EL, Jensen HH, Sanders SA, Reinisch JM (2001). Better psychological functioning and higher social status may largely explain the apparent health benefits of wine: a study of wine and beer drinking in young Danish adults. Arch Intern Med 161, 1844–1848.

Murray RP, Istvan JA, Daniels K, Beaudoin CM (1998). Alcohol and morbidity in the lung health study. J Stud Alcohol 59, 250–257.

Naimi TS, Brown DW, Brewer RD, Giles WH, Mensah G, Serdula MK et al. (2005). Cardiovascular risk factors and confounders among nondrinking and moderate-drinking US adults. Am J Prev Med 28, 369–373.

Neuzil J, Weber C, Kontush A (2001). The role of vitamin E in atherogenesis: linking the chemical, biological and clinical aspects of the disease. Atherosclerosis 157, 257–283.

Panagiotakos DB, Kromhout D, Menotti A, Chrysohoou C, Dontas A, Pitsavos C et al. (2005). The relation between pulse pressure and cardiovascular mortality in 12 763 middle-aged men from various parts of the world: a 25-year follow-up of the seven countries study. Arch Intern Med 165, 2142–2147.

Rimm EB, Williams P, Fosher K, Criqui M, Stampfer MJ (1999). Moderate alcohol intake and lower risk of coronary heart disease: meta-analysis of effects on lipids and haemostatic factors. BMJ 319, 1523–1528.

Ruidavets JB, Bataille V, Dallongeville J, Simon C, Bingham A, Amouyel P et al. (2004). Alcohol intake and diet in France, the prominent role of lifestyle. Eur Heart J 25, 1153–1162.

Schunemann HJ, Dorn J, Grant BJ, Winkelstein Jr W, Trevisan M (2000). Pulmonary function is a long-term predictor of mortality in the general population: 29-year follow-up of the Buffalo Health Study. Chest 118, 656–664.

Shaper AG, Wannamethee G, Walker M (1988). Alcohol and mortality in British men: explaining the U-shaped curve. Lancet 2, 1267–1273.

Sparrow D, Rosner B, Cohen M, Weiss ST (1983). Alcohol consumption and pulmonary function. A cross-sectional and longitudinal study. Am Rev Respir Dis 127, 735–738.

Stockwell T, Chikritzhs T, Bostrom A, Fillmore K, Kerr W, Rehm J et al. (2007). Alcohol-caused mortality in Australia and Canada: scenario analyses using different assumptions about cardiac benefit. J Stud Alcohol Drugs 68, 345–352.

Stranges S, Notaro J, Freudenheim JL, Calogero RM, Muti P, Farinaro E et al. (2006). Alcohol drinking pattern and subjective health in a population-based study. Addiction 101, 1265–1276.

Suter PM (2005). Is alcohol consumption a risk factor for weight gain and obesity? Crit Rev Clin Lab Sci 42, 197–227.

Tjonneland A, Gronbaek M, Stripp C, Overvad K (1999). Wine intake and diet in a random sample of 48 763 Danish men and women. Am J Clin Nutr 69, 49–54.

Twisk JW, Staal BJ, Brinkman MN, Kemper HC, van Mechelen W (1998). Tracking of lung function parameters and the longitudinal relationship with lifestyle. Eur Respir J 12, 627–634.

Zureik M, Liard R, Kauffmann F, Henry C, Neukirch F (1996). Alcohol consumption, gamma-glutamyl transpeptidase (GGT), and pulmonary function: a cross-sectional and longitudinal study in working men. Alcohol Clin Exp Res 20, 1507–1511.
Acknowledgements
This study was made possible with the support of the Caisse Nationale d'Assurance Maladie (CNAM), the Caisse Primaire d'Assurance Maladie de Paris (CPAM-Paris). MJ Chapman and A Kontush gratefully acknowledge the award of a Contrat d'Interface from Assistance Publique—Hôpitaux de Paris/INSERM (France).
Ethics declarations
Competing interests
The authors declare no conflict of interest.
About this article
Cite this article
Hansel, B., Thomas, F., Pannier, B. et al. Relationship between alcohol intake, health and social status and cardiovascular risk factors in the urban Paris-Ile-De-France Cohort: is the cardioprotective action of alcohol a myth?. Eur J Clin Nutr 64, 561–568 (2010). https://doi.org/10.1038/ejcn.2010.61
Received:

Revised:

Accepted:

Published:

Issue Date:

DOI: https://doi.org/10.1038/ejcn.2010.61
Keywords
alcohol

HDL-C

cardiovascular risk factors

epidemiology