Abstract
Background:
The evaluation of ammonia detoxification by pre- and probiotics by means of colonic lactose-[15N2]ureide (15N-LU) degradation is of great interest both scientifically and in terms of nutrition physiology.
Objective:
Pre- and probiotics were supplemented in healthy adults to evaluate the effect of the ammonia metabolism in the human colon by means of 15N-LU.
Methods:
A total of 14 participants aged 20–28 years daily received a regular diet either without (no treatment) or with supplementation of 30 g fibre of potatoes (FPs), 30 g wrinkle pea starch (WPS, resistant starch content: 12 and 70%, respectively) and 375 g Lactobacillus acidophilus (LC1) yoghurt, over a 10-day period in a randomised order. After 1 week, 5.7 mg/kg body weight 15N-LU was administered together with breakfast. A venous blood sample was taken after 6 h. Urine and faeces were collected over a period of 48 and 72 h, respectively. The 15N abundances were measured by isotope ratio mass spectrometry.
Results:
The mean renal 15N-excretion differed significantly between the supplementation of FP and no treatment (32.5 versus 46.3%, P=0.034), FP and LC1 (32.5 versus 51.6%, P=0.001), and WPS and LC1 (38.5 versus 51.6%, P=0.048). The mean faecal 15N-excretion amounted to 42.7% (no treatment), 59.7% (FP), 41.8% (WPS) and 44.0% (LC1). In comparison with no treatment, the urinary 15NH3-enrichment was significantly decreased at 16 h after FP supplementation.
Conclusion:
The prebiotic intake of FP and WPS lowered the colonic generation and the renal excretion of toxic 15NH3, respectively, when using 15N-LU as a xenobiotic marker.
Access options
Subscribe to Journal
Get full journal access for 1 year
$119.00
only $9.92 per issue
All prices are NET prices.
VAT will be added later in the checkout.
Tax calculation will be finalised during checkout.
Buy article
Get time limited or full article access on ReadCube.
$32.00
All prices are NET prices.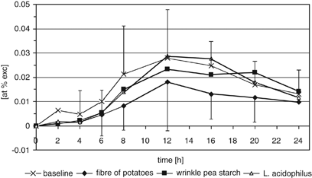 References
Birkett A, Muir J, Phillips J, Jones G, O'Dea K (1996). Resistant starch lowers fecal concentrations of ammonia and phenols in humans. Am J Clin Nutr 63, 766–772.

Cummings JH, Macfarlane GT (2002). Gastrointestinal effects of prebiotics. Br J Nutr 87 (Suppl 2), 145–151.

Cloetens L, De Preter V, De Loor H, Rutgeerts P, Verbeke K (2008a). Does the biomarker 15N-lactose ureide allow to estimate the site of fermentation of resistant starch. Eur J Nutr 47, 217–223.

Cloetens L, De Preter V, Swennen K, Broekaert WF, Courtin CM, Delcour JA et al. (2008b). Dose-response effect of arabinoxylooligosaccharides on gastrointestinal motility and on colonic bacterial metabolism in healthy volunteers. J Am Coll Nutr 27, 512–518.

De Preter V, Geboes K, Verbrugghe K, De Vuyst L, Vanhoutte T, Huys G et al. (2004). The in vivo use of the stable isotope-labelled biomarkers lactose-[15N]ureide and [2H4]tyrosine to assess the effects of pro- and prebiotics on the intestinal flora of healthy human volunteers. Br J Nutr 92, 439–446.

De Preter V, Verbeke K (2006). Evaluation of the necessity of induction for lactose-[15N,15N]-ureide to study the colonic ammonia metabolism. Scand J Gastroenterol 41, 396–400.

De Preter V, Vanhoutte T, Huys G, Swings J, De Vuyst L, Rutgeerts P et al. (2007). Effects of Lactobacillus casei Shirota, Bifidobacterium breve, and oligofructose-enriched inulin on colonic nitrogen-protein metabolism in healthy humans. Am J Physiol Gastroenterol Liver Physiol 292, G358–G368.

De Preter V, Vanhoutte T, Huys G, Swings J, Rutgeerts P, Verbeke K (2006). Effect of lactulose and Saccharomyces boulardii administration on the colonic urea-nitrogen metabolism and the bifidobacteria concentration in healthy human subjects. Aliment Pharmacol Ther 23, 963–974.

De Preter V, Vanhoutte T, Huys G, Swings J, Rutgeerts P, Verbeke K (2008). Baseline microbiota activity and initial bifidobacteria counts influence responses to prebiotic dosing in healthy subjects. Aliment Pharmacol Ther 27, 504–513.

Faust H, Bornhak H, Hirschberg K, Jung K, Junghans P, Krumbiegel P et al. (1981). Klinisch-chemische und isotopenanalytische Methoden zur Untersuchung des Stickstoff-Stoffwechsels mit N-15 beim Menschen. In: Wetzel K (ed). Methodenkatalog. ZfI-Mitteilungen. vol. 36 Akademie der Wissenschaften: Leipzig. pp 115–132.

Fuller R (1989). Probiotics in man and animals. J Appl Bacteriol 66, 365–378.

Geboes KP, De Hertogh G, De Preter V, Luypaerts A, Bammens B, Evenepoel P et al. (2006). The influence of inulin on the absorption of nitrogen and the production of metabolites of protein fermentation in the colon. Br J Nutr 96, 1078–1086.

Geboes KP, De Preter V, Luypaerts A, Bammens B, Evenepoel P, Ghoos Y et al. (2005). Validation of lactose[15N,15N]ureide as a tool to study colonic nitrogen metabolism. Am J Physiol Gastrointest Liver Physiol 288, G994–G999.

Gibson GR, Roberfroid MB (1995). Dietary modulation of the human colonic microbiota: introducing the concept of prebiotics. J Nutr 125, 1401–1412.

Heijnen ML, Beynen AC (1997). Consumption of retrograded (RS3) but not uncooked (RS2) resistant starch shifts nitrogen excretion from urine to feces in cannulated piglets. J Nutr 127, 1828–1832.

Heine WE, Berthold HK, Klein PD (1995). A novel stable isotope breath test: 13C-labeled glycosylureides used as noninvasive markers of intestinal transit time. Am J Gastroenterol 90, 93–98.

Jackson AA, Gibson NR, Bundy R, Hounslow A, Millward DJ, Wootton SA (2004). Transfer of 15N from oral lactose-ureide to lysine in normal adults. Int J Food Sci Nutr 55, 455–462.

Macfarlane GT, Cummings JH (1991). The colonic flora, fermentation and large bowel digestive function. In: Phillips SF, Pemberton H, Shorter RG (eds). The Large Intestine: Physiology, Pathophysiology and Disease. Raven: New York. pp 51–92.

Mohr C, Heine WE, Wutzke KD (1999). Clostridium innocuum: a glucose ureide splitting inhabitant of the human microbial flora. Biochim Biophys Acta 1472, 550–554.

Pfeiffer A, Rosat JP (1999). Probiotics in alimentation: clinical evidence for their enhancement of the natural immunity of the gut. In: Hanson LA, Yolken RH (eds). Probiotics, Other Nutritional Factors and Intestinal Microflora. Nestlé nutrition workshop series. vol. 42 Lippincott-Raven: Philadelphia. pp 243–255.

Sajilata MG, Singhal RS, Kulkarni PR (2006). Resistant starch—a review. Compr Rev Food Sci Food Saf 5, 1–17.

Sanders MA, Huis In't Veld J (1999). Bringing a probiotic-containing functional food on the market: microbiological, product, regulatory and labeling issues. Antonie Van Leeuwenhoek 76, 293–315.

Smith EA, Macfarlane GT (1996). Enumeration of human colonic bacteria producing phenolic and indolic compounds: effects of pH, carbohydrate availability and retention time on dissimilatory aromatic amino acid metabolism. J Appl Bacteriol 81, 288–302.

Swanson KS, Grieshop CM, Flickinger EA, Bauer LL, Chow J, Wolf BW et al. (2002). Fructooligosaccharides and Lactobacillus acidophilus modify gut microbial populations, total tract nutrient digestibilities and fecal protein catabolite concentrations in healthy adult dogs. J Nutr 132, 3721–3731.

Wutzke KD, Glasenapp B (2004). The use of 13C-labelled glycosyl ureides for evaluation of orocaecal transit time. Eur J Clin Nutr 58, 568–572.

Wutzke KD, Heine WE, Plath C, Leitzmann P, Radke M, Mohr C et al. (1997). Evaluation of oro-coecal transit time: a comparison of the lactose-[13C, 15N]ureide 13CO2- and the lactulose H2-breath test in humans. Eur J Clin Nutr 51, 11–19.

Wutzke KD, Oetjens I (2005). 13C- and 15N-incorporation of doubly stable isotope labelled Lactobacillus johnsonii in humans. Eur J Clin Nutr 59, 1167–1172.

Wutzke KD, Sattinger V (2006). 15N-excretion of heat-killed Lactobacillus casei in humans. Eur J Clin Nutr 60, 847–852.

Wutzke KD, Schütt M (2007). The duration of enzyme induction in oroceacal transit time measuremenrts. Eur J Clin Nutr 61, 1161–1166.
Acknowledgements
This study was supported by Emsland Group GmbH Emlichheim, Germany.
Ethics declarations
Competing interests
The authors declare no conflict of interest.
About this article
Cite this article
Wutzke, K., Lotz, M. & Zipprich, C. The effect of pre- and probiotics on the colonic ammonia metabolism in humans as measured by lactose-[15N2]ureide. Eur J Clin Nutr 64, 1215–1221 (2010). https://doi.org/10.1038/ejcn.2010.120
Received:

Revised:

Accepted:

Published:

Issue Date:

DOI: https://doi.org/10.1038/ejcn.2010.120
Keywords
ammonia metabolism

human colon

lactose-[15N2]ureide

prebiotics

probiotics
This article is cited by
Hao Zhang
Jing Sun
Fazheng Ren

Journal of Microbiology (2013)

Juan Carlos Guevara-Arauza
Jos de Jesús Ornelas-Paz
Luz María Teresita Paz Maldonado

Food Science and Biotechnology (2012)