Abstract
Background/Objectives:
Meat is a good source of proteins and irons, yet its consumption has been associated with unfavorable cardiovascular effects. Whether this applies to all types of meat is unclear. We thus aimed to appraise the impact of water buffalo meat consumption on cardiovascular risk profile with an observational longitudinal study.
Subjects/Methods:
Several important cardiovascular risk features were appraised at baseline and at 12-month follow-up in 300 adult subjects divided in groups: recent consumers of water buffalo meat vs subjects who had never consumed water buffalo meat. In addition, long-standing consumers of water buffalo meat were evaluated.
Results:
Age, gender, height, body weight, and the remaining diet (with the exception of cow meat consumption) were similar across groups. From baseline to follow-up, recent consumers of water buffalo meat change their intake of water buffalo meat from none to 600±107 g per week (P<0.001), with ensuing reductions in cow meat consumption from 504±104 to 4±28 (P<0.001). At the end of the study, recent consumers of water buffalo meat showed a significant decrease in total cholesterol and triglycerides levels, lower pulse wave velocity, as well as a more blunted response to oxidative stress from baseline to follow-up in comparison with subjects who had never consumed water buffalo meat (all P<0.05).
Conclusions:
Consumption of buffalo meat seems to be associated with several beneficial effects on cardiovascular risk profile. Awaiting further randomized clinical trials, this study suggests that a larger consumption of water buffalo meat could confer significant cardiovascular benefits, while continuing to provide a substantial proportion of the recommended daily allowance of protein.
Access options
Subscribe to this journal
Receive 12 print issues and online access
$259.00 per year
only $21.58 per issue
Rent or buy this article
Prices vary by article type
from$1.95
to$39.95
Prices may be subject to local taxes which are calculated during checkout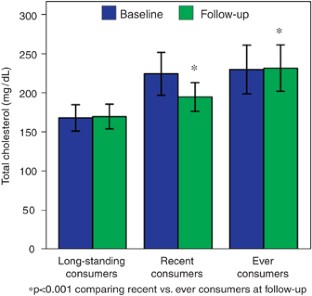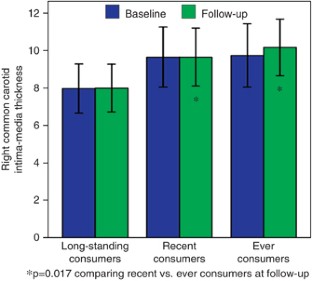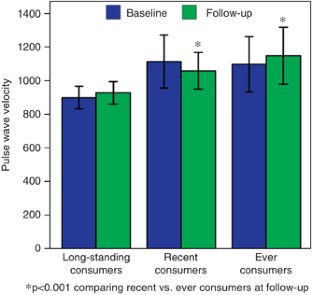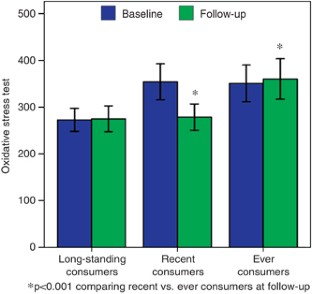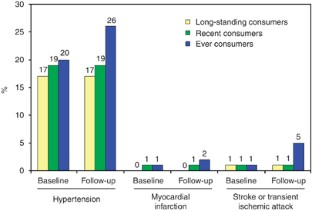 References
Barnard ND, Nicholson A, Howard JL (1995). The medical costs attributable to meat consumption. Prev Med 24, 646–655.

Biondi-Zoccai GGL, Agostoni P, Abbate A (2003). Parallel hierarchy of scientific studies in cardiovascular medicine. Ital Heart J 4, 819–820.

Brunner EJ, Mosdøl A, Witte DR, Martikainen P, Stafford M, Shipley MJ et al. (2008). Dietary patterns and 15-y risks of major coronary events, diabetes, and mortality. Am J Clin Nutr 87, 1414–1421.

Cesarone MR, Belcaro G, Carratelli M, Cornelli U, De Sanctis MT, Incandela L et al. (1999). A simple test to monitor oxidative stress. Int Angiol 18, 127–130.

Cordain L, Eaton SB, Miller JB, Mann N, Hill K (2002). The paradoxical nature of hunter-gatherer diets: meat-based, yet non-atherogenic. Eur J Clin Nutr 56 (Suppl 1), S42–S52.

Heidemann C, Schulze MB, Franco OH, van Dam RM, Mantzoros CS, Hu FB (2008). Dietary patterns and risk of mortality from cardiovascular disease, cancer, and all causes in a prospective cohort of women. Circulation 118, 230–237.

Hu FB, Willett WC (2002). Optimal diets for prevention of coronary heart disease. JAMA 288, 2569–2578.

Iqbal R, Anand S, Ounpuu S, Islam S, Zhang X, Rangarajan S, INTERHEART Study Investigators et al. (2008). Dietary patterns and the risk of acute myocardial infarction in 52 countries: results of the INTERHEART study. Circulation 118, 1929–1937.

Keys A (1980). Seven Countries: A Multivariate Analysis of Death and Coronary Heart Disease. Harvard University Press: Cambridge, MA.

Masala G, Bendinelli B, Versari D, Saieva C, Ceroti M, Santagiuliana F et al. (2008). Anthropometric and dietary determinants of blood pressure in over 7000 Mediterranean women: the European Prospective Investigation into Cancer and Nutrition-Florence cohort. J Hypertens 26, 2112–2120.

Mente A, de Koning L, Shannon HS, Anand SS (2009). A systematic review of the evidence supporting a causal link between dietary factors and coronary heart disease. Arch Intern Med 169, 659–669.

Nicklas TA, Farris RP, Myers L, Berenson GS (1995). Impact of meat consumption on nutritional quality and cardiovascular risk factors in young adults: the Bogalusa Heart Study. J Am Diet Assoc 95, 887–892.

O'Keefe Jr JH, Cordain L (2004). Cardiovascular disease resulting from a diet and lifestyle at odds with our Paleolithic genome: how to become a 21st-century hunter-gatherer. Mayo Clin Proc 79, 101–108.

Sinha R, Cross AJ, Graubard BI, Leitzmann MF, Schatzkin A (2009). Meat intake and mortality: a prospective study of over half a million people. Arch Intern Med 169, 562–571.

Tetens I, Bendtsen KM, Henriksen M, Ersbøll AK, Milman N (2007). The impact of a meat- versus a vegetable-based diet on iron status in women of childbearing age with small iron stores. Eur J Nutr 46, 439–445.

Trichopoulou A, Bamia C, Trichopoulos D (2009). Anatomy of health effects of Mediterranean diet: Greek EPIC prospective cohort study. BMJ 338, b2337.

United Nations Food and Agriculture Organization (2000). Water Buffalo, an Asset Undervalued. United Nations Food and Agriculture Organization Publishing. Available at http://www.aphca.org/publications/files/w_buffalo.pdf. Last accessed on: 31 July 2009.

Verkaar EL, Nijman IJ, Boutaga K, Lenstra JA (2002). Differentiation of cattle species in beef by PCR-RFLP of mitochondrial and satellite DNA. Meat Sci 60, 365–369.

Walker P, Rhubart-Berg P, McKenzie S, Kelling K, Lawrence RS (2005). Public health implications of meat production and consumption. Public Health Nutr 8, 348–356.

Watts GF, Ahmed W, Quiney J, Houlston R, Jackson P, Iles C et al. (1988). Effective lipid lowering diets including lean meat. Br Med J (Clin Res Ed) 296, 235–237.
Ethics declarations
Competing interests
The authors declare no conflict of interest.
About this article
Cite this article
Giordano, G., Guarini, P., Ferrari, P. et al. Beneficial impact on cardiovascular risk profile of water buffalo meat consumption. Eur J Clin Nutr 64, 1000–1006 (2010). https://doi.org/10.1038/ejcn.2010.108
Received:

Revised:

Accepted:

Published:

Issue Date:

DOI: https://doi.org/10.1038/ejcn.2010.108
Keywords
This article is cited by
Sarita Kumari
R. R. Kumar
Jyoti Jawla

Food Analytical Methods (2020)

Diana Bărburaș
Adriana Gyӧrke
Vasile Cozma

Parasitology Research (2019)

Raul Franzolin
Benoit St-Pierre
André-Denis G. Wright

Microbial Ecology (2012)