Abstract
Phytosterol and stanol (or phytosterols) consumption reduces intestinal cholesterol absorption, leading to decreased blood LDL-cholesterol levels and lowered cardiovascular disease risk. However, other biological roles for plant sterols and stanols have also been proposed. The objective of this review is to critically examine results from recent research regarding the potential effects and mechanisms of action of phytosterols on forms of cancer. Considerable emerging evidence supports the inhibitory actions of phytosterols on lung, stomach, as well as ovarian and breast cancer. Phytosterols seem to act through multiple mechanisms of action, including inhibition of carcinogen production, cancer-cell growth, angiogenesis, invasion and metastasis, and through the promotion of apoptosis of cancerous cells. Phytosterol consumption may also increase the activity of antioxidant enzymes and thereby reduce oxidative stress. In addition to altering cell-membrane structure and function, phytosterols probably promote apoptosis by lowering blood cholesterol levels. Moreover, consumption of phytosterols by healthy humans at the recommended level of 2 g per day does not cause any major health risks. In summary, mounting evidence supports a role for phytosterols in protecting against cancer development. Hence, phytosterols could be incorporated in diet not only to lower the cardiovascular disease risk, but also to potentially prevent cancer development.
Relevant articles
Open Access articles citing this article.
Mandana AmeliMojarad

,

Melika AmeliMojarad

&

Alireza Pourmahdian

BMC Pharmacology and Toxicology Open Access 20 June 2022

Sung-Hwan Cho

,

Katalin Tóth

…

Gary Stacey

Nature Communications Open Access 21 January 2022
Access options
Subscribe to this journal
Receive 12 print issues and online access
$259.00 per year
only $21.58 per issue
Rent or buy this article
Prices vary by article type
from$1.95
to$39.95
Prices may be subject to local taxes which are calculated during checkout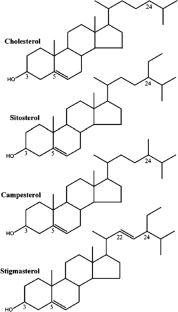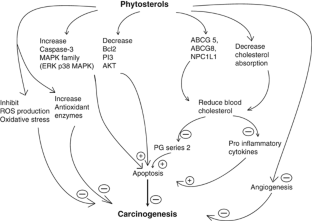 References
Abumweis SS, Jones PJH (2007). Plant sterols: Natural plant components with potential beneficial health effects. International News on fats, oils and related materials. Inform 18, 825–828.

Abumweis SS, Barake R, Jones P (2008a). Plant sterols/stanols as cholesterol lowering agents: A meta-analysis of randomized controlled trials. Food Nutr Res (In press).

Abumweis SS, Vanstone CA, Lichtenstein AH, Jones PJ (2008b). Plant sterol consumption frequency affects plasma lipid levels and cholesterol kinetics in humans. Eur J Clin Nutr (In press).

Awad AB, Burr AT, Fink CS (2005). Effect of resveratrol and β-sitosterol in combination on reactive oxygen species and prostaglandin release by PC-3 cells. Prostaglandins Leukot Essent Fatty Acids 72, 219–226.

Awad AB, Chinnam M, Fink CS, Bradford PG (2007). β-Sitosterol activates Fas signaling in human breast cancer cells. Phytomedicine 14, 747–754.

Awad AB, Fink CS, Williams H, Kim U (2001a). In vitro and in vivo (SCID mice) effects of phytosterols on the growth and dissemination of human prostate cancer PC-3 cells. Eur J Cancer Prev 10, 507–513.

Awad AB, Toczek J, Fink CS (2004). Phytosterols decrease prostaglandin release in cultured P388D1/MAB macrophages. Prostaglandins Leukot Essent Fatty Acids 70, 511–520.

Awad AB, Williams H, Fink CS (2001b). Phytosterols reduce in vitro metastatic ability of MDA-MB-231 human breast cancer cells. Nutr Cancer 40, 157–164.

Beck JG, Mathieu D, Loudet C, Buchoux S, Dufourc EJ (2007). Plant sterols in 'rafts': a better way to regulate membrane thermal shocks. FASEB J 21, 1714–1723.

Bradford PG, Awad AB (2007). Phytosterols as anticancer compounds. Mol Nutr Food Res 51, 161–170.

Calpe-Berdiel L, Escolà-Gil JC, Blanco-Vaca F (2009). New insights into the molecular actions of plant sterols and stanols in cholesterol metabolism. Atherosclerosis 203, 18–31. Epub 2008 Jul 6 (In press).

Chang SJ, Hou MF, Tsai SM, Wu SH, Hou LA, Ma H et al. (2007). The association between lipid profiles and breast cancer among Taiwanese women. Clin Chem Lab Med 45, 1219–1223.

Choi S, Kim KW, Choi JS, Han ST, Park YI, Lee SK et al. (2002). Angiogenic activity of beta-sitosterol in the ischaemia/reperfusion-damaged brain of Mongolian gerbil. Planta Med 68, 330–335.

Choi J, Lee E, Lee H, Kim K, Ahn K, Shim B et al. (2007). Identification of campesterol from Chrysanthemum coronarium L and its antiangiogenic activities. Phytother Res 21, 954–959.

De Stefani E, Boffetta P, Ronco AL, Brennan P, Deneo-Pellegrini H, Carzoglio JC et al. (2000). Plant sterols and risk of stomach cancer: A case-control study in Uruguay. Nutr Cancer 37, 140–144.

Foijer F, Te Riele H (2006). Check, double check: the G2 barrier to cancer. Cell Cycle 5, 831–836.

Guseva NV, Taghiyev AF, Rokhlin OW, Cohen MB (2002). Contribution of death receptor and mitochondrial pathways to Fas-mediated apoptosis in the prostatic. Prostate 51, 231–240.

Gylling HK, Hallikainen M, Vidgren H, Agren J, Miettinen TA (2006). Ester percentages of plant sterols and cholesterol in chylomicrons and VLDL of humans with low and high sterol absorption. Atherosclerosis 187, 150–152.

Hac-Wydro K, Wydro P, Jagoda A, Kapusta J (2007). The study on the interaction between phytosterols and phospholipids in model membranes. Chem Phys Lipids 150, 22–34.

Hamada H, Egashira N, Nishizono S, Tomoyori H, Nakagiri H, Imaizumi K, Ikeda I (2007). Lymphatic absorption and deposition of various plant sterols in stroke-prone spontaneously hypertensive rats, a strain saving a mutation in ATP binding cassette transporter G5. Lipids 42, 241–248.

Hanahan D, Weinberg RA (2000). The hallmarks of cancer. Cell 100, 57–70.

Hayes KC, Pronczuk A, Perlman D (2004). Nonesterified phytosterols dissolved and recrystallized in oil reduce plasma cholesterol in gerbils and humans. J Nutr 134, 1395–1399.

Igel M, Giesa U, Lutjohann D, Bergmann K (2003). Comparison of the intestinal uptake of cholesterol, plant sterols, and stanols in mice. Lipid Res 44, 533–538.

Jia X, Ebine N, Demonty I, Wang Y, Beech R, Muise V et al. (2007). Hypocholesterolemic effects of plant sterol analogues are independent of ABCG5 and ABCG8 transporter expressions in hamsters. Br J Nutr 98, 550–555.

Jones PJ (1999). Cholesterol-lowering action of plant sterols. Curr Atheroscler Rep 1, 230–235.

Jones PJH, Demonty I, Chan Y, Herzog Y, Pelled D (2007). Fish-oil esters of plant sterols differ from vegetable-oil sterol esters in triglycerides lowering, carotenoid bioavailability and impact on plasminogen activator inhibitor-1 (PAI-1) concentrations in hypercholesterolemic subjects. Lipids Health Dis 6, 28.

Jones PJ, MacDougall DE, Ntanios F, Vanstone CA (1997). Dietary phytosterols as cholesterol-lowering agents in humans. Can J Physiol Pharmacol 75, 217–227.

Ju YH, Clausen LM, Allred KF, Almada AL, Helferich WG (2004). β -Sitosterol, β -sitosterol glucoside, and a mixture of β-sitosterol and β-sitosterol glucoside modulate the growth of estrogen-responsive breast cancer cells in vitro and ovariectomized athymic mice. J Nutr 134, 1145–1151.

Katan MB, Grundy SM, Jones P, Law M, Miettinen T, Paoletti R (2003). Efficacy and safety of plant stanols and sterols in the management of blood cholesterol levels. Mayo Clin Proc 78, 965–978.

Klingberg S, Ellegård L, Johansson I, Hallmans G, Weinehall L, Andersson H et al. (2008). Inverse relation between dietary intake of naturally occurring plant sterols and serum cholesterol in northern Sweden. Am J Clin Nutr 87, 993–1001.

Kralova J, Dvorak M, Koc M, Kral V (2008). p38 MAPK plays an essential role in apoptosis induced by photoactivation of a novel ethylene glycol porphyrin derivative. Oncogene 27, 3010–3020.

Kritchevsky D, Chen SC (2005). Phytosterols - health benefits and potential concerns - a review. Nutr Res 25, 413–428.

Larkins TL, Nowell M, Singh S, Sanford GL (2006). Inhibition of cyclooxygenase-2 decreases breast cancer cell motility, invasion and matrix metalloproteinase expression. BMC Cancer 6, 181.

Law M (2000). Plant sterol and stanol margarines and health. BMJ 320, 861–864.

Li YC, Park MJ, Ye SK, Kim CW, Kim YN (2006). Elevated levels of cholesterol-rich lipid rafts in cancer cells are correlated with apoptosis sensitivity induced by cholesterol-depleting agents. Am J Pathol 168, 1107–1118.

Liu CH, Chang SH, Narko K, Trifan OC, Wu M, Smith E et al. (2001). Overexpression of cyclooxygenase-2 is sufficient to induce tumorigenesis in transgenic mice. J Biol Chem 276, 18563–18569.

Ling WH, Jones PJ (1995). Dietary phytosterols: a review of metabolism, benefits and side effects. Life Sci 57, 195–206.

Lizard G (2008). Phytosterols: to be or not to be toxic; that is the question. Br J Nutr 9, 1–2.

Lu H, Ouyang W, Huang C (2006). Inflammation, a key event in cancer development. Mol Cancer Res 4, 221–233.

Lucenteforte E, Talamini R, Montella M, Dal Maso L, Tavani A, Deandrea S et al. (2008). Macronutrients, fatty acids and cholesterol intake and endometrial cancer. Ann Oncol 19, 168–172.

Marinangeli CP, Varady KA, Jones PJ (2006). Plant sterols combined with exercise for the treatment of hypercholesterolemia: overview of independent and synergistic mechanisms of action. J Nutr Biochem 17, 217–224.

Masferrer JL, Leahy KM, Koki AT, Zweifel BS, Settle SL, Woerner BM et al. (2000). Antiangiogenic and antitumor activities of cyclooxygenase-2 inhibitors. Cancer Res 60, 1306–1311.

McCann SE, Freudenheim JL, Marshall JR, Graham S (2003). Risk of human ovarian cancer is related to dietary intake of selected nutrients, phytochemicals and food groups. J Nutr 133, 1937–1942.

Mendilaharsu M, Stefani ED, Deneo-Pellegrini H, Carzoglio J, Ronco A (1998). Phytosterols and risk of lung cancer: A case-control study in Uruguay. Lung Cancer 21, 37–45.

Meric J, Rottey S, Olaussen K, Soria J, Khayat D, Rixe O et al. (2006). Cyclooxygenase-2 as a target for anticancer drug development. Crit Rev Oncol Hematol 59, 51–64.

Moon D, Lee K, Choi YH, Kim G (2007). β-Sitosterol-induced-apoptosis is mediated by the activation of ERK and the downregulation of Akt in MCA-102 murine fibrosarcoma cells. Int Immunopharmacol 7, 1044–1053.

Moon DO, Kim MO, Choi YH, Kim GY (2008). beta-Sitosterol induces G2/M arrest, endoreduplication, and apoptosis through the Bcl-2 and PI3K/Akt signaling pathways. Cancer Lett 264, 181–191.

Moon EJ, Lee YM, Lee OH, Lee MJ, Lee SK, Chung MH et al. (1999). A novel angiogenic factor derived from Aloe vera gel: beta-sitosterol, a plant sterol. Angiogenesis 3, 117–123.

Noakes M, Clifton P, Ntanios F, Shrapnel W, Record I, McInerney J (2002). An increase in dietary carotenoids when consuming plant sterols or stanols is effective in maintaining plasma carotenoid concentrations. Am J Clin Nutr 75, 79–86.

Normen AL, Brants HA, Voorrips LE, Andersson HA, van den Brandt PA, Goldbohm RA (2001). Plant sterol intakes and colorectal cancer risk in the Netherlands cohort study on diet and cancer. Am J Clin Nutr 74, 141–148.

Normen L, Ellegard L, Janssen H, Steenbergen H, Trautwein E, Andersson H (2006). Phytosterol and phytostanol esters are effectively hydrolysed in the gut and do not affect fat digestion in ileostomy subjects. Eur J Nutr 45, 165–170.

Oadir MI, Malik SA (2008). Plasma lipid profile in gynecologic cancers. Eur J Gynaecol Oncol 29, 158–161.

Oh HY, Lee EJ, Yoon S, Chung BH, Cho KS, Hong SJ (2007). Cholesterol level of lipid raft microdomains regulates apoptotic cell death in prostate cancer cells through EGFR-mediated Akt and ERK signal transduction. Prostate 67, 1061–1069.

Ohno S, Ohno Y, Suzuki N, Soma G, Inoune M (2007). Cyclooxygenase-2 expression correlates with apoptosis and angiogenesis in endometrial cancer tissue. Anticancer Res 27, 3765–3770.

Ostlund RE (2002). Phytosterols in human nutrition. Annu Rev Nutr 22, 533–549.

Ostlund RE, Mcgill JB, Zeng C, Covey DF, Stearns J, Stenson WF et al. (2002). Gastrointestinal absorption and plasma kinetics of soy 5-phytosterols and phytostanols in humans. Am J Physiol Endocrinol Metab 282, E911–E916.

Park C, Moon D, Rhu C, Choi BT, Lee WH, Kim G et al. (2007). β-Sitosterol induces anti-proliferation and apoptosis in human leukemic U937 cells through activation of caspase-3 and induction of Bax/Bcl-2 ratio. Biol Pharm Bull 30, 1317–1323.

Pinedo S, Vissers MN, von Bergmann K, Elharchaoui K, Lütjohann D, Luben R et al. (2007). Plasma levels of plant sterols and the risk of coronary artery disease: the prospective EPICNorfolk population study. J Lipid Res 48, 139–144.

Prescott SM (2000). Is cyclooxygenase-2 the alpha and the omega in cancer? J Clin Invest 105, 1511–1513.

Quilliot D, Boman F, Creton C, Pelletier X, Floquet J, Debry G (2001). Phytosterols have an unfavourable effect on bacterial activity and no evident protective effect on colon carcinogenesis. Eur J Cancer Prev 10, 237–243.

Richelle M, Enslen M, Hager C, Groux M, Tavazzi I, Godin J et al. (2004). Both free and esterified plant sterols reduce cholesterol absorption and the bioavailability of β-carotene and α -tocopherol in normocholesterolemic humans. Am J Clin Nutr 80, 171–177.

Rivas MA, Carnevale RP, Proietti CJ, Rosemblit C, Beguelin W, Salatino M et al. (2008). TNFα acting on TNFR1 promotes breast cancer growth via p42/P44 MAPK, JNK, Akt and NF- κB-dependent pathways. Exp Cell Res 314, 509–529.

Romanowska M, Maciag A, Smith AL, Fields JR, Fornwald LW, Kikawa KD et al. (2007). DNA damage, superoxide, and mutant K-ras in human lung adenocarcinoma cells. Free Radic Biol Med 43, 1145–1155.

Rubis B, Paszel A, Kaczmarek M, Rudzinska M, Jelen H, Rybczynska M (2008). Beneficial or harmful influence of phytosterols on human cells? Br J Nutr 100, 1183–1191.

Ryan E, Galvin K, O'Connor TP, Maguire AR, O'Brien NM (2007). Phytosterol, squalene, tocopherol content and fatty acid profile of selected seeds, grains, and legumes. Plant Foods Hum Nutr 62, 85–91.

Ryan E, Galvin K, O'Connor TP, Maguire AR, O'Brien NM (2006). Fatty acid profile, tocopherol, squalene and phytosterol content of brazil, pecan, pine, pistachio and cashew nuts. Int J Food Sci Nutr 57, 219–228.

Sanders DJ, Minter HJ, Howes D, Hepburn PA (2000). The safety evaluation of phytosterol esters Part 6 The comparative absorption and tissue distribution of phytosterols in the rat. Food Chem Toxicol 38, 485–491.

St-Onge MP, Jones PJ (2003). Phytosterols and human lipid metabolism: efficacy, safety, and novel foods. Lipids 38, 367–375.

Sudhop T, Gottwald BM, von Bergmann K (2002). Serum plant sterols as a potential risk factor for coronary heart disease. Metabolism 51, 1519–1521.

Varady KA, Houweling AH, Jones PJ (2007). Effect of plant sterols and exercise training on cholesterol absorption and synthesis in previously sedentary hypercholesterolemic subjects. Transl Res 149, 22–30.

Vivancos M, Moreno JJ (2005). β-Sitosterol modulates antioxidant enzyme response in RAW 264 7 macrophages. Free Radic Biol Med 39, 91–97.

Wiese FW, Thompson PA, Kadlubar FF (2001). Carcinogen substrate specificity of human COX-1 and COX-2. Carcinogenesis 22, 5–10.

Wilund KR, Yu L, Xu F, Vega GL, Grundy SM, Cohen JC et al. (2004). No association between plasma levels of plant sterols and atherosclerosis in mice and men. Arterioscler Thromb Vasc Biol 24, 2326–2332.

Windler E, Zyriax BC, Kuipers F, Linseisen J, Boeing H. (2009). Association of plasma phytosterol concentrations with incident coronary heart disease Data from the CORA study, a case-control study of coronary artery disease in women. Atherosclerosis 203, 284–290. Epub 2008 Jun 26 (In press).

Zhuang L, Kim J, Adam RM, Solomon KR, Freeman MR (2005). Cholesterol targeting alters lipid raft composition and cell survival in prostate cancer cells and xenografts. J Clin Invest 115, 959–968.
Additional information
Contributors: TAW contributed in literature and data collection and in preparation of the paper. VRR contributed in the preparation of the paper and critical review. PJHJ also contributed in preparation of the paper and critical review.
About this article
Cite this article
Woyengo, T., Ramprasath, V. & Jones, P. Anticancer effects of phytosterols. Eur J Clin Nutr 63, 813–820 (2009). https://doi.org/10.1038/ejcn.2009.29
Received:

Revised:

Accepted:

Published:

Issue Date:

DOI: https://doi.org/10.1038/ejcn.2009.29
Keywords