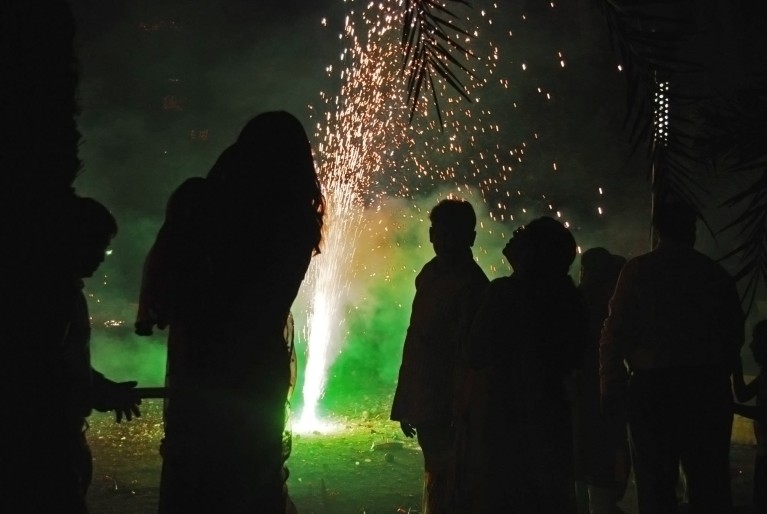 Biomass burning, Diwali fireworks and traffic emit pollutants that enhance the oxidative potential of atmospheric fine particles in Delhi during post-monsoon season1. This situation is worsened when fog forms during the winter months.
If fine particles are inhaled they can induce the formation of reactive oxygen species, which generate oxidative stress on cells. This ability of fine particles to cause oxidative stress is referred to as oxidative potential (OP).
Researchers at the Indian Institute of Technology in Kanpur, Delhi and Kharagpur used cell-free assay to measure the hourly average of OP and composition of fine particles in Delhi from October 2019 to January 2020. They found that during Diwali the average mass concentration of fine particles increased by 60% with respect to the post-monsoon period.
Traffic, plus wind-swept dust, secondary aerosols – predominantly made of sulphate, nitrate and organic carbon – biomass burning and firework emissions contributed significantly to the OP of fine particles. Firework-related emissions peaked on the night of Diwali, the study showed.
Biomass burning contributed moderately to OP after the monsoon, but it was the largest contributor during winter fog.
In post-monsoon season, rice paddy stubble burning in the neighbouring states of Punjab and Haryana emits pollutants. This contributes up to 70% of fine particles in the polluted air of the National Capital Region2. However, industrial emissions were not a major contributor to OP during any period.