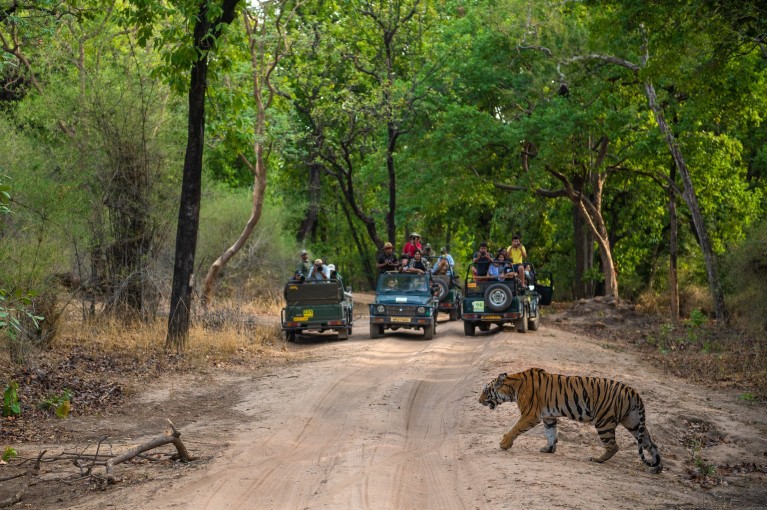 A new study by the Centre for Wildlife Studies supports the idea that for tourists in India's nature reserves, tigers are the biggest drawcard.
"Since nature tourism is gaining popularity, we conducted a survey to understand tourists' preferences – this could help managers of protected areas to strategize and generate revenue better," according to the lead author of the study Dincy Mariyam.
To determine what attracted people, Mariyam and her team conducted the study at three tiger reserves—Bandipur, Kanha and Sundarbans. Though the researchers say that these protected areas were chosen for their high tourist numbers, one limitation of the study is that all three locations are designated tiger reserves, where tourists come with the primary intention of sighting a tiger.
The team found that the charismatic big cat was the most popular reason for them to visit, followed by beauty of reserve landscapes. Mariyam says that factors, including prior engagement in conservation issues, age, and gender could also have an effect on reasons for interest in low-profile categories such as herpetofauna and flora. For example, female tourists showed more interest in plants and trees, and younger tourists, especially those with experience in conservation activities, were more likely to value lesser-known fauna.
"The tiger is the most charismatic carnivore and has attributes like courage, stealth and confidence which a lot of people want to see in themselves. Spotting one in the wild is thrilling," says Anish Andheria, president and CEO of the Wildlife Conservation Trust.
The authors considered the question of whether tourists who do not see a tiger would be deterred from future visits to a reserve. Andheria says nature observers are more informed and are interested in other species, not always tigers. "In Kanha, for example, tourists show a lot of interest in the endangered Barasingha (swamp deer)," he says.
India is a megadiverse country and has seen a 171% growth in PA visitation between 2005 and 2015, with 4.6 million visits, the study says. Previous studies have shown that nature-based tourism in India is largely domestic, with Indian tourists accounting for 96% of all visitors.
David Raju, a nature guide who has worked in many major PAs, like Kanha, Pench, Satpura and Tadoba national parks, says that he has observed varied interests in tourists. "These studies need to be done in PAs other than tiger reserves as well for accuracy," he says. In his current role at Wayanad, Raju says two popular guides who focus on frogs and reptiles are booked for months in advance by tourists and photographers. "What we see in most tiger reserves is that the guides do not make an effort to take the experience beyond tiger sightings. It is an easy route with high satisfaction levels in places like Kanha and Pench where the tigers are habituated to vehicles and come closer."
Tiger reserves have played a major role in protecting forest biodiversity. Andheria, a steering committee member of the National Tiger Conservation Authority (NTCA), says that after the launch of Project Tiger in 1973, the country rode on tigers' popularity to create 53 tiger reserves with all types of landscapes and biodiversity. "If you want to protect frog species, no authority will show interest. But tiger holds sway, and when you create a tiger reserve, the frog is also protected."
Andheria says the best habitat for elephants in the country is the tiger reserves. "Many rivers originate from or are fed by tiger reserves thus maintaining the hydrology of the region. So Project Tiger was an initiative that seemed to focus on tigers, but took conservation beyond them," he says.
Mariyam says that the study also sought to discover whether there was an interest in lesser-known species like herpetofauna. "Most tourists are not willing to brave hostile conditions like leeches and ticks to get to their habitats. Tigers are easily spotted in spaces they are habituated to and everyone, from the young to the old, or unfit, can sit on a jeep and go to its habitat to spot one," Anish says.
Raju says that a trained guide can generate and sustain visitor interest in a well-rounded PA experience. He says organizations such as Taj Safari, Pugdundee, and NGOs, including Nature Conservation Foundation (NCF) are now invested in training guides. "The NTCA is already working on creating quality interpretation centres in every tiger reserve in the country," says Andheria.