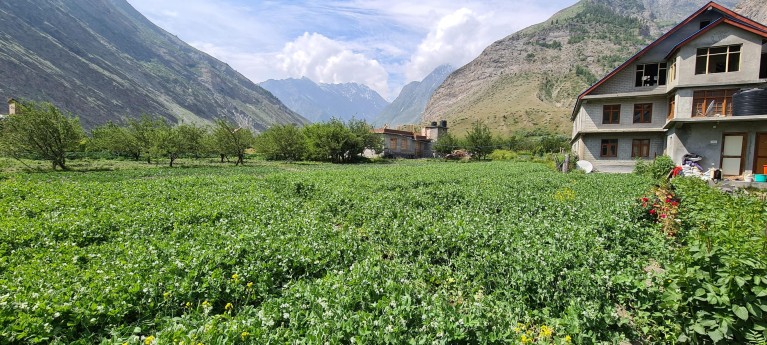 Compost from Himalayan dry toilets can be used to enrich soil and support growth of food and non-food plants1.
Dry toilets – two-storey structures with a toilet on top and composting unit underneath – convert human faeces into compost. They are used in regions with water scarcity.
Scientists at the CSIR-Institute of Himalayan Bioresource Technology in Himachal Pradesh set out to evaluate the safety and quality of this compost.
They collected compost samples from dry toilets in Goshal village in the Lahaul valley of Himalaya, which they dried, powdered and sieved, and then analysed in the lab.
The researchers, led by Rakshak Kumar, found that the samples had potential as a good quality compost. They had a moderate concentration of heavy metals.
The team detected safe and acceptable levels of pathogens in the compost. Escherichia coli bacteria, a faecal pathogenic indicator, were present in low numbers. Species of Salmonella bacteria, which are pathogenic and spread via sewage sludge and cow dung, were not found. The samples also contained a low number of pathogenic bacteria with antimicrobial resistance genes.
The compost boosted growth of pea seeds, indicating it has non-toxic effects on seed germination and root growth.