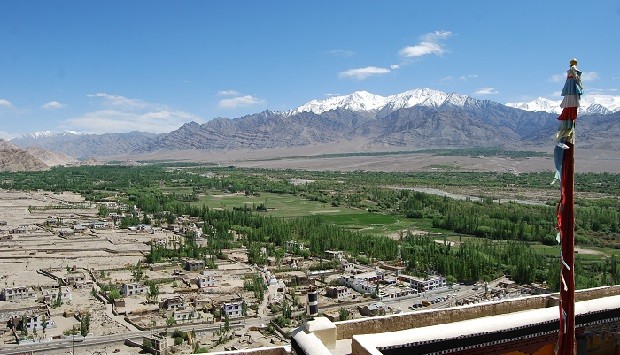 The complex geopolitical dynamics between India and China have long created barriers to sustained scientific collaboration. But scientists on both sides of the border say environmental degradation is posing an increasingly grave threat to billions of people in south Asia. They are calling for renewed efforts to protect and nurture research partnerships between the world's most populous countries.
Scientific teamwork could lay foundations for shared spaces, offering environmental benefits, and openings for diplomatic commonality, particularly in current areas of conflict.
The border landscape between the two countries is the most biodiverse in the region. It straddles the remote terrain of the Himalayas, vast swathes of connecting dense forests, and cradles south Asia's largest transboundary rivers. It is also the subject of a long history of territorial disputes between the military forces of both countries that escalated last year in a clash in the Galwan Valley of the Himalayas.
"Geopolitics and jingoism have been the bane of scientific collaborations between the two countries," says Maharaj Pandit, a professor of Environmental Studies at the University of Delhi. Because of a paucity of research, a 2007 report by the United Nations' Intergovernmental Panel on Climate Change referred to the Himalayan region as a "black hole for data". The COVID-19 pandemic has only deepened this hole in data generation and sharing, Pandit says.
But, problems such as water diversion from shared rivers, extreme weather events, dwindling numbers of endangered animal species, and energy insecurity urgently require discussion and joint action between scientists.
Biodiversity and climate
Scientists and conservationists increasingly point to biodiversity preservation as the central plank in necessary measures for addressing the impact of climate change in the region. "There is enough evidence for us to push for action," says Pema Gyamtsho, Director General of the Kathmandu-based International Centre for Integrated Mountain Development (ICIMOD). ICIMOD's objective is to promote regional conservation and development initiatives through a transboundary landscape approach. It covers an area of 71,452 square kilometres in Myanmar (66%), China (22%) and India (12%).
While ICIMOD's efforts are limited by an imperative to avoid the overlapping territories in the "line of control" disputed areas, in October 2020, ICIMOD hosted a ministerial summit of all eight Himalayan countries, including India and China, where government representatives pledged to reduce greenhouse gas emissions and promote ecologically smart alternatives, among other measures. "It is time to walk the talk," Gyamtsho says.
Wang Jinnan, head of the Chinese Academy of Environmental Planning in the country's Ministry of Ecology and Environment, recently made headlines by suggesting that Qinghai, home to the Sanjiangyuan National Park, should become a demonstration province for carbon neutrality. Sanjiangyuan (meaning source of the three rivers Yangtze, Yellow and Mekong) is a showcase of how sustainable water use, electricity generation, and agricultural methods can become vehicles for new relationships.
However, the road to decarbonization has many hurdles. "The single-minded focus on reducing global carbon emissions gives China a perfect alibi for pressing ahead with hydropower projects," says Li Yifei, an assistant professor of environmental studies at New York University Shanghai.
Researchers in India and Nepal have expressed concerns about the negative environmental impacts of a proposed dam on Yarlung Tsangpo, a Tibetan river, which downstream in India is called Brahmaputra. In line with these concerns, Chinese researchers earlier recommended that the Yarlung Tsangpo canyon be designated a national park.
Transboundary water issues have long been a point of contention between India and China and the Yarlung Tsangpo dam proposal represents a test case for multinational communication and collaboration, says Li. A national park or protection zone could allay regional concerns about China's dam-building, and at the same time, preserve the natural heritage of the region. It also creates potential avenues for balancing decarbonization strategies with respect for bio-diversity and indigenous communities. While mining and hydroelectric projects developed by both countries in biodiversity hotspots of the western and eastern Himalayas have had an adverse impact, most of these ecologically sensitive areas have been under military control since the Indo-China war of 1962. Intensive military operations have forced indigenous people to flee.
The path forward
Geopolitical tensions make for difficult dialogue between researchers, but shared bio-diversity conservation goals can identify common ground in disputes. "Authorities and scientists from India and China need to strengthen communication with indigenous people and increase survey efforts on threats to biodiversity," says Sambandam Sandilyan, a researcher of invasive species, and former fellow of the Centre for Biodiversity Policy and Law, at the Indian National Biodiversity Authority. "Researchers should respect the policies and laws of each country before starting conservation operations, and follow strict biosafety measures during surveys and sample collection," he says. The UNESCO guidelines for jointly run research stations could be applied.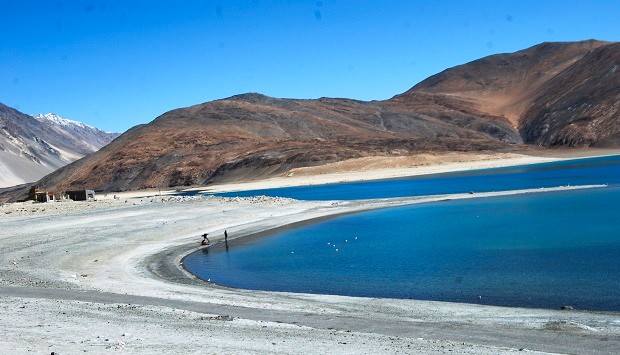 India and China have already signed several accords including the Sino-India collaboration agreement on the environment in 1993, and on agriculture and afforestation in 2009. But international intervention would help. Inter-governmental organizations such as ICIMOD, the Global Tiger Forum, the United Nations Development Programme (UNDP) and the UN Environment Programme (UNEP), need to take the lead to establish a conducive environment for cooperative research, says Sandilyan.
Communication blockages between scientists are not impossible to overcome, according to Peng Kui, manager for Beijing-based Global Environment Institute (GEI)'s Ecosystem Conservation and Community Development Program. Peng, who works on ecological protection zones on the border with South-east Asian countries, including Myanmar and Laos, says building links between researchers and parks on both sides of the India-China border would be a good start. He hopes to initiate collaborative discussions at a forum he is to co-host at the 15th Conference of Parties (COP15) of the Convention on Biological Diversity in Yunnan's capital, Kunming, this October.
Peng says scientists and policymakers must be proactive in identifying nature reserves on the borders for collaborative research, such as Xishuangbanna Biosphere Reserve in the southwestern Chinese province of Yunnan, bordering Myanmar, and in south Tibet.
Other examples of scientific collaborations include China and Russia's ecological protection zone for the critically endangered Amur leopard on their borderlands; and the Gaoli-gong National Park, where it is proposed that elephants should roam freely between China, Laos and Myanmar. In December 2013, the Chinese government laid out ambitious plans for a number of national parks in the border region, a move that saw the Sanjiangyuan national park in the Tibetan plateau become a research hub, led by the Chinese Academy of Sciences.
China's ambition is to make its national parks programme a significant push for the preservation of biodiversity. The country has earmarked four more areas for protection, to be run collaboratively with the Tibet Autonomous region administration in the Qinghai-Tibet plateau. Three of these are in the Himalayas.
With the stakes so high, the argument for territorial-neutral ecological research areas and multilateral collaborations is being made on both sides of the border.