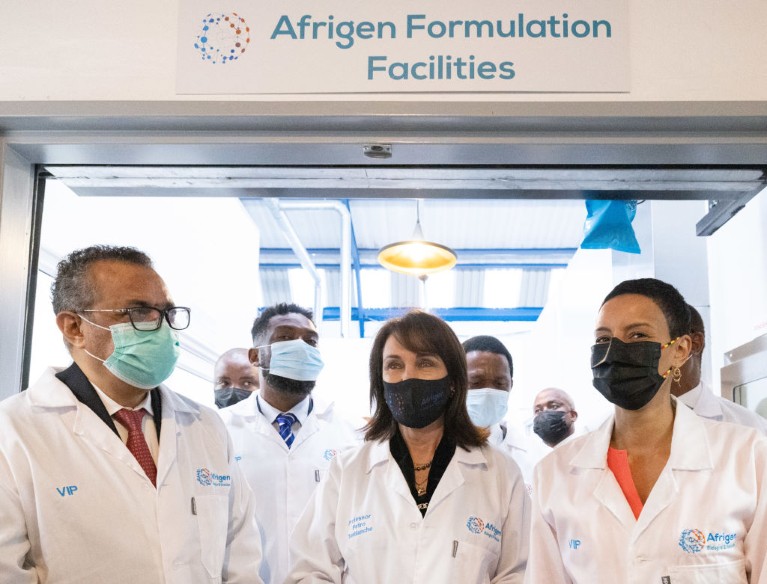 Africa has been at the back of the queue for COVID-19 vaccines compared to much of the rest of the world, largely because most of the vaccines are made by Western manufacturers.
A small biotech company, based in a northern suburb of Cape Town, South Africa, is trying to make a difference. Afrigen Biologics and Vaccines has started developing the continent's first mRNA COVID-19 vaccine designed, developed and produced at lab scale. Biovac, another South African biotech company, will industrialise the vaccine. It will be the first vaccine due out of Africa's first mRNA hub, based at Afrigen's office, an initiative announced in 2021 by the World Health Organization, the Africa Centre for Disease Control and Prevention, the Medicines Patent Pool, and other partners.
The hub will allow Afrigen to transfer the mRNA technology development to five other countries in Africa – Egypt, Kenya, Nigeria, Senegal and Tunisia – giving them access to an mRNA platform to produce their own vaccines, including for other diseases such as tuberculosis and HIV. If all goes according to plan, it will mark a major shift towards Africa manufacturing its own vaccines in response to pandemics, instead of relying on Western supply.
The COVID-19 vaccine's phase one trials will begin in 2023, meaning that the final product will probably not be available until 2025 at the earliest. Biovac CEO, Morena Makhoana, says the number of orders for COVID-19 vaccine doses will not be a measure of the venture's success. "What is important about the hub is that it's a platform," he tells Nature Africa.
He says it is vital that the project demonstrates the platform works at a small and large scale, so it can be adjusted for vaccine demand. 'We'll have the capacity to go up to 15, 20, 50 million doses depending on what the need is."
Demand from African countries will be key if the vaccine is to be successful.
Charles Gore, executive director of the Medicines Patent Pool, is confident that the vaccine will be successful and that the South African government will order it. "What I'm less confident about is whether other countries in the region will support this and that's what we need. We need all 54 African countries buying the vaccine, not just the six where the spokes are ideally to be supporting this project," he adds. The vaccine must be priced well compared with alternatives for it to be an attractive option.
The vaccine mRNA technology can be quickly used to make candidates for other diseases, says Petro Terblanche, Afrigen's CEO. "We need drug product, substance manufacturing, and primary manufacturing on this continent to really bolster the industry," she adds.
She explains that Afrigen is not looking to make the COVID-19 vaccine for large facilities that can churn out 300 million doses a year. "We are proposing smaller facilities, a distributed model, a low operating cost but suitable for regional supply."
Oyewale Tomori, one of Nigeria's leading virologists, says the mRNA hub could have a positive impact if it can translate the technology to make new vaccines relevant to specific African diseases.
Despite a plethora of other challenges there have been some encouraging initiatives. In June, the African Development Bank established a foundation that aims to spend $3 billion over the next decade to boost Africa's pharmaceutical manufacturing capabilities. Enough investment, combined with political will and legal victories, might put Africa's nascent mRNA vaccine manufacturing industry on the map.