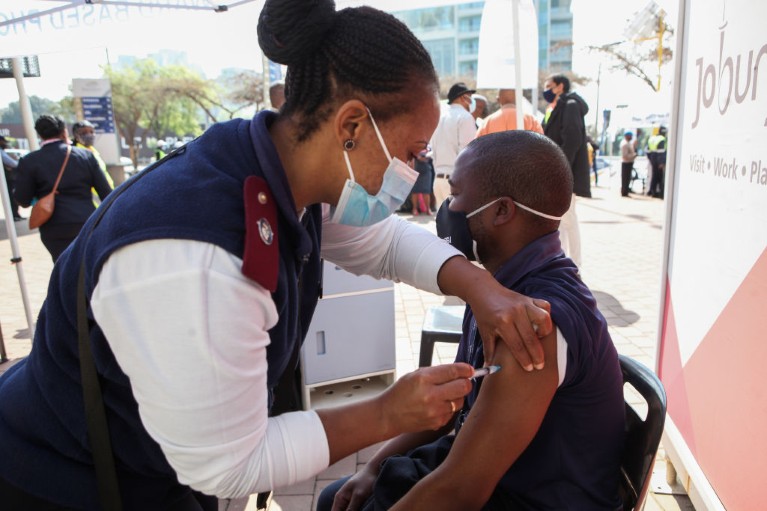 Against the backdrop of recent destruction of expiring vaccines in Nigeria, a new study has found only 40% of Africans support mandatory vaccinations, while 63% of participants would receive a COVID-19 vaccination as soon as possible. About 26% did not think that vaccination was necessary at all, and 43% believed that there are suitable alternatives to COVID-19 vaccination. The findings, published in PLoS ONE, were from a survey of 5,416 people — 94% in 34 African countries, and the remainder living elsewhere.
"The odds of vaccine hesitancy were substantially lower if participant's perceived risk of infection or sickness was very high," said Shameem Jaumdally, co-author and senior research scientist at the University of Cape Town's Lung Institute, in South Africa.
"The majority of respondents were worried about the vaccines' side effects, and many were even concerned that they might get infected with the coronavirus by obtaining the vaccine," he said.
Folorunso Oludayo Fasina, a professor in the Department of Veterinary Tropical Diseases, University of Pretoria and co-author said: "Central Africa particularly had the highest level of COVID-19 vaccine hesitancy at 66.7% of the surveyed population."
"A number of the countries in the Central African belt are characterized by conflict and political instability, poor public infrastructures and compromised health systems, all of which pushed the population to the extreme edge of health and exposed them to socio-economic vulnerabilities.
"There is a need to tackle misconceptions and myths around the COVID-19 vaccines through targeted risk communication and community engagement strategies, in order to increase awareness, knowledge, and dissemination of accurate vaccination information to boost confidence in the safety and effectiveness of these vaccines," Fasina added.
Abdul-Azeez Anjorin, medical virologist and team leader, Influenza and other Respiratory Tract Virus (IORTV) Research, Lagos State University, called for engagement of community members in non-technical aspects of vaccination campaigns, such as community meetings and advocacy.
He emphasized the need to utilize the use of personalized messages and testimonials of COVID-19 survivors, who have recovered from the illness through medical and vaccination interventions.
Fasina said COVID-19 Vaccines Global Access (COVAX), a worldwide initiative aimed at equitable access to COVID-19 vaccines, had not reached its optimum delivery level, with about 7% of Africans vaccinated. He said supplies are sometimes delayed and arrive just before their expiry date, leaving little time for national distribution.
Respondents identified the value of convenience to improve the accessibility of vaccinations. Although many of them were willing to travel up to an hour to receive vaccines, they recommended vaccination at homes or offices. Addressing these "last-mile issues" could drastically reduce vaccine hesitancy, said Jaumdally.