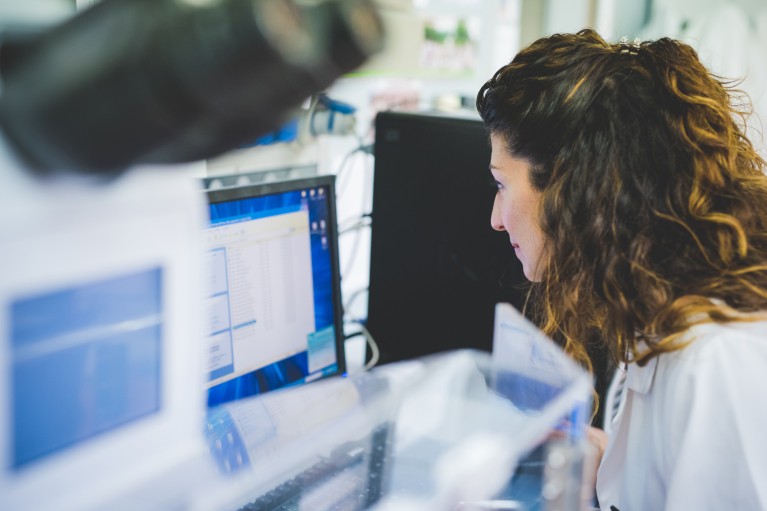 After several years studying dark matter in various European laboratories, astrophysicist, Lidia Pieri felt unsatisfied. She quit academic research and decided to try a very different line of work, opening an Argentinian Tango Academy in Verona. One day, a dancer on her course introduced her to an acquaintance who was a manager at a multinational pharmaceutical company. Pieri invited the manager to visit the lab at the University of Trento where her husband, Pietro Faccioli, worked as a theoretical physicist. Along with biochemist Emiliano Biasini, Faccioli had developed the PPI-FIT (Pharmacological Protein Inactivation by Folding Intermediates Targeting) protocol, a technique that allows to study the folding process of proteins in order to find molecular pockets that drugs can target.
The pharmaceutical manager was impressed, and convinced Pieri and Faccioli that it was worth taking the idea out of the lab and building a company around it. In 2017, together with Biasini and other partners, they co-founded Sibylla Biotech as a spin-off from the University of Trento, the INFN, in Rome and the University of Perugia. Sibylla Biotech received funding from an investment fund and later entered into an agreement with the multinational company where that manager worked, and was among the finalists of the Spinoff Prize 2021. Pieri is now CEO of the company, and though she admits that her career path was "off the beaten track", she loves her job much more than her old one in academia. "Now I found my way," she says. "I wish that I knew back then".
Sibylla Biotech is one of 1,695 active research spin-offs in Italy, according to Netval, an association monitoring technology transfer in the country. On average, about 120 new spin-offs are founded each year, and the most recent data show that in 2018 Italian spin-offs were granted 604 patents and made €4.2 million in revenue, but with great disparities among institutions. There are now more than 60 knowledge transfer offices (KTOs) at Italian universities and research centres, assisting researchers who want to make a business out of their findings, but this is a relatively recent innovation. "Most of them were created in the last 20 years" says Andrea Piccaluga, Netval vice president. "In Israel, for example, they've been around since the 1950s."
In a country where academic jobs are scarce, spin-offs could create more opportunities for skilled researchers and keep them from migrating or, as in Pieri's case, leaving research behind. "We must find more ways to exploit the investments we do on advanced training and higher education, otherwise brilliant minds will go abroad", says Francesca Soavi, associate professor in chemistry at Università di Bologna who in 2018 founded Bettery, a spin-off developing a battery based on a semi-solid lithium/oxygen flow. Soavi is also involved in Enercube, launched in Marina di Ravenna by the University of Bologna, an initiative to facilitate dialogue between academia and industry.
Running a spin-off is not all plain sailing, though. "Young graduates dream big, but it can be a painful path too, and can be no less difficult than becoming full professor" says Silvestro Micera, Professor of Bioelectronics and Engineering at Sant'Anna (Pisa), Bertarelli Foundation Chair in Traslational Neuroengineering at EPFL (Switzerland), and scientific advisor at SensArs, a neuroprosthetics company treating chronic neuropatic pain through nerve stimulation. And transitioning between the two worlds is far from easy. "Business activity is totally different from universal knowledge sharing, and sometimes these two worlds really struggle to talk to each other," says Alberto Santini, a molecular biologist, who in 2006, co-founded NGB Genetics, a spin-off from the University of Ferrara operating in nutrigenetics.
Spinning off, step by step
The first step is founding a company, typically based on a patent, or other forms of intellectual property protection. This phase is usually supported by the university's KTO. Although the number of employees in Italian KTOs has doubled since 2004, and despite initiatives to strengthen this field from the Italian patent office and the Ministry for Economic Development, "Italian KTOs personnel is still undersized compared to other countries" says Piccaluga. The average number of employees is 5.6, according to Netval's 2020 report. "They must work on patents, spin-off creation, co-funded projects. On average only one person can work on licensing," says Piccaluga. Italian KTOs sign 1.7 licence or option agreements a year on average, while in some countries the average is up to 15 agreements per year.
In some case, holding a patent and licensing can be enough, but most innovators choose to aim high and become full entrepreneurs. Not all good researchers are natural managers though. "I've been a researcher for more than 20 years and I had to change my mindset completely when I started my company" says Soavi. The most challenging part, she says, was learning how to communicate innovation to business people, "a pretty different audience from the academic and scientific one".
Creating a team with diverse skills beyond research is key too, says Andrea Cipollina, a chemical engineer who founded in 2017 ResourSEAs, a spin-off from the University of Palermo, whose invention can extract freshwater, salt, and critical raw materials, such as magnesium, out of seawater. ResourSEAs is collaborating with Trapani's saltworks to refine its technology. "We never had proper business training and maybe we still lack a true entrepreneur soul," says Cipollina. "However, we lean on a professional consultant for important business decisions".
Combining an academic position with running a spin-off can be tricky, and some professors struggle with it. "Our company received little support from our academic partners," says Santini. "They never involved us in any international network and saw this as a good ethical choice, a way to avoid conflicts of interests. We only had a breakthrough when we invested in communication, marketing and commercial contacts, aspects academic professors thought of little value". Keeping the original team together is not always easy, either. In 2020, for example, Santini left NGB Genetics because of friction with his associates. "Within a company some lead and some obey" he says. "We started out as a group of four friends and ended up in a diaspora"
Others have more positive experiences. "I don't think university spin-offs are perceived as taking resources from academia" says Cipollina, who still has his research group at the University of Palermo, and now leads a multi-partner Horizon 2020 project that also includes his spin-off among the partners.
Making a profit and becoming self-sufficient is a goal for anyone who starts a business, but is still elusive for many spin-offs. "You don't do it for money, and who knows if or when profit will ever come" says Andrea Cipollina. "You do it because you dream of seeing your idea take shape and hopefully bringing some wealth to your region". Sibylla Biotech is not making profit either. "We keep things going and we are in discussion with big pharmaceutical companies" says Pieri. "What we are looking for now is a top-class investment".
Culture change
What Italy still lacks compared to other countries, according to Micera, is funding from venture capital to support spin-offs in early stages. "Even €100,000-200,000 would be enough to do what it takes to then attract bigger investments, and we miss this step in Italy," he says. Some things are changing though, and a few VC funds that focus on technology transfer have been launched in the last few years. Examples include CDP Venture Capital, launched by the State-controlled Cassa Depositi e Prestiti, or private funds such as Pariter Partners, that is investing in robotics, and Vertis SGR, that has supported Sibylla biotech. "These are things I'd never dreamt about just three years ago," says Micera.
According to Piccaluga, more investments are also needed on KTO staff, on loosening bureaucratic obstacles, and on making entrepreneurship education mandatory at universities. But making spin-offs an attractive choice for young researchers will also require a change in mentality. "Moving from academic research into business is often frowned upon in Italian academic environments" says Pieri, who thinks that some business basics should be part of academic training. "Most PhD graduates want to do a post-doc, but we should teach them they have the option of going down the business route as well."