Over the past five years, targeted protein degradation has been a hotbed of public and private sector investment. With seven initial public offerings (IPOs), an aggregate of ~$2.6 billion in venture financing and average disclosed total deal values of ~$1 billion, the field is poised to disrupt drug development. The modality is highly attractive given the potential to overcome resistance to existing small-molecule inhibitors and the alluring promise to target proteins that have historically been considered 'undruggable'.
Around 20 targeted protein degraders (TPDs) have now entered clinical trials. All of the compounds currently in the clinic co-opt the ubiquitin–proteasome system (UPS)—a cellular system to remove damaged or unwanted proteins by promoting E3 ligase-mediated tagging of the target protein with ubiquitin, leading to its degradation by the proteasome.
TPDs that leverage the UPS system primarily come in two types: monofunctional degraders and heterobifunctional degraders. Monofunctional degraders are compounds that either directly interact with target proteins to induce degradation (selective estrogen receptor degraders and selective androgen receptor degraders) or modulate target protein binding with E3 ligases (molecular glues). Heterobifunctional degraders, such as proteolysis-targeting chimeras (PROTACs), are chimeric compounds composed of a ligand for the target protein linked to a ligand for an E3 ligase to bring the target into the proximity of the ligase and promote its tagging with ubiquitin.
Arvinas, one of the leading clinical-stage companies in this space developing PROTACs, achieved a significant milestone in 2020 by demonstrating safety and initial efficacy signals for two of its compounds, ARV-110 and ARV-471 for metastatic castration-resistant prostate cancer and locally advanced ER+/HER2- breast cancer, respectively. Of note, data presented towards the end of 2020 for ARV-471 indicated superiority over standard-of-care treatment, hinting at best-in-class potential.
Supported by the proof of principle for TPD therapeutics, there has been an influx of venture capital (VC) money along with a spate of biopharma partnerships for TPD companies. In this article, we overview this deal landscape by analysing partnership and merger and acquisition (M&A) deals, as well as public and private financings from 2016 to 2022. We also consider the next-generation modalities that could capture pharma attention.
Protein degradation partnerships
There were 43 relevant public deals within the period analysed. Given the relative infancy of the field, all but two agreements were licensing or co-development deals (Fig. 1a). A surge in deal volume was observed in 2020 (~2X compared to 2018), including two M&A deals, after Arvinas presented safety and early efficacy data for its PROTAC programs. Partnerships involving PROTACs for oncology indications represent the largest percentage of deal volume at 51%, followed by undisclosed therapeutic area focus at deal announcement (37%). The remaining partnerships are fragmented between an undisclosed focus or neurology, immunology and inflammation. Except for one licensing deal between Arvinas and Pfizer with a $1 billion total deal value for a phase 2 asset in 2021 (Table 1), all others were discovery and preclinical-stage deals.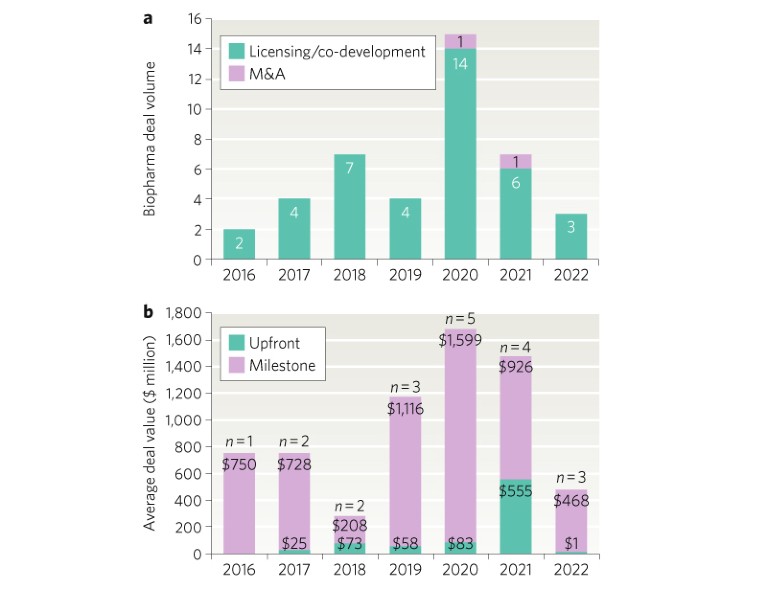 We also noted a shift in technology focus. Most deals prior to 2019 involved discovery and development of PROTACs compared to 2020 onwards, when the interest was diverted to using machine learning and chemical proteomics to identify novel targets and expand the repertoire of druggable targets; for example, a deal between Frontier Medicines and AbbVie with a potential value of ~$1.1 billion and a deal between Vividion and Roche with a potential value of ~$2 billion (Table 1). Other attractive areas include platforms that expand the E3 ligase universe such as the Nurix/Sanofi deal (~$2.6 billion), and those that involve discovering molecular glues/monovalent degraders, such as the Seed/Eli Lilly deal (~$800 million, Dunad/Novartis deal (~$1.3 billion) and Plexium/Amgen deal ($500 million).
Of the 43 deals in our dataset, 20 (~47%) had disclosed terms at the time of deal announcement. As is common with early-stage deals involving novel modalities, deal structures were heavily skewed towards milestone payments because partners are seeking proof-of-concept validation to de-risk their investment (Fig. 1b). While total average deal values for multi-target discovery stage deals doubled from 2016 to 2021 (~$750 million to ~$1.5 billion), less than 15% of the value was tied to upfront payments. To navigate clinical, commercial, and regulatory challenges, early-entrant TPD companies are typically striking partnerships with biopharma companies that have decades of experience manufacturing and selling therapeutics.
Financings for TPD companies
Our analysis of the private transactions highlights the evolution of investors' approach to the TPD field. As the first generation of PROTACs make their way through the clinic, VC firms and biopharma companies with venture arms have already started hedging their bets on the next generation of TPD modalities and platforms. There were 57 VC-backed raises from January 2016 to February 2022, with more than half of them in the past two years (Fig. 2), and the average raise has dramatically increased by 74% since 2017 ($43 million versus $57 million in 2021; Fig. 2).

The recent bolus of VC investment has focused on several innovative directions. One area is next-generation PROTACs. Several PROTAC companies are differentiating themselves by improving upon the limitations of first-generation PROTACs by broadening the pool of druggable targets and E3 ligases, which could enhance tissue specificity. For example, Amphista Therapeutics, which raised $20 million in a series B round in 2021, is looking to employ novel E3 ligases for oncology and neurodegenerative disorders. Other companies looking to expand the E3 ligase repertoire and with recent fund raising include Cullgen Therapeutics (series B, $50 million in 2021) and Captor Therapeutics (IPO, ~$47 million in 2021), with lead candidates yet to be disclosed. Another new player, Orum Therapeutics, is looking to precisely traffic antibody–degrader conjugates into cells, and raised $84 million in a series B round in 2021.
Another investment focus has been molecular glues/monofunctional degraders. Compared with PROTACs, molecular glue degraders typically have lower molecular weight and are thus potentially more likely to be tractable to develop as oral drugs. However, so far their identification has relied on serendipity or phenotypic screens rather than the rational design approach used for PROTACs, and hence platforms that systematically identify molecular glues are attracting attention. For example, Plexium, which has a proprietary cell-based screening platform called DELPhe to systematically screen for molecular glues, raised $102 million in VC financing in February 2022, shortly after signing a multi-year discovery collaboration for molecular glues with Amgen valued at $500 million (Table 1). Versant Ventures-backed Monte Rosa Therapeutics raised $95 million in a series C round in March 2021 followed by an IPO at ~$222 million just three months later. Their lead program is a molecular glue targeting GSPT1, a transcription factor in the MYC family.
While the pioneering degraders co-opt the UPS, newer modalities that co-opt autophagy or endo-lysosomal pathways have already attracted VC and biopharma funding. Backed by Versant, Lycia Therapeutics is targeting extracellular and membrane-bound proteins based with a pipeline of undisclosed lysosomal targeting chimeras (LYTACs) for oncology and autoimmune disorders, and has attracted $105 million in series B funding and $35 million upfront from a research collaboration with Eli Lilly, with more than $1 billion of potential milestone payments. Other companies have differentiated themselves within the TPD landscape by exploiting autophagy to develop degraders that can remove protein aggregates. While lead candidates have not been disclosed, Casma Therapeutics (series B, $50 million, 2020) and PAQ Therapeutics (series A, $30 million, 2021) are both pursuing neurodegenerative disorders as their lead programs. In addition, Third Rock-backed Cedilla Therapeutics is harnessing upstream parts of native protein degradation pathways, focusing on transitions between stable protein states and those that are susceptible to protein degradation. Following a series B raise of ~$83 million in 2021, the company announced two lead candidates, an inhibitor of TEAD and a selective inhibitor of CDK2–cyclin E for the treatment of multiple tumor types, with IND-enabling studies planned in 2022.
The road ahead
The 'TAC' universe has grown substantially since the first publication on PROTACs two decades ago, and academia continues to be a breeding ground for novel TPD approaches. However, the road to approval from the bench to the patient for novel modalities is often not straightforward, as exemplified by oligonucleotide therapies and viral vector-based gene therapies. In 2022, the industry will be watching with cautious optimism as additional TPD therapeutics enter clinical trials and the leading candidates progress towards trial readouts that might provide the basis for regulatory approval.
Table 1 | Overview of public deals in the targeted protein degradation field with disclosed values January 2016 to February 2022
| | | | | | | | |
| --- | --- | --- | --- | --- | --- | --- | --- |
| Year | Licensor | Licensee | Deal product | Therapeutic area | Phase | Upfront ($ million) | Total deal value ($ million) |
| 2016 | C4 Therapeutics | Roche | Degronimid platform | Multiple undisclosed | Discovery | ND | 750 |
| 2017 | Arvinas | Pfizer | PROTAC platform | Multiple undisclosed | Discovery | 25 | 830 |
| 2017 | Arvinas | Genentech | PROTAC platform | Oncology | Discovery | ND | 650 |
| 2018 | C4 Therapeutics | Biogen | C4 platform | Neurodegeneration | Discovery | 45 | 460 |
| 2018 | Vividion Therapeutics | Celgene | Chemoproteomics platform | Oncology, inflammation, neurodegeneration | Discovery | 101 | 101 |
| 2019 | Arvinas | Bayer | PROTAC platform | Agriculture | Discovery | ND | 110 |
| 2019 | Kymera Therapeutics | Vertex Pharmaceuticals | Pegasus drug discovery platform | Undisclosed | Discovery | 70 | 1,007 |
| 2019 | Nurix Therapeutics | Gilead Sciences | DELigase drug discovery Platform | Oncology | Discovery | 45 | 2,345 |
| 2020 | Vividion Therapeutics | Roche | Chemoproteomics platform | Oncology, immunology | Discovery | 135 | 2,000 |
| 2020 | Kymera Therapeutics | Sanofi | IRAK4 degraders | Immunology, inflammation | Discovery | 150 | 2,000 |
| 2020 | Nurix Therapeutics | Sanofi | DELigase drug discovery Platform | Oncology | Discovery | 55 | 2,555 |
| 2020 | Seed Therapeutics | Eli Lilly | Molecular glue technology | Multiple undisclosed | Discovery | 20 | 800 |
| 2020 | Frontier Medicines | AbbVie | Chemoproteomics platform | Oncology, immunology | Discovery | 55 | 1,055 |
| 2021 | Arvinas | Pfizer | ER degrader; ARV-471 | Oncology; ER+/HER2- breast cancer | Phase 2 | 650 | 1,000 |
| 2021 | Vividion Therapeutics | Bayer | M&A | Inflammation, immunology, oncology | Preclinical | 1,500 | 2,000 |
| 2021 | Lycia Therapeutics | Eli Lilly | LYTAC platform for up to 5 drugs | Immunology, pain | Discovery | 35 | 1,600 |
| 2021 | Dunad Therapeutics | Novartis | Monovalent degraders for up to 4 targets | Undisclosed | Discovery | 24 | 1,324 |
| 2022 | DeuteRx | Salarius Pharmaceuticals | Molecular glue (SP-3146), additional undisclosed programs | Oncology | Preclinical | 1.5 | 274 |
| 2022 | Plexium | Amgen | Cell-based screening platform for at least two molecular glues | Undisclosed | Discovery | ND | 500 |
| 2022 | Proteovant Therapeutics | Blueprint Medicines | Artificial intelligence powered platform (VantAI) for at least two degraders | Oncology, hematology | Discovery | 20 | 652 |