Despite the availability of small-molecule antiviral treatments, a clear unmet need remains for a range of skin problems caused by infections with herpes viruses. These include cold sores (herpes simplex virus type 1 (HSV-1)), genital ulcers (HSV-2), and shingles, caused by varicella zoster virus (VZV), the same virus responsible for chicken pox. Shingles is both widespread and debilitating. Each year, as many as 20 million people worldwide are affected by shingles, and more than 50,000 people in the United States are hospitalized with shingles or its complications. The skin lesions caused by VZV reactivation are painful, and in some cases they last for months. New, more effective, and ideally topical treatments have the potential to transform therapy by replacing or supplementing nucleoside drugs that are largely ineffective against these diseases.
Nanomedicine to disrupt viruses
NanoViricides, Inc. is taking a unique approach to fighting herpes and other viral infections by using tiny decoys, termed nanoviricides, to bind and inactivate the virus. Nanoviricides are composed of micelles with up to 1,200 chemically attached ligands on their surface. These ligands mimic the cellular receptors targeted by the relevant virus or class of virus. When a virion is bound by a nanoviricide via the virion's cell-receptor-binding glycoproteins, the lipid envelope of the virus merges with the lipids attached to the nanoviricide. This lipid mixing destabilizes the virion, rendering it incapable of infecting host cells.
NanoViricides' shingles drug candidate is moving rapidly toward the clinic as a topical treatment for shingles. The company also has related drug candidates with follow-on applications against other herpes infections in its HerpeCide program.According to Anil R. Diwan, NanoViricides' president and chairman, "our anti-herpes drug development program has produced impressive results in animal models and, with limited additional testing, we are close to declaring a drug candidate that will move into clinical testing."
Indeed, a nanoviricide against HSV-1 has shown impressive activity in mice, providing proof of concept for the success of similar drugs in humans. Because nanoviricides attack viruses directly, the host environment is not expected to affect their activity. In experiments performed in the laboratory of Ken Rosenthal at Northeast Ohio Medical University, mice were infected with the highly virulent H129c strain of HSV-1, which is uniformly fatal. However, in mice treated with an anti-herpes nanoviricide, viral load dropped by 99.9%, lesion progression was halted, and >85% of the mice survived.
In contrast, mice treated with acyclovir had a survival rate of <58%. These results were reproduced in independent testing by TransPharm Preclinical Solutions.
In addition to early data showing efficacy, NanoViricides has also gathered preclinical evidence showing that nanoviricides are nontoxic up to the maximum feasible dose in rodents. Nanoviricides also have several theoretical safety advantages over both existing antivirals and drug conjugates in development. First, nanoviricides target viral particles outside cells, rather than within the intracellular compartments of host cells. Second, the mechanism of action of the targeted micelles is physical and, in contrast to drug-conjugation strategies, no antiviral drug is required to eliminate the virus. Finally, nanoviricides complete the task of inactivating the virus without any reliance on a functional immune system, which is an advantage over antibodies, other therapeutics, and vaccines.
HerpeCide for shingles nearing clinic
With the acquisition of an 18,000-square-foot facility and expanded staff in 2016, NanoViricides has accelerated the progress on its lead program, a topical formulation of HerpeCide for shingles. Deeper understanding of structure–activity relationships (SARs) for nanoviricide components has emerged from in vitro screening, and allows fine-tuning of activity against specific herpes viruses, as well as the identification of ligands with excellent activity against VZV. In-house studies are currently being replicated by another laboratory. Because there is no established animal model for shingles, NanoViricides is using human skin organ cultures to study activity, in collaboration with SUNY Upstate. The results of these and other studies will drive the selection of the candidate ligand(s) and the nanomicelle polymer backbone for an investigational new drug (IND) application, which the company hopes to file within the next year or so.
SAR studies for HerpeCide have also led to the identification of variants specific for other herpes viruses, and these are moving forward in parallel with the shingles program (Fig. 1). These additional nanoviricides include topical treatments for cold sores (HSV-1/2) and genital ulcers (HSV-2), both in collaboration with the University of Wisconsin, and for ocular infection with HSV-1 (herpes keratitis), in association with the University of Pittsburgh. Although acylclovir and related nucleoside drugs are currently the standard of care for HSV infections, their effectiveness is limited. In total, the current market potential for topical HerpeCide is estimated to be in the range of $3–5 billion.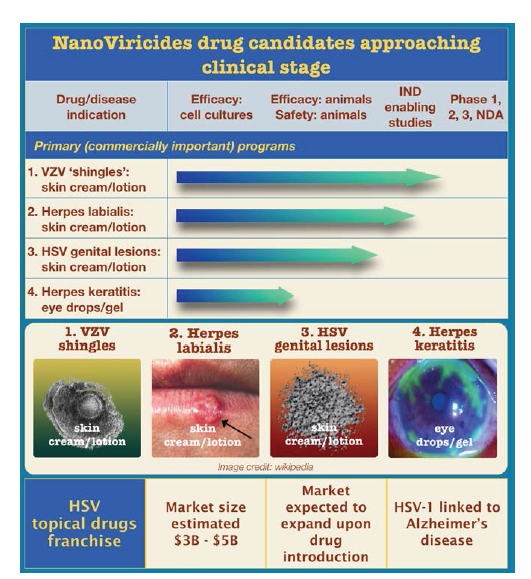 NanoViricides' pipeline beyond herpes
Although topical therapies may follow a shorter path to regulatory approval and clinical use, the company is also developing nanoviricides for systemic delivery, as reported previously here1. FluCide is a broad-spectrum anti-influenza nanoviricide in preclinical development for both injection and oral delivery. Additional preclinical programs that use the NanoViricides platform technology include a broad-spectrum agent against flaviviruses such as the dengue virus (DengueCide), and an anti-HIV targeted drug, HIVCide.
With its expansive preclinical pipeline, NanoViricides aims to have a profound impact on multiple viral diseases within and beyond dermatology and is rapidly progressing its herpes program to IND and ultimately new drug application (NDA) approval. The company is open to further investment, pharmaceutical collaborations, and academic partnerships to support these ambitions and speed progress toward these goals.