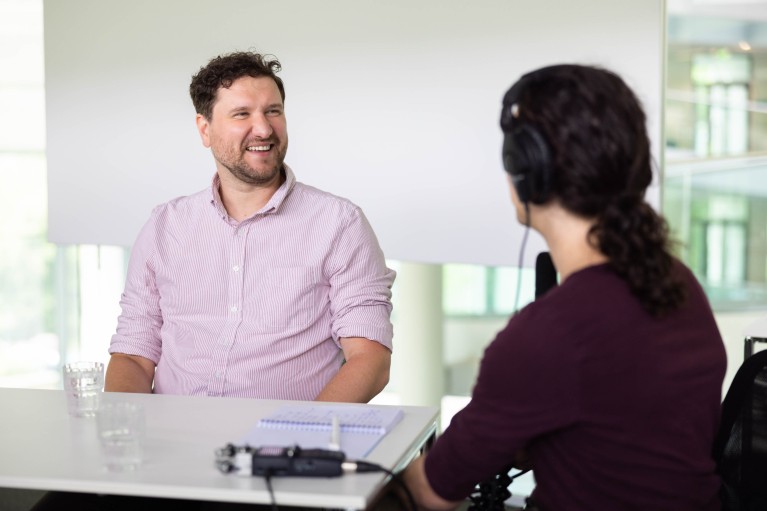 The following Q&A is an edited version of the podcast.
What are enzymes and how they operate?
Enzymes are the molecules in our bodies that facilitate reactions. They perform this function at their active site, which is like their 'mouth'. The substrate – the 'food' in this metaphor – binds to the mouth and is molecularly modified: it is 'chewed' before it is 'swallowed'.
How can we inhibit or activate enzymes?
Pharmacological inhibition is carried out with a small molecule that chemists can optimize, which usually binds directly to the mouth, blocking the active site. Enzyme activation typically happens when small molecules bind outside the active site, to increase the enzyme's activity.
What's special about the enzyme you investigated, 8-oxoguanine DNA glycosylase-1 (OGG1)?
OGG1 is a DNA repair enzyme that removes damaged DNA nucleobases. DNA is not an inert molecule; it regularly gets damaged. We need repair enzymes like OGG1 to help maintain the status of our DNA, otherwise we'd have mutations or increased levels of DNA damage, leading to degenerative diseases for example.
How did your work unfold?
In 2017, we were developing a set of inhibitors for the OGG1 enzyme. During my time as a postdoc, I had stumbled over a molecule in the literature that was claimed to be an enzyme activator, although there was no mode of action specified. Out of curiosity, I started working with this molecule, and its behaviour was very weird. It did not fit any of the established routes of small-molecule activation. This just shows how you constantly need to shift your point of view and adapt to new findings.
What did you discover about this small molecule?
OGG1 can perform several enzymatic functions in its mouth. One of them it's very good at, whereas the other one, it's not. I like to imagine it as being akin to how most people can chew, but only some people are good at whistling.
What we saw with our small molecule is that it enables OGG1 not only to chew and swallow food, but also to whistle. And by specifically designing small molecules, we can tune the enzyme to become so efficient at whistling that it doesn't want to chew food at all. Effectively, we made OGG1 better at repairing DNA damage.
As well as this, we found that the molecule that activates this whistling activity is unusual in that it sits directly in the active site, binding to the mouth of the enzyme.
Have molecules like this been found before?
I wouldn't say so. These approaches have been used in biotech in recombinant enzymes, for example. But for the field of medicine, activating an enzyme that already exists in the cell by binding to the active site has never been done before.
Are there similar activators that bind to the active site of other enzymes?
I'm sure there are. We can likely use the same concept in an identical fashion for other enzymes. I also think we could use this knowledge to engineer the enzymes themselves without the need of a small molecule. This is something that we are heavily pursuing right now.
How important was your multidisciplinary team for this kind of work?
If we want to keep doing the same things that everybody does, then we can just stick with our own knowledge. But if we want to do frontier science, then we need to think outside the box and approach things from a different angle.
It's really important to work with people who have different expertise. It's also very important to have an open-door policy — to be able to walk up to anybody and ask for help. I have a great team and we bounce ideas back and forth with each other.
Could this research yield real medical applications?
We are already moving beyond basic discovery. The interaction we've had with clinicians over the past year since our publication has been very stimulating. We are talking about using an OGG1 activator to enhance existing therapies. Of course, there's still a long way to go, but it's very stimulating and fulfilling.
Are you motivated more by fundamental or applied science?
Both. I have this big urge to understand things, and I constantly wonder whether something I've picked up elsewhere can be applied here. But also, if we are translating this work and we can make something out of it and heal a disease, that's a big motivation as well.
What impact has winning this award had for you?
The Eppendorf Award has helped the visibility of my research. We have initiated a lot of exciting collaborations. And in the future, I would like to use the media attention around the prize to raise third-party funding and expand my work.
How did you feel when you heard that you had won?
I remember very vividly. I had had my personal development dialogue two hours earlier, and for that we always write down our goals. Of course, this changed a little when I heard the news. My first thought was "I really need to adapt my year plan now."