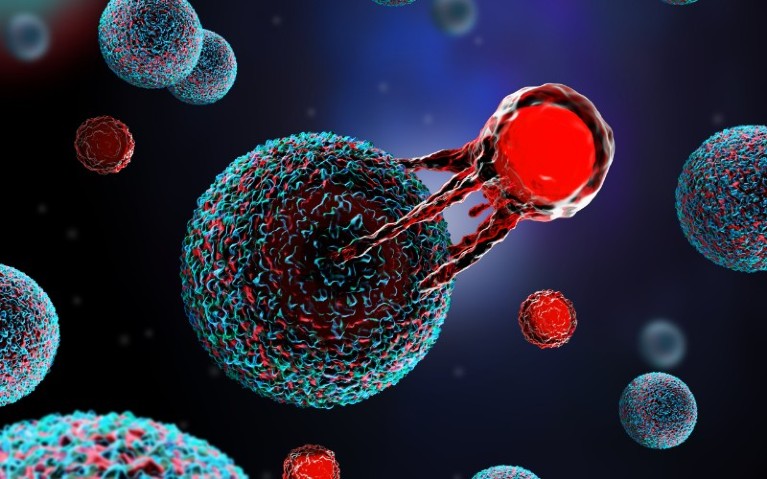 Rhode Islanders are accustomed to travelling for cutting-edge cancer care. For decades, patients who required innovative treatments had to journey to neighbouring states.
Not anymore.
Thanks to investments in basic, clinical and population research – brought together under the umbrella of the new Legorreta Cancer Center at Brown University – Rhode Island is quickly establishing itself as a world-class hub for cancer care and innovation.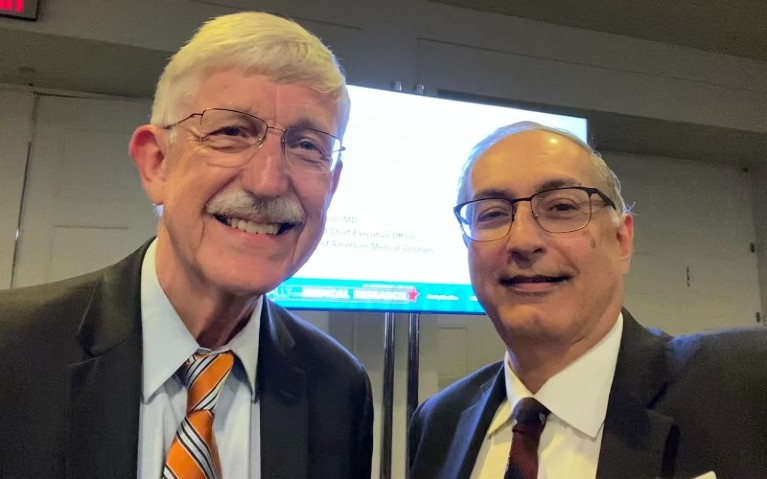 The past five years have been transformational for the institution. Cancer research pioneer Wafik S. El-Deiry – discoverer of tumour suppression mediator gene p21WAF1, cancer cell death resistance mechanisms and new cancer therapeutics – was recruited by Brown in 2018 to set up and lead the new cancer centre. The university and its associated health systems invested substantially in new laboratory space, scientific equipment, core facilities and a tumour tissue repository to support cancer research. More than three dozen high-profile clinicians and cancer researchers have joined the faculty, and with a US$25 million gift from life sciences entrepreneur Pablo Legorreta and his wife Almudena, the Legorreta Cancer Center was established in 2020.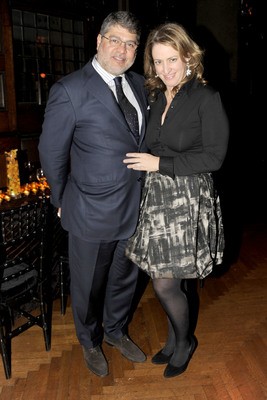 "The rapid growth of infrastructure at Legorreta Cancer Center is bringing new opportunities to patients and helping to place our centre at the forefront of cancer drug development globally," says medical oncologist Benedito A. Carneiro, co-lead of the Legorreta Cancer Center's Cancer Therapeutics Program.
Trial run
Most significant for patients is the range of clinical trials underway at the Legorreta Cancer Center and affiliated institutions. These studies – and the research that underpins them – are drawing patients from all over the United States, as well as attracting leading experts and promising students from across the academic spectrum. Boosting the presence of clinical trials is "ultimately going to serve the needs of the greater Rhode Island area", says breast cancer specialist Stephanie L. Graff.
One person who has benefitted is Tracy Saraceni, a 51-year-old insurance underwriter from Tewksbury, Massachusetts. Saraceni began making the 90-minute drive down to Providence in 2021, to participate in a trial sponsored by the Brown University Oncology Research Group. Her rare cancer, called clear cell, started in her abdomen but spread throughout her body despite treatment with chemotherapy, radiation and surgery.
Saraceni's local oncologist referred her to the Legorreta Cancer Center's clinical trial evaluating immunotherapy, which was being specifically evaluated in people with this rare tumour type, led by oncologist Don S. Dizon. "If I had not gotten into this trial, I most likely would have succumbed to this cancer," Saraceni says. "I feel incredibly thankful."
Treatment shrank Saraceni's cancer by around 80%, a response that lasted for more than a year until signs of progression were spotted in her lung. Rather than return to a hospital closer to home, Saraceni elected to stick with her medical team in Rhode Island for continued care. "The team is amazing," she says. "Whatever comes, I'm glad to have the same team with me."
Three innovative research groups
Dizon is a member of the Cancer Therapeutics Program, one of the Legorreta Cancer Center's three core research groups, alongside the Cancer Biology and Population Science programmes. Each group meets every two weeks, and they are designed to capture all cancer-relevant research at the university and affiliated institutions, and spark opportunities for collaboration between colleagues.
In the Cancer Therapeutics Program, clinicians are investigating novel small molecule, antibody- and cell-based therapies, alongside trials of new types of immunotherapies and combination treatment regimens. "We are striving to increase access in underserved pockets of the state and to boost the representation of diverse communities in these innovative clinical trials," says Howard P. Safran, who co-leads the programme with Carneiro. Within the programme's haematological malignancies group, John Reagan and colleagues helped secure approval for autologous stem and CAR-T cell therapy at Rhode Island Hospital, while lymphoma specialist Adam Olszewski was recently given a career development award from the Leukemia and Lymphoma Society. Olszewski's funding will support his work investigating mosunetuzumab with lenalidomide augmentation as first-line therapy for patients with follicular and marginal zone lymphomas.
Researchers in the Cancer Biology Program explore oncologic mechanisms ranging from DNA repair and cellular ageing to immune surveillance of cancer and mechanisms of drug resistance. For example, programme co-lead Anatoly Zhitkovich is spearheading efforts to evaluate how nickel, chromium and other toxic metals – industrial pollutants that are common in the coastal communities along Rhode Island's Narragansett Bay – can damage DNA in ways that lead to cancer. The group has also become a place where translational scientists can flourish, counting both Patrycja Dubielecka, who works on blood cancer, and Michelle Dawson, who studies tumour microenvironment resistance mechanisms, as new National Cancer Institute (NCI) R01-funded investigators.
In the Population Science Program, a multidisciplinary group is working to better understand the cancer burdens and health challenges that disproportionately affect the people of Rhode Island, where up to one-third of all cancer deaths can be linked to tobacco use1. Programme co-lead Jasjit S. Ahluwalia, a physician-scientist, and his colleagues at the Brown School of Public Health, have been evaluating several harm-reduction strategies. In 2020, they published results from the first randomized study to test the benefits of switching smokers from cigarettes to vaping products2. They are now testing nicotine pouches and other methods for quitting cigarette smoking.
A collaborative culture
Legorreta Cancer Center's collaborative approach is already bearing fruit. Research efforts within its three core programmes have intersected in unexpected and productive ways.
Consider the discoveries made around a drug currently known as 9-ING-41, an investigational agent designed to block the activity of a protein implicated in aggressive tumour growth. Carneiro led the clinical team that first evaluated the therapeutic candidate in patients who had exhausted standard treatment options3. But the drug's multiple mechanisms of action are still being established. It was El-Deiry and his PhD student Kelsey E. Huntington who demonstrated a key aspect of how the drug works at the molecular level.
In laboratory experiments, El-Deiry and Huntington demonstrated how 9-ING-41 blocks signals for new blood vessel formation around tumours and promotes the capacity of immune cells to attack and destroy cancer cells4. Using patient samples from Carneiro's trial, they validated their preclinical findings, and discovered novel biomarkers that could potentially be used in a blood test to predict whether people are likely to benefit from the drug.
"This multidisciplinary approach gives us, as PhD candidates, the opportunity to collaborate with physicians and get hands-on access to patient samples, which helps make our research and training more impactful and translational," Huntington says. Earlier this year, she received the NCI's prestigious Ruth L. Kirschstein National Research Service Award to support her graduate studies.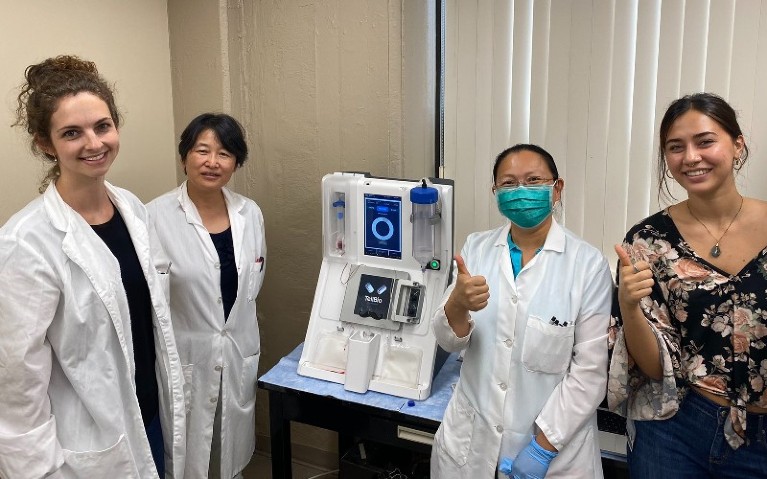 Lindsey Carlsen, a fourth-year PhD student studying biomarker signatures for patients with colorectal cancer, agrees. Her research also cuts across traditional disciplines, and she appreciates the unique training ground provided at a cancer centre that is actively striving to increase its impact, both locally and on a global stage. "The energy is contagious," Carlsen says. This summer Carlsen received the Rhonda K. Simper-Ronan Graduate Award in Cancer Research from Brown University's Pathobiology Graduate Program.
A fast-growing network
To increase its capacity for interdisciplinary research in the biological and life sciences, Brown University has announced that it has begun planning for an Integrated Life Sciences Building. While completion of the facility is a few years away, it is a key priority as Brown considers investments in space, staffing and infrastructure to support its research aspirations. "We are partnering with our Legorreta Cancer Center colleagues to improve access to annotated cancer tissues for research," says Jonathan Kurtis, chair of pathology and laboratory medicine.
The clinical community surrounding the Legorreta Cancer Center is leveraging its expert leadership and recruiting new talent to make important strides across a range of disciplines.
"There are major strengths here in the research and care of women's cancer," says Paul Disilvestro, director of gynecologic oncology at Women and Infants Hospital, an affiliate of Brown's medical school. Meanwhile, the Lifespan Cancer Institute, led by David Wazer, and Hasbro Children's Hospital under Rishi Lulla, are working together to advance treatments for breast and brain cancer.
Eric Wong and Sean Lawler, who were recruited to Brown in 2021 from Harvard's Beth Israel Deaconess and Brigham and Women's hospitals, respectively, are working with neurosurgery colleagues Nikos Tapinos, Steve Toms, and others on unique programmes to address brain cancer. Lawler, a member of the Cancer Therapeutics Program, was recently awarded an NCI R01 grant investigating the role of cytomegalovirus in glioblastoma therapies.
Jeremy Warner, who was recruited from Vanderbilt in 2022, is a physician-scientist and data science expert working with colleagues, including biostatistician Joseph Hogan in public health and Neil Sarkar, co-lead of the Population Science Program, to improve and mine electronic medical records of Rhode Island cancer patients.
Sheldon Holder, a physician-scientist recruited from Penn State in 2021 and Hina Khan, a clinical oncologist recruited from Albert Einstein College of Medicine several years ago, are addressing disparities in prostate and lung cancer in Rhode Island's poor and underserved communities. They were both awarded grants in 2022 to help achieve their goals. Emily Hsu, recruited in 2022 from the University of Connecticut, was awarded a similar grant. Abbas Abbas, a renowned thoracic surgeon recruited from Temple University and Fox Chase Cancer Center in 2021, and Christopher Azzoli, recruited from Massachusetts General Hospital in 2018, are focusing on lung cancer cures through surgery, early detection and treatment.
El-Deiry celebrates the additions to the centre's rapidly expanding ranks. "We recently recruited Robert W. Sobol, an expert in DNA repair mechanisms, PARP and NAD+ metabolism and the convergent role of these enzymes and pathways in response to environmental genotoxins and chemotherapy," he says. Other recent recruits include Sendurai A. Mani, a fellow of the American Association for the Advancement of Science, who was the first to demonstrate that cancer can make its own cancer stem cells and promote plasticity, resulting in metastasis and chemoresistance by activating the latent embryonic epithelial-mesenchymal transition programme.
El-Deiry expects the high standard of research talent to benefit the community. "The Legorreta Cancer Center team is eager to have a positive impact on cancer patients' lives through ground-breaking research and compassionate care."
Engaging the community and future prospects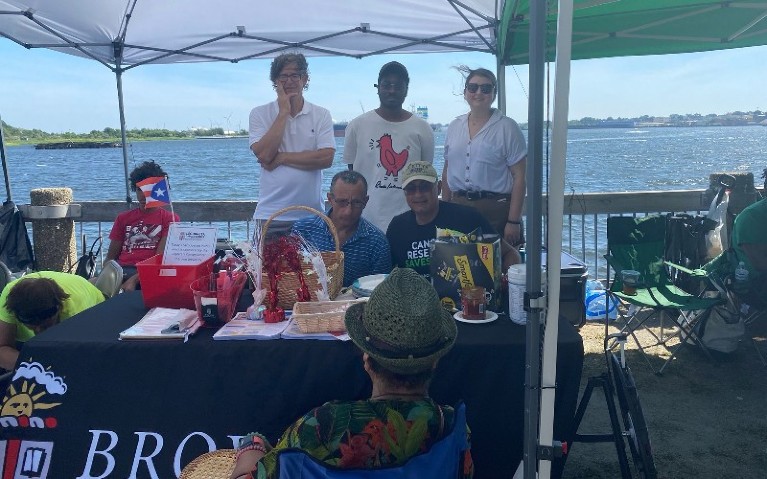 As well as investing in its research faculty and facilities, the Legorreta Cancer Center works hard to engage the wider community and support improved access to health care. Safran has initiated various educational initiatives, including American Society of Clinical Oncology updates for the community and programmes for medical and high school students from underrepresented groups. The centre also promotes studies to investigate high rates of certain tumours in Rhode Island.
"The Legorreta Cancer Center is a great partner with the American Cancer Society in Rhode Island," says Cori Chandler, who directs Rhode Island government relations for the ACS Cancer Action Network. "In the past year, we have advocated for passage of new laws to remove barriers to health care, including the Maryellen Goodwin colorectal cancer screening law and a law increasing insurance coverage for biomarker testing."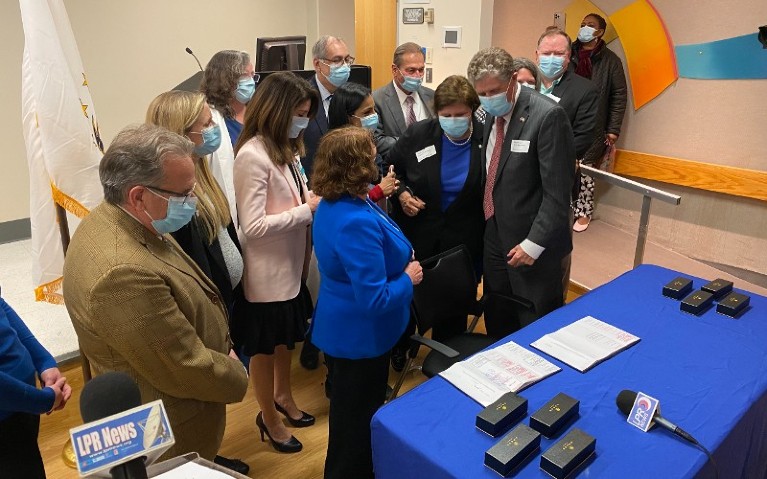 Rhode Island even has its own bike ride fundraiser to support clinical cancer research at the Legorreta Cancer Center. The Tour de Rhody is currently in its fourth year, thanks to the efforts of clinical oncologist Tom Ollila.
A major goal of the Legorreta Cancer Center is to gain designation under the US federal government's NCI Cancer Centers Program, which recognizes excellence in research focused on developing new and better approaches to preventing, diagnosing and treating cancer. Rhode Island is one of only around a dozen states yet to achieve this gold standard for cancer care, and the centre's leaders want to change that.
El-Deiry says NCI designation would further expand avenues for collaborative research, increase the portfolio of oncology clinical trials, help attract more talent and bring more cancer-related funding to the university and local hospitals. That's why he and his colleagues are singularly focused on building the necessary capacity and demonstrating the expertise needed to meet the programme's requirements.
"It's going to take time," says Population Science Program co-lead Jasjit Ahluwalia, but given the progress he's seen at Brown since joining the university in 2017, he expects the designation to come within the next few years. And when it does, more top-notch researchers, talented students, and cancer patients will seek out the Legorreta Cancer Center for opportunities and hope.
"NCI designation means we can offer the most sought-after treatments, attract the brightest minds – both scientists and physicians – to make new discoveries, translate them, and further elevate care for all people living and working in Rhode Island," says Graff.
"Our goal," concludes DiSilvestro, "is ultimately to serve cancer patients locally, nationally and globally and offer the best access to clinical trials and treatment options from the comfort of the tiniest state in the country."