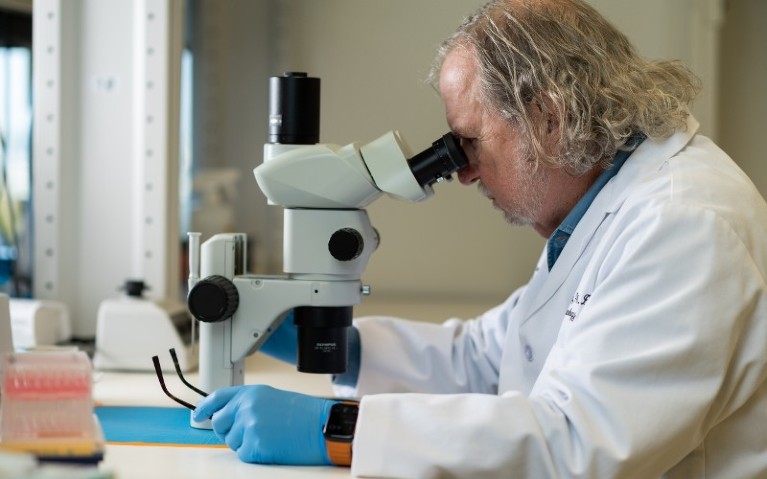 When Jim Allison first showed that the immune system can be used to fight cancer, no-one wanted to know. Twenty-five years ago, the prevailing dogma was that cancer drugs had to target cancer cells, and not some other part of the body. So, when Allison demonstrated that an antibody which targets immune cells can eliminate tumours, the response was somewhat muted. "The data was received with a resounding thud," he says.
Scientists didn't think that tumour cells could even be recognized by the immune system, much less be destroyed by it. In the end, it took Allison three and a half years just to find a pharmaceutical company to make the humanized antibody — the first step in the drug development process. "It felt like such a waste of time," he says.
But his perseverance — along with the tireless efforts of other scientists and clinicians over the past two decades — paid off.
The drug is called ipilimumab. Before it came along there were no successful treatments for advanced melanoma and less than 3% of patients survived for five years. Now, with immunotherapy regimens that include ipilimumab, around 60% of patients with late-stage melanoma can expect to live for at least five years.
"That's quite an accomplishment," says Allison, professor and chair of immunology at The University of Texas MD Anderson Cancer Center. Ipilimumab received FDA approval for use in late-stage melanoma in 2011. Since then, ipilimumab and other similar drugs have been used successfully to treat many types of cancer, including lung, kidney and bladder. Allison shared the Nobel Prize for Physiology or Medicine in 2018, and immunotherapy has been established as a new pillar of cancer care, alongside surgery, radiation, chemotherapy and targeted therapy.
Immunotherapy, however, does not work for all patients or cancers. With this in mind, MD Anderson has launched the James P. Allison Institute to usher in a new era for immunotherapy and to unlock the potential of science and medicine for human health.
The Allison Institute: immunotherapy for all
Immunotherapy owes its successes to decades of basic scientific research. Back in the 1990s, scientists were trying to understand how T cells become activated. Allison showed that the T-cell protein, CTLA-4, acts as a negative immune checkpoint, shutting T cells down and putting a brake on the immune system1. Inhibiting CTLA-4 with an antibody in a mouse model of cancer caused nearly all of the tumours to disappear2.
Researchers are increasingly recognizing the role played by other immune cells, such as dendritic, myeloid and B cells. They could be the source of the next paradigm-shifting discovery in medicine, but more basic science is needed to figure it out.
Exceptional basic science has the potential to achieve breakthroughs with impacts far beyond immunotherapy. Nestled within MD Anderson in Houston, the Allison Institute will be a home for this kind of discovery.
"Our strategy is to bring in scientists, not to think about what others are doing, but to think about what others are not doing, and then fill in those gaps," says Raghu Kalluri, director of science operations and management at the Allison Institute.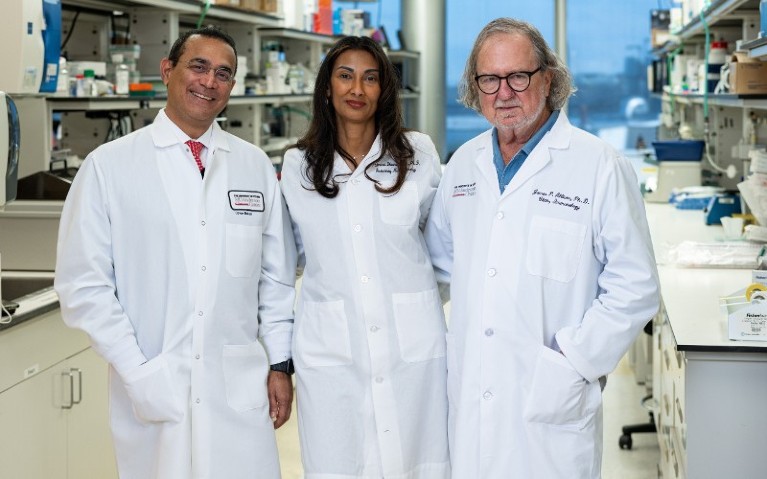 The institute seeks to attract a diverse mix of researchers, with expertise across all disciplines and specialties. "We aim to lead the world in impactful research," says Kalluri. Research scientists will rub shoulders with translational scientists and clinical scientists who interact with and care for patients.
"We want the next generation of Jim Allisons to figure out new ways to do science," says Kalluri, "so that future discoveries can quickly be translated into clinical trials and beyond."
In search of cures
The Allison Institute is perfectly placed for this. MD Anderson is one of the world's most respected centres focused on cancer patient care, research, education and prevention. Its physicians treated more than 170,000 patients in 2021, and it has more than 1,600 ongoing clinical trials.
Under MD Anderson's immunotherapy platform, participating patients on clinical trials provide samples before, during and after treatment. This enables the unique immune response experienced by patients to be traced over time and will provide Allison Institute scientists with a stream of material from which to generate data and hypotheses.
"It's going to be an iterative process," says Allison Institute director of scientific programs Padmanee Sharma, who established the immunotherapy platform with Allison in 2012. "The idea is that clinical trials will inform laboratory studies, which will then go on to inform clinical trials, and so on."
Nor do the trials have to be large and lengthy. Instead of waiting to collect survival data over many years, many of the trials at MD Anderson are small and relatively short. In 2020, for example, Sharma's team reported the results of a short, phase I neoadjuvant clinical trial3 for bladder cancer, where patients received two immune checkpoint inhibitors prior to surgery. Nine of the 28 patients experienced a dramatic response; there was no sign of their cancer at the time of surgery, but by comparing the tissue samples taken from responders and non-responders, the scientists were also able to gain insights into the mechanisms of response and resistance. It's hoped this will lead to the development of biomarkers that will be able to predict those most likely to respond to checkpoint blockade.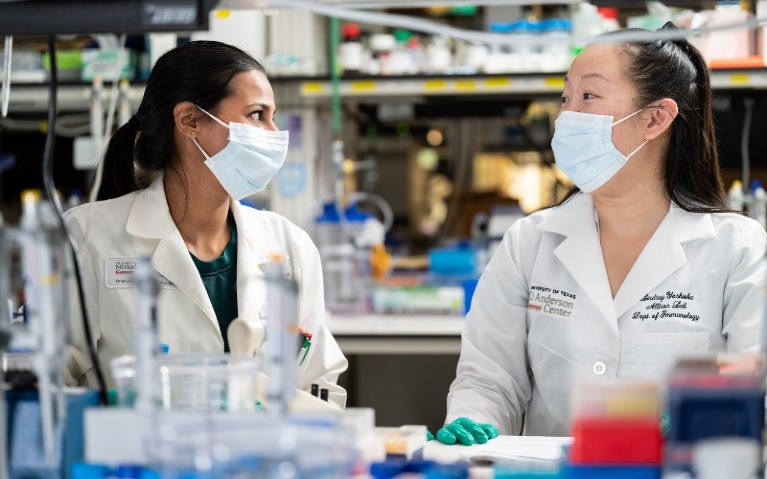 With insights from clinical trials helping to inform a deeper scientific understanding of immune response, the Allison Institute aims to bring the benefits of immunotherapy to all cancer patients. It seeks to develop powerful combinations of existing therapies as well as new treatments, but the institute's ambitions extend beyond immunotherapy. Researchers will follow the science toward the best opportunities for meaningful impacts.
With MD Anderson's drug development capabilities and clinical trials expertise, the Allison Institute won't need to wait decades to advance a discovery from the lab to clinical impact.
"Our goal is to raise the survival curve for all cancers to as close to 100% as we can get," says Allison. "We're not trying to improve survival by a few weeks or months, we're trying to enable cures."