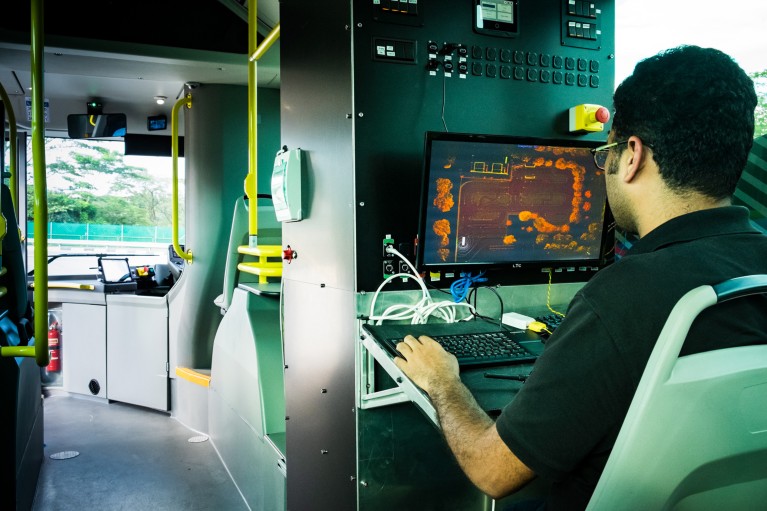 The world's population is likely to reach 8 billion within the next 12 months, just 11 years after passing the seven-billion mark. And with an ever-increasing proportion of people now living in urban centres, there is a growing need to make our cities smarter.
Nanyang Technological University, Singapore (NTU Singapore) is putting itself at the forefront of this research, because these needs are especially acute for Singapore. It is a city state whose ageing population lives entirely in an urban setting. Singapore is also reliant on other countries for raw materials, and it is vulnerable to climate-change-led sea-level rise. It is therefore unsurprising that the Singaporeans have put an emphasis on what they do have in terms of wealth, human capital and innovation, in order to work toward a sustainable and 'smart' future.
But what makes a city smart? The smart-city mantra is monitor, analyse, and respond. "A smart city will use technologies such as artificial intelligence (AI), wireless communications, cloud-based big data and analytics, and the Internet of Things to help improve productivity, efficiency and quality of government operations," explains Kwok Yan Lam, NTU's associate vice president of strategy and partnerships.
Building trust
NTU's campus already offers a glimpse of how these futuristic metropolises might look. It is dotted with wireless smart sensors monitoring all aspects of the local environment, and enabling it to become a testbed for the latest smart-city technologies. The campus offers a more controlled, less busy environment where these projects can be safely trialled, than in the city as a whole. It even has a track to test driverless vehicles, which has already safely demonstrated an autonomous electric bus capable of carrying 80 passengers.
Central to the success of NTU's positioning as a 'smart campus' and as a testbed for technologies addressing real-world problems has been its collaborative approach, and ability to attract both industry and government partners. The autonomous bus, for example, was developed in partnership with Volvo.
"NTU has done extremely well in working with industry," says Louis Phee, NTU's vice president of innovation and entrepreneurship. "We view it as a tripartite relationship: NTU, the company and the government, which comes in with extra financing to grow the project."
"NTU has an established track record of collaborations with global industry leaders such as Volvo Bus, Rolls Royce, Alibaba, GlobalFoundries and more," agrees Lam Khin Yong, NTU's senior vice president for research. "We also work closely with the government agencies."
For example, the university has been working with Singapore's Urban Redevelopment Authority on AI for the Smart Urban Planning Assistant System. The AI automatically extracts information from relevant past town planning cases to help process new development applications.
But the users of a city in which an AI can support decision making in critical areas and where sensors everywhere monitor the environment are likely to worry about cybersecurity and data privacy. Lam is working on an area of research known as digital trust. "In smart cities, there is a greater exposure to cyber-attack and breaches of privacy," he says. "It is only through proper risk management that we help people establish trust in the end users; the people." So, this will be another key consideration in smart cities.
Energy, water and waste
Sustainability will need to be inherent to any smart city. "In very simple terms you want to provide for the needs of people today, without compromising future generations," says Madhavi Srinivasan, executive director of NTU's Sustainability Office.
Singaporeans needn't look very far to see the consequence of the excesses of modern living. Eight miles south lies Semakau landfill, which receives over two thousand tonnes of incineration ash and waste daily from the city. It is made of reclaimed land forming an island of waste pits with walls of sand, rock and clay covered in polyethylene membranes to prevent toxic leaks. Ultimately, by roughly 2035, this landfill island will be home to 28 million cubic metres of waste.
But Semakau also offers hope for a more sustainable future. The filled pits are buried in soil and revegetated with palm trees and other flora. And the island is also home to REIDS: the Renewable Energy Integration Demonstrator – Singapore. This NTU project is a system of interconnected electrical power grids, each testing a different renewable energy technology. For example, REIDS incorporates solar panels, wind turbines and tidal generators.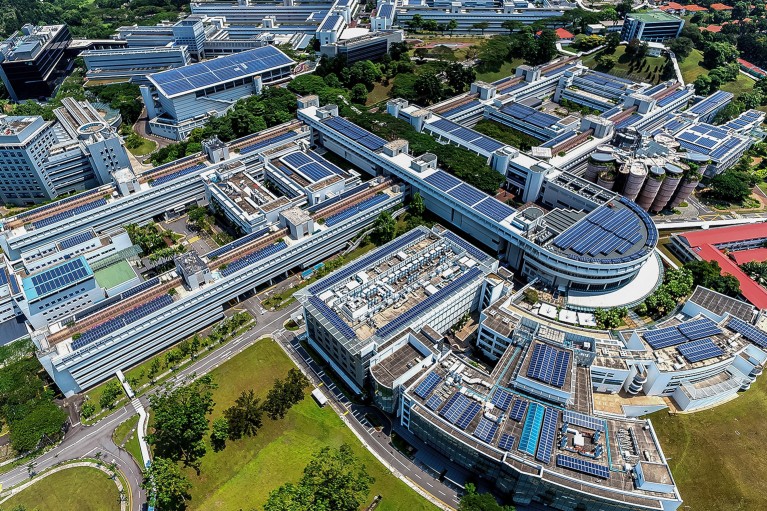 REIDS is the largest such microgrid network in south-east Asia; a region in which they are likely to be particularly important. A large number of isolated rural and island communities in Asia are off-grid and dependent on diesel-driven power. Microgrids offer a route to efficiently combine the different natural resources each community might have.
It's not just the energy generation techniques that are vital. NTU is actively investigating the accompanying infrastructure that will enable integration of this diverse range of energy technologies, and is again working with international partners from industry. For example, Sony and Samsung are developing ways to store the energy, while French electricity producer, EDF (Électricité de France), is helping to study microgrid interconnectivity and control. Rolls Royce is developing biofuels and hydrogen fuel cells.
Urban mining
Paradoxically, this shift to cleaner electrical generation and storage is itself starting to have its own negative environmental impact. Srinivasan's research background is the development of lithium, zinc and aluminium-based batteries to power electric vehicles. "I realised that all the batteries that I produced were just lying in my lab, and these have some toxic elements," recalls Srinivasan. "So I wonder what we could about it."
A step towards a solution was the Singapore CEA Alliance for Research in Circular Economy (SCARCE), a joint project between NTU and the French Alternative Energies and Atomic Energy Commission (CEA) with the aim of trying to 'urban mine' this electronic waste. And mine is the right word: Up to 60 elements from the periodic table could be recovered from e-waste if the right extraction techniques could be developed.
"I think NTU is doing its part to promote all of these different smart city technologies because they are very dear to Singapore," says Phee. "But our steps towards sustainability can certainly be adopted in other countries as well. Because if we don't do something today, in 20 years it will be too late."