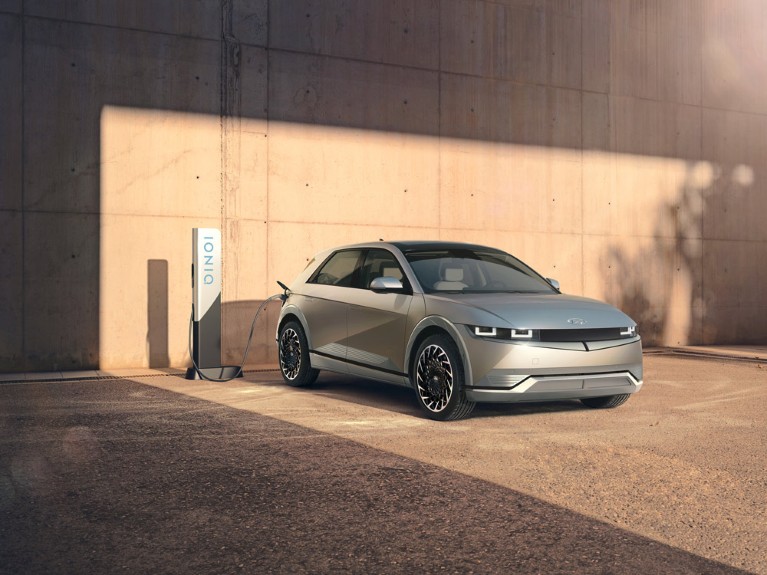 Hyundai Motor Company has been commended by the International ESG Association (IESGA) for its sustainability performance and climate change strategy, which will see the company become carbon neutral by 2045 across all stages, including parts procurement, production, and vehicle operation.
"IESGA worked with Korea University's ESG Research Center to identify the best-performing global company in Korea, and our screening process found that Hyundai Motors operated better than the other competitors," says co-presidents of the IESGA, Jay Hyuk Rhee and Yong Sik Ok, who are also full professors at Korea University in Seoul, South Korea.
Rhee and Ok say the assessment was based on IESGA's comprehensive analysis of Hyundai's environmental, social, and governance (ESG) performance, direction, and future agenda.
Founded in 1967, Hyundai now operates the world's single largest automotive manufacturing plant, located in Ulsan. In March 2022, Hyundai Motor Group launched a new sustainability vision: 'The Right Move for the Right Future', outlining 15 focus areas, in three categories: 'planet', which covers environment and circular economy strategies; 'people', which includes safety, diversity and growth; and 'community', which addresses the company's impact on customers and suppliers.
This commitment has international significance, because of Hyundai's huge global reach, Rhee says. Hyundai Motor Group's executive chair, Chung Eui-sun, met US President Joe Biden in May 2022 after committing $5.5 billion to establish an electric vehicle (EV) assembly and battery plant in Georgia, which will help accelerate renewable energy adoption in the US, the world's second-largest automobile market after China.
Neutrality promotes EVs
Hyundai's goal to achieve carbon neutrality by 2045 will promote advanced environmental technologies already underway for electric vehicles, fuel cell electric vehicles, and hydrogen energy.
In line with the global corporate renewable energy initiative 'RE100' target, Hyundai Motor Company, Kia Corporation, Hyundai Mobis and Hyundai Wia are scheduled to transition to 100% renewable energy by 2050, with green hydrogen to play a big part in major manufacturing procedures.
"Our company is developing both battery-powered electric vehicles and hydrogen-powered electric vehicles, including passenger cars and commercial vehicles," says Byung Hoon Lee, vice president of Hyundai Motor Company. "It has formed important partnerships with SK and with LG Energy Solutions, the world's largest electric vehicle battery manufacturer," Ok says.
Currently, more than 90% of the world's hydrogen production is manufactured using fossil fuels, but Hyundai will cooperate with carbon neutral hydrogen suppliers.
The company also plans to expand hydrogen-powered mobility to ships, trains and hydrogen-electric powered AAM (Advanced Air Mobility) systems such as personal air vehicles over the longer term.
Full circle
Hyundai already has robust water recycling practices in countries with severe shortages, with manufacturing plants in India, for example, recycling 100% of water through a zero-liquid-discharge system.
In 2018, Hyundai Motors Brazil introduced a zero-landfill campaign and now recycles 98% of waste including paint, thinner and packaging, with the remaining 2% composted.
Hyundai has also established what it calls 'second life' EV-battery-based, energy-storage-system businesses that will reuse recovered batteries with 70% remaining capacity, and auto parts recovered from cars at the end of their driving life.