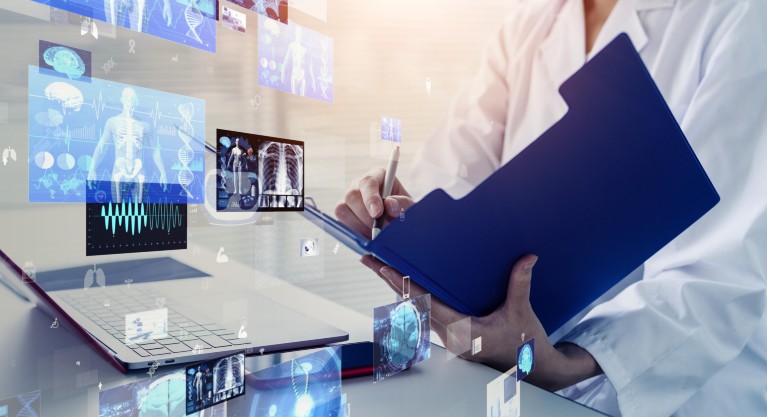 When New Jersey became the US epicentre of the COVID-19 pandemic in March 2020, scientists at Atlantic Health System — one of the state's largest nonprofit health-care networks — moved swiftly to tackle the terrifying threat. With cases doubling every few days, and no therapies available, a multidisciplinary team from Atlantic Health worked around the clock to build a leading-edge Covid research programme.
An expansion of Atlantic Health's in-house scientific capabilities was already underway, but the pandemic helped propel it. "Research is an important part of our DNA — and COVID pushed us to focus on speeding up medical breakthroughs," says Brian Gragnolati, Atlantic Health's president and CEO. Comprising 7 hospitals and more than 400 other sites of care, Atlantic Health combines the convenience of care close to patients' homes with access to leading-edge therapies usually available only at large academic medical centres.
One of the goals of the COVID research programme was to find out whether drugs developed for other conditions could help prevent the cytokine storm that often sparks life-threatening complications. Another was to study the immune systems of patients who had recovered from COVID, to gain insights that might aid vaccine development. Within weeks, Atlantic Health started to offer the most promising investigational therapies to thousands of desperately ill patients, via clinical trials.
"That's when our culture of caring blended with our culture of inquiry, because our people are oriented towards innovation at the bedside," adds Gragnolati. And now, as COVID subsides, that pioneering spirit has transformed every facet of research at Atlantic Health, keeping it on the forefront of scientific and clinical excellence in a wide range of other areas.
Fast-tracking the medicine of the future
To accelerate discovery, Atlantic Health dramatically expanded its entire research enterprise, while also streamlining processes to help researchers fast-track studies. In 2020, Atlantic Health investigators conducted more than 470 clinical trials — double the number in 2010 — including more than 20 trials that specifically targeted COVID.
This was the largest research portfolio in Atlantic Health's history, encompassing investigations in oncology, cardiology, orthopedics and other specialities, leading to dozens of peer-reviewed publications. "We could not have achieved this without our cutting-edge research infrastructure and our team's passion, creativity and powerful commitment to being part of the future of medicine," says Trish O'Keefe, Atlantic Health's chief nurse executive and president of its largest hospital, Morristown Medical Center. "What drives our researchers is the opportunity to move the bar on how health care is delivered and discover the best ways to optimize our patients' long-term outcomes."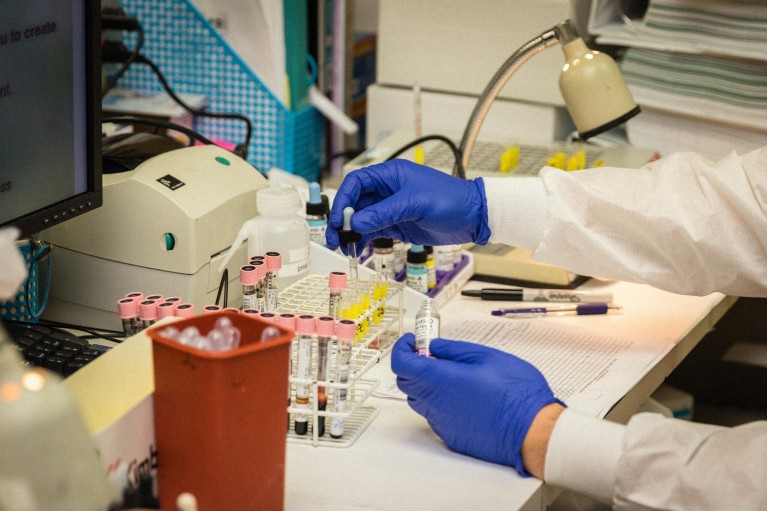 A wealth of resources
Atlantic Health's reputation as an exciting, agile place to work has helped it attract renowned researchers to lead major clinical trials, as well as pharmaceutical and biotech companies to fund them, says Gragnolati. "We are well positioned to form strong relationships with these companies," he adds. "Many of them are headquartered around us and want access to our large patient base." Serving 12 New Jersey counties representing more than half of the state, Atlantic Health treats about 1.1 million patients each year.
To track patient outcomes, the health-care system has invested hundreds of millions of dollars to marry its electronic health records (EHRs) with medical claims information. This clinically useful tool also provides research benefits. When Atlantic Health researchers analysed the effect of outpatient treatment with monoclonal antibodies on delta-variant COVID patients who were subsequently hospitalized, the team was able to show that the therapy helped saved lives.
The EHR investment has paid off in other ways. Early in the pandemic, a team led by Terence French, Atlantic Health's vice president and chief strategy officer, used this dataset to develop a tool that can predict surges in COVID hospitalizations, 10 to 14 days before they happened. This allowed the system's hospitals to adjust team member staffing levels, transform the physical layout of facility areas to increase the number of isolation units, and prepare additional essential equipment. In addition, says French, "Our hospitals always had a sufficient supply of PPE (personal protective equipment) at critical times." And now, the team is exploring ways to use the tool to predict surges in other respiratory illnesses, such as flu.
Nurturing a spirit of innovation
Atlantic Health's hospitals were among the first in New Jersey to introduce a rapid screening test for key viral variants. In December 2021, the internally developed PCR (polymerase chain reaction) assay detected the state's first omicron case. "Usually, research labs develop the tests that investigators need for their studies, but we flipped the script and became our own researchers," reports Lisa McFarlane, Atlantic Health's director of laboratory services. "Being able to tell which COVID variant patients have is the next step in improving their care."
This diagnostic innovation goes beyond COVID. The lab previously outsourced testing for Lyme disease, a tickborne bacterial infection that's common in New Jersey. Because only two or three labs in the US offer testing for this condition, doctors had to wait several days for results, delaying care for patients who ultimately tested positive. McFarlane and her team solved this problem by developing their own PCR test for Lyme disease. Today, McFarlane's team processes more than 16,000 tests daily for a variety of disorders, and is developing new tests.
But perhaps the greatest lessons Atlantic Health's leaders, researchers and frontline providers have learned from the pandemic is how to use teamwork, resilience, and a tradition of innovation at the bedside to find creative solutions during two of the most difficult years of their careers. "We have a saying that if you're faced with a challenge, the answer isn't to come up with 100 steps of 'no' and give up," says O'Keefe, "but to say, 'Yes, we can.'"