Working at the frontiers of understanding and perception, three professors at City University of Hong Kong (CityU) are set to transform understanding of quotidian devices, such as LEDs or solar panels. As part of the continuing Hong Kong Institute for Advanced Study (HKIAS) Distinguished Lecture Series, the three-part section on physics in April and May 2021 introduced some of the most innovative ideas to tackle real-world problems.
Unleashing the potential of glass
Understanding materials made of glass is one of the biggest challenges in science. A huge leap to elucidate the structure and dynamics of glass materials, as demonstrated by Xun-Li Wang, head and chair professor of Department of Physics at CityU, could be achieved via neutron scattering. Wang's 30 years of experience in neutron scattering has enabled new applications of glass.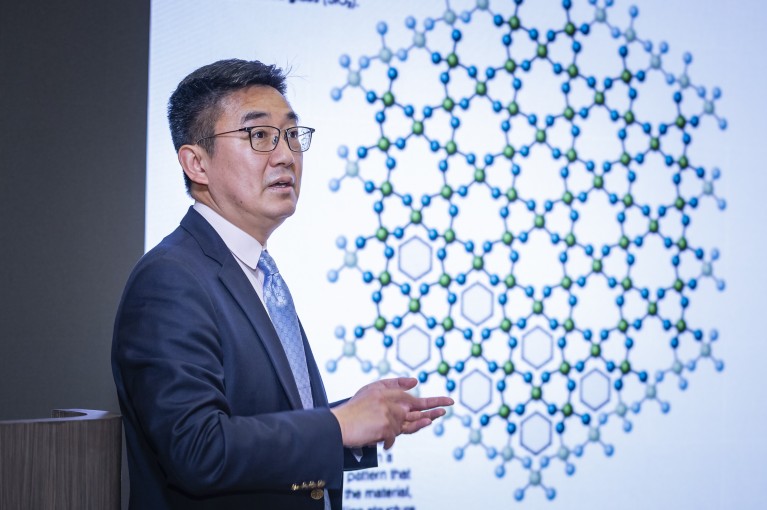 He referred to metallic glass as "a multi-length scale problem" that needs multi-length scale tools to investigate. "Small angle scattering helps study phase separation in the order of nanometre range, but doesn't give any phase information. Diffraction helps probe atomic range ordering, but doesn't show composition beyond the local atomic range at nanoscale," explained Wang.
Wang hopes to further explore the atomic structure and dynamics of metallic glass at the China Spallation Neutron Source in Dongguan, China.
Improving semiconductors by investigating quantum states
An expert in low-dimensional quantum physics, Ruiqin Zhang, chair professor of the Department of Physics and chair professor of the Department of Materials Science and Engineering at CityU, discussed how to improve the efficiency of semiconductors by manipulating the immediate environments of electrons, excitons, and phonons.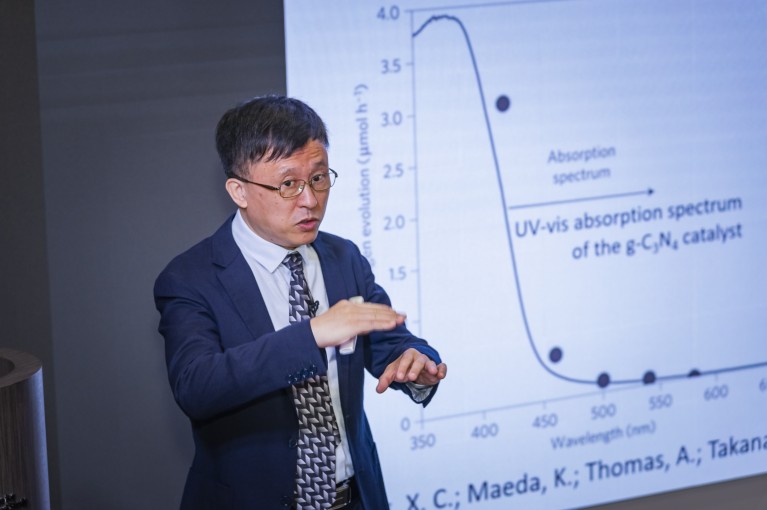 "Over the years, we have been working on engineering the confined quantum states with different strategies, from surface engineering, stress or strain engineering, and most recently, excited state engineering," he explained.
In recent years, Moore's Law (that the number of transistors on microchips doubles every two years) appeared in doubt, as overheating diminishes the possibility of fitting ever smaller transistors on to microchips.
"We have recently focused more on confined catalysis and growth, hoping to obtain better results for practical applications," he said. "This includes hydrogen generation to develop miniaturized and efficient solar hydrogen production equipment, as well as low-dimensional materials, in the fields of optoelectronic, nano-electronics, environment, energy, biology and medicine."
Laying the groundwork for room-temperature superconductors
Superconductors were first discovered in 1911 and conducted electricity without resistance or energy loss. However, they operate at temperatures approaching absolute zero. Wei Bao, chair professor of Department of Physics at CityU, discussed the search for a room temperature superconductor and the new physics that has arisen from that pursuit. As Bao put it, the 'iron age' of superconductors was then spearheaded by Hideo Hosono, the first one to discover iron-based superconductors, with iron chalcogenide emerging as one of the most investigated superconducting materials.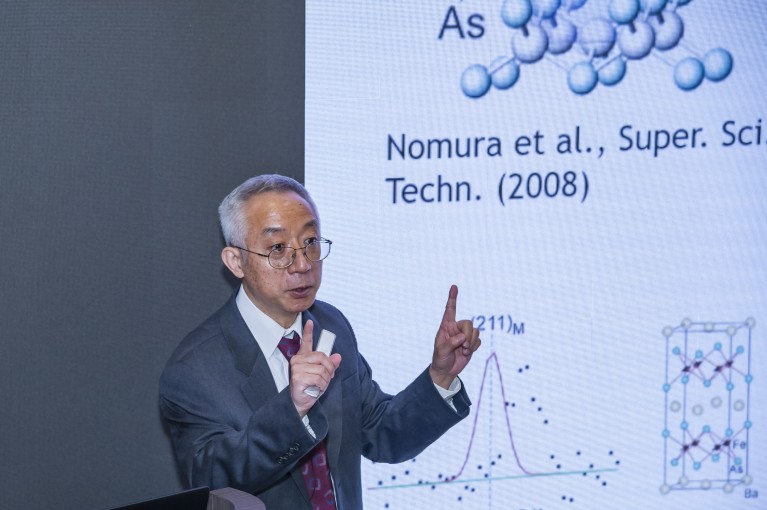 Bao, whose research focuses on neutron scattering as a research tool to investigate different aspects of correlated electronic systems in condensed matter, believed that the interplay between lattice, charge, spin and orbital degrees of freedom of electrons in condensed matter could potentially lead to the advent of superconductors at room temperature.
"Using billions of electrons and atoms to create superconductivity at room temperature has been a dream for us for many decades," he said.
A world-recognized institution for advanced studies
This series of lectures, supported in part by the Kwang Hua Educational Foundation, exemplifies the commitment of HKIAS to being a world-renowned hub of global scholars. Apart from contributing to postdoctoral and postgraduate training of talented young researchers, HKIAS Senior Fellows have been initiating ground-breaking research.
HKIAS has founded three research clusters promoting interdisciplinary research, including HKIAS Materials Science Cluster, HKIAS Bioscience Cluster, and HKIAS Mathematics Cluster. Led by HKIAS Senior Fellows, each cluster addresses significant and common issues to inspire research collaborations, attract external funding and generate greater research output.
The clusters are intended to enrich the institute's distinctive intellectual community, spark new research approaches and findings, mentor junior scholars across disciplines, and ultimately make the world a better place.