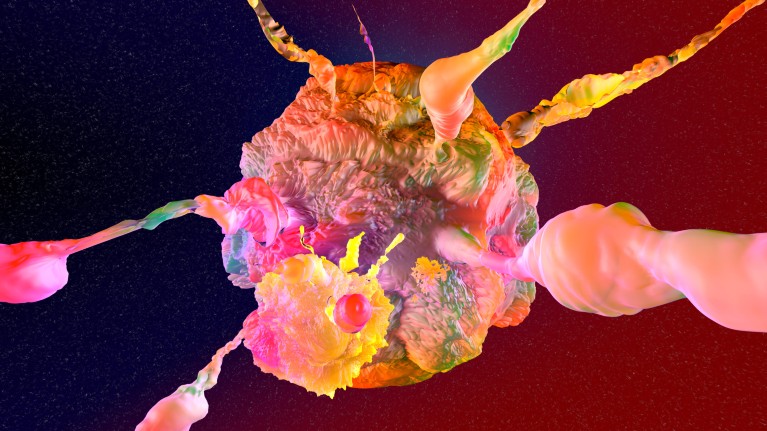 Targeted therapies take advantage of specific mutations in tumour DNA, but cancer cells can find ways to thwart them. Improving oncologists' ability to quickly detect whether a tumour has developed one of several escape mutations will help them stay one step ahead.
For many patients with non-small cell lung cancer (NSCLC), treatment is rarely straightforward. Some patients initially respond well to therapies that specifically inhibit the Epidermal Growth Factor Receptor (EGFR) gene but, over time, their cancer acquires EGFR mutations that render the treatment unsuccessful. Hence, patients are often switched to a different targeted treatment.
The key to providing effective treatment is regular monitoring to determine, as soon as possible, whether the tumour has acquired a particular resistance mutation — and adapting the therapy accordingly. Testing typically uses next-generation sequencing on circulating tumour DNA. However, sequencing doesn't always detect mutations that have just started to appear, primarily due to the scarcity of the target DNA.
An alternative method is digital polymerase chain reaction (dPCR). This technique involves dividing the sample into a large number of individual partitions that are then amplified by PCR and analysed. dPCR can provide an absolute quantification of even small amounts of genetic material without the need for a reference curve, making it useful for detecting emerging mutations even in small sample volumes. But there are many EGFR mutations that affect treatment, and even though some dPCR systems have two or three detection channels, searching for all the possible mutations is a time consuming and costly process.
However, in a recent article1, researchers at the Gustave Roussy Cancer Institute in Villejuif, France, overcame this problem by using a new dPCR system that can simultaneously detect 19 of the most prevalent NSCLC genetic variants from the same sample using a 6-colour fluorescence detector. Laura Mezquita, a medical oncologist (currently at Hospital Clinic Barcelona) was involved in the research. "To have the opportunity to test for the more common EGFR mutations at the same time is highly clinically relevant for us."
Simultaneous tests and multiple detections
The dPCR technology that Mezquita and her colleagues used is the Naica™ System, developed by Stilla Technologies in Paris. Jordan Madic is an R&D scientist, responsible for external partnerships at Stilla, who helped test this new 6-colour Naica™ System with the Gustave Roussy researchers. "We were able to detect mutations with a sensitivity below 0.1% for some targets and observed mutations not identified by NGS," says Madic1.
The Naica™ System comprises a pressurized PCR thermocycler (the Naica™ Geode), a 6-channel fluorescence reader (Naica™ Prism), and a single consumable, the Sapphire chip, that fits both machines for easy transfer.
The new, 6-colour Naica™ dPCR System launches this Summer. It can distinguish six fluorophores: FAM, Yakima Yellow, Atto 550, carboxy-X-rhodamine, Cy5 and Atto 700 — or others in equivalent wavelength ranges. The 6-colour dPCR system, as described in the collaborative proof-of-concept study (see figure), builds on Stilla's original 3-colour system2 by powering up the multiplexing capabilities while simultaneously maintaining the sensitivity and precision needed to detect rare mutations.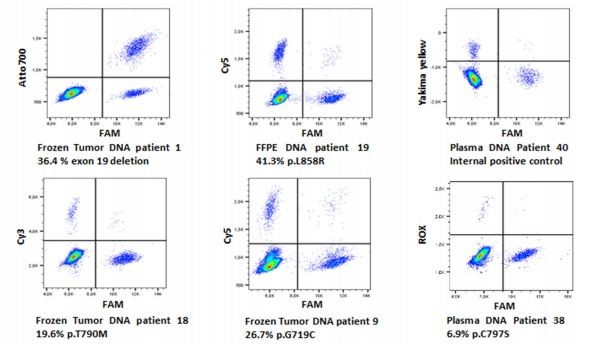 "A liquid biopsy sample is extremely precious because it is limited in quantity and we don't have replicates," says Allison Mallory, director of molecular biology R&D at Stilla Technologies. "Being able to increase the number of targets you're able to detect reliably in a single reaction really makes the most of the sample and is critical for timely patient care."
Six-colour multiplexed detection brings the additional benefit of extremely rapid analysis. The process from loading the sample to results can be completed in two and a half hours, with a hands-on time of only five minutes. That speed was crucial for Mezquita to provide her NSCLC patients with the most suitable treatment without delay. "I saw the patient in the morning, sent the blood sample to the lab, and the report was ready the next morning to inform the referring doctor."