For all the complexity of cancer, one simple truth holds true. The earlier it is detected and accurately diagnosed, the greater the possibility for successful treatment. That maxim has guided research in cancer diagnostics for decades, leading to broad advances in testing and pathology.
In recent years, many researchers have trained their hopes on developing tests to identify multiple cancers from a single blood sample. The work is promising, but complex. Peering inside plasma with any degree of accuracy is difficult, and methods have needed to evolve to meet those challenges. One approach, targeted methylation sequencing, appears to be gaining favor.
DNA methylation is an epigenetic modification that can impact gene expression, and certain abnormal methylation patterns have shown correlation with cancer. In recent years, several biomedical companies and research groups have worked to develop diagnostic approaches based on sequencing those methylation changes. But to identify multiple cancers from a single sample, researchers must examine large numbers of methylation sites.
A growing number of researchers are turning to companies, such as South San Francisco-based Twist Bioscience, to supply large collections of probes to precisely locate important methylation changes. The use of methylation sequencing with these targeted probes allows researchers to tease out complex patterns from extremely faint signals. The scientific and clinical implications are myriad and still developing, though grasping them could be the key to understanding the next generation of cancer diagnostics.
Developing a profiling method
In the course of their life cycles, cells shed DNA. That cell-free DNA (cfDNA) circulates in the blood and, if identified, offers clues about what cells are up to. Using cfDNA to profile cancer cells would seem to make sense, but cfDNA levels are exceedingly low in the blood and tumor-derived cfDNA, especially in the early stages of cancer, is significantly less abundant.
To accurately characterize tumor-derived cfDNA, researchers need methods sensitive enough to identify it, yet specific enough to distinguish and classify it.
Scientists today have a few options, meaning comparisons among them are fairly common. One of the most thorough recently came from GRAIL. Since 2016, the company and its research partners have been running a prospective, observational, longitudinal clinical trial to evaluate the efficacy of its cancer test. It is called the Circulating Cell-free Genome Atlas study, or the CCGA.
In the first part of the CCGA, investigators set out to identify the best method for use in an early cancer detection test. They assessed three next-generation sequencing techniques: whole-genome sequencing, targeted mutation detection and targeted methylation sequencing.
Whole-genome sequencing is a brute-force solution. Researchers must sequence everything in a blood sample, and then use bioinformatics to identify informative sequences. The difficulty is that among the informative tumor-derived cfDNA sequences, there are a larger number of uninformative sequences. For a cancer detection test, that can result in higher upfront costs and the need for more bioinformatics.
Another approach is to only sequence cfDNAs with regions known to differ between normal and cancerous cells. The CCGA researchers looked at two such targeted sequencing approaches: one that uses capture probes designed to specific cancer DNA mutations, and another that uses capture probes to target methylation changes.
In their first report on the CCGA, in 2018, investigators announced that although all three approaches were correlated, targeted methylation analysis was the strongest distinguisher, outperforming whole-genome and targeted sequencing.2,3 Given that, GRAIL and its collaborators decided to focus on targeted methylation analysis for phase two of the CCGA. The experimental design relied upon a custom set of capture probes that would cover more than 100,000 distinct regions and more than a million methylation sites.
The researchers behind the CCGA did not have the capacity to produce such a large volume of probes, so they reached out to Twist Bioscience to help.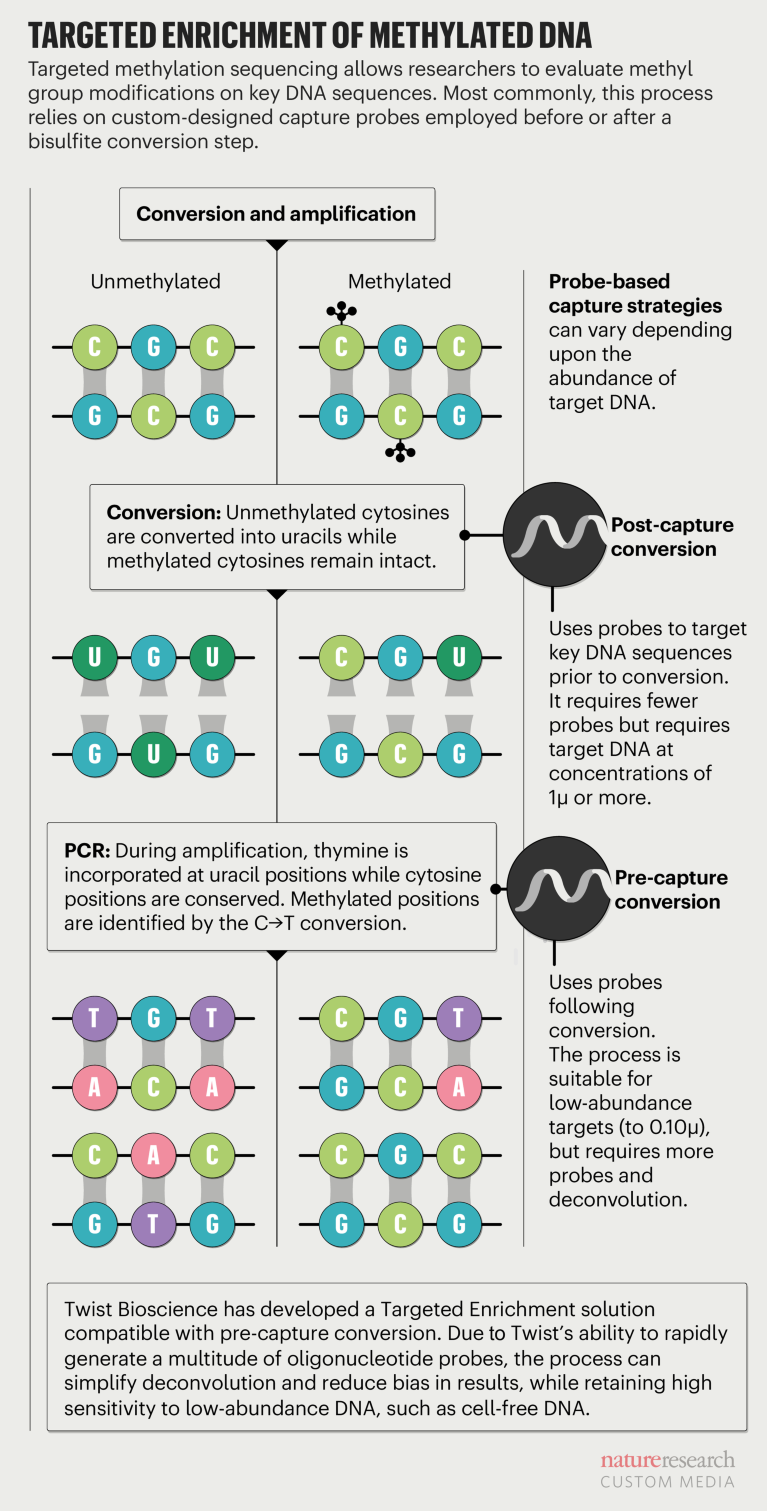 Targeting a solution
In 2013, Emily Leproust, Bill Banyai and Bill Peck founded Twist Bioscience to develop novel, large-scale oligonucleotide synthesis technologies that could generate anything from DNA fragments and whole genes, to large oligonucleotide pools. As next-generation sequencing became widely available and researchers studied larger numbers of samples, Twist turned its expertise toward the development of large pools of capture probes. Those would become known as targeted enrichment panels.
"Methylation came to mind early, as soon as we started talking about the potential applications of custom Target Enrichment Panels," recalls Leproust, CEO at Twist. Leproust and her colleagues saw significant potential in epigenomics, but they also knew that existing methylation analysis techniques had limitations. Whole-genome bisulfite sequencing was costly and technically challenging, while methylation detection arrays were limited in scope.
"We knew we were uniquely positioned to make real headway," Leproust says. "It was a field that we felt was quite green, and could benefit from the performance, flexibility, and quick turnaround times of our custom NGS panels."
Before or After
In an early cancer detection test based on methylation sequencing, one of the keys to success lies in identifying those differences in methylation patterns. Low abundance samples, such as cfDNA, often need to be amplified using PCR before sequencing. But amplification of DNA removes methylation marks. For a targeted capture approach to work, researchers must either capture first, then do bisulfite conversion and amplify, called 'post-capture conversion', or they must convert first, then amplify and capture, called 'pre-capture conversion'.
"Pre-capture conversion presents challenges that can lead to biases across target types, off-target capture and low capture uniformity," Leproust says. For this reason, most approaches hinge on post-capture conversion when a large amount of starting DNA is present. But for low-abundance targets, pre-capture conversion is the best approach since the amplification step comes before the capture step. That increases library complexity and reduces the requirement for DNA input, making it better suited to such tasks as the identification of cfDNA. To utilize this approach, however, Twist had to rethink how its probes would work in such a setting.
"We developed new design approaches enabling methylation panels controlling off-target capture with different stringency levels," Leproust says. Twist's unique ability to rapidly generate immense numbers of oligonucleotide probes can simplify deconvolution and reduce bias while retaining high sensitivity to low-abundance DNA.
In March 2020, CCGA researchers announced the study's phase two interim results, which relied upon Twist's unique probes. They indicate the test can detect more than 50 types of cancer, across all stages, with greater than 99% specificity. It can also localize the tissue of origin with greater than 90% accuracy.1 Using the same testing methodology, the CCGA has now entered its third phase, which involves testing in a larger patient population.
For its part, Twist has been working to further simplify targeted methylation sequencing, making the technique more accessible to scientists of all stripes. Its new NGS Methylation Detection System contains reagents designed specifically to reduce biases and off-target capture in methylation panels, while still achieving high capture uniformity. In combination with custom enrichment panels and probe design algorithms, such kits give more researchers the opportunity to interrogate methylation patterns with next-generation sequencing. That directly applies to cancer research but, Leproust says, it will apply elsewhere, too.
"Methylation states play a role in a variety of processes including development, ageing and degeneration, fertility, and nurture vs. nature or response to stress and the environment," Leproust says. "Epigenetics is everywhere."