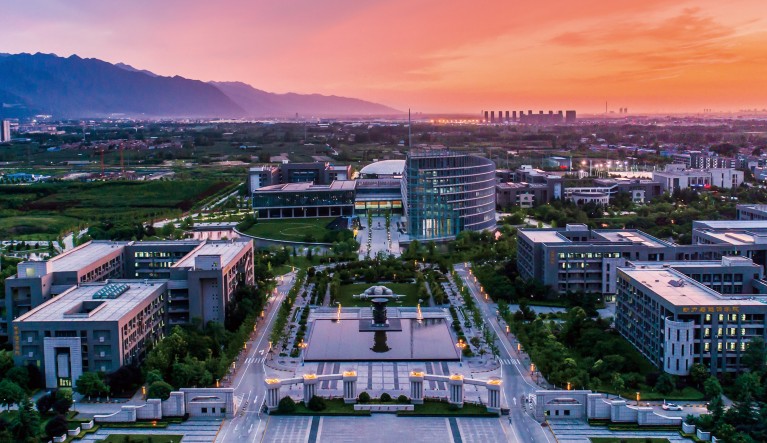 As with the city, NPU boasts a rich heritage. It has its roots in the State Northwestern Institute of Engineering, which was established in 1938. Governed by China's Ministry of Industry and Information Technology, NPU has always been a national key university and was one of the first universities selected for the national Project 211 and the Project 985, both of which aimed to raise the research bar at high-level Chinese universities. And in 2017, NPU was selected into the national 'Double First Class' plan, beginning its march to world-class renown.
Today, NPU is a multidisciplinary, research-oriented, open university, with 17 academic schools, an international education college, an honours college, and a Joint Educational Institution (JEI). The university programmes cover everything from fundamental science and engineering, to the humanities, management and social sciences. Its unique value lies in its research and education programmes in aeronautics, astronautics, and marine technology engineering — it is the only Chinese university featuring programmes in all the three areas. Moreover, NPU has strong programmes in materials, mechanical engineering and mechanics, as well as computer science, communication and control sciences. Its material science discipline is ranked among the global top 0.1%, according to the latest Essential Science Indicators (ESI) subject area rankings, while the chemistry, engineering and computer science disciplines are ranked among the global top 1%. With these distinctive strengths, NPU has laid a good foundation for continuing to provide world-class education in all these disciplines.
The research capacities of NPU are evident in its array of research facilities and programmes, including eight national-level key laboratories, two national engineering research centres, three high-level bases for international collaboration on science and technology, and four national-local joint innovation platforms. Annual research budgets amount to one million RMB per capita, ranking it in the top 10 among domestic universities.
In recent years, NPU has broadened the scope of emerging subject areas by developing a culture of cross-disciplinary research. This exploration has led to the establishment of several interdisciplinary research institutes, driving the development of disruptive technologies, ranging from unmanned systems technology and flexible electronics to space medicine.
NPU's commitment to innovation has brought promising prospects for its future development. It is on track to build a first-class university with first-class disciplines, expanding the horizon for life-changing new discoveries in science and technology for our rapidly changing and globalized world.