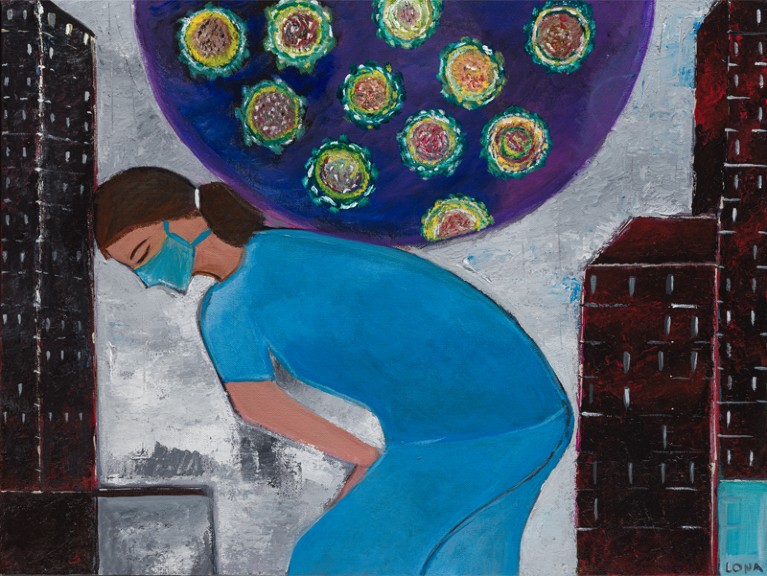 Outsized, Overwhelming Impact of COVID-19
by Lona Mody
Lona Mody is the Amanda Sanford Hickey Professor of Internal Medicine at the University of Michigan, Ann Arbor, MI, USA, and a professor of epidemiology at the University of Michigan School of Public Health, Ann Arbor, MI, USA. She is also the director of the Center of Research and Innovations in Special Populations (CRIISP), Ann Arbor, MI, USA, and Co-Director of the Medical Arts Program at the University of Michigan, Ann Arbor, MI, USA.
I am drawn towards color and paint art that convey happiness that is in my life. Complementing my academic interests, I love to paint. I co-direct our Medical Arts Program along with Joel Howell (Director) and Sanjay Saint (Co-Director) at the University of Michigan.However, COVID-19 changed everything. I had to create something that was wholly different to process this unprecedented historic event. Painting this particular piece was extremely cathartic. It allowed me to reflect on the loss experienced by many and its impact on my peers and come to terms with the fact that the worst was yet to come.
This painting depicts the outsized and overwhelming impact of COVID-19 on our healthcare providers and on our healthcare eco-system in general. I was artistically inspired by the lifeless streets in big capital cities, empty tall haunted buildings and incredible havoc created by a virus that was often depicted paradoxically by vivid colors with precise structures and features. Missing in all these early images was the human factor. This painting now hangs within our department offices as a reminder of our collective experiences.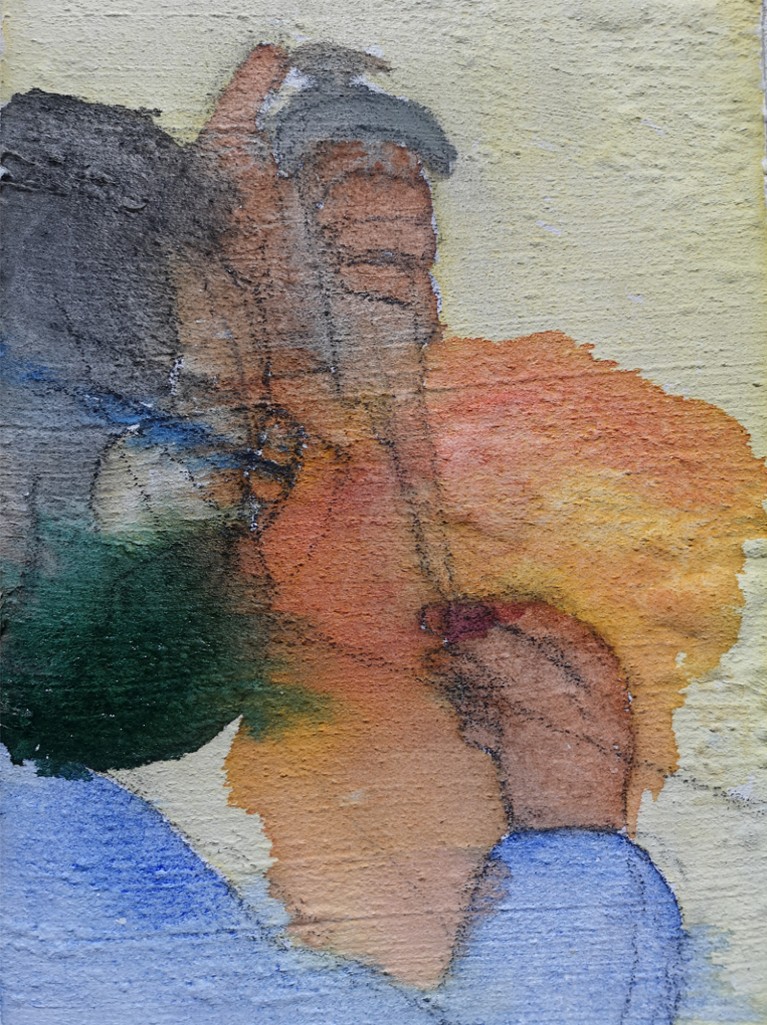 Pipetting The Sample
by Ali Al-Nasser
Ali Al-Nasser is a medical laboratory technologist at the Virology Unit of the Public Health Laboratories, Ministry of Health, Zahra, Kuwait.
I have used my own art as real-time documentation of the pandemic and my own impression of the workload. I consider this painting as physical evidence of my work to fight this pandemic as a lab tech working in a public-health lab. It is related directly to this pandemic, because
I asked one of my colleagues to take a photo of me while pipetting SARS-CoV-2 nasopharyngeal swabs to prepare them for extraction. And I wanted to add my personal impression of this moment by painting it the way it looks.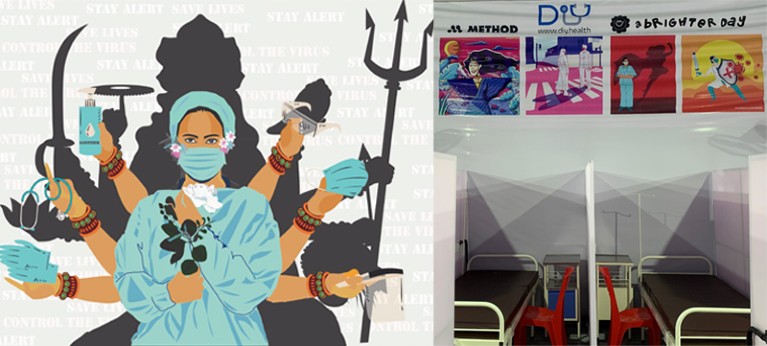 Pop-up art in a field hospital
photo by Swapneil Parikh
Swapneil Parikh is an internist and clinical research fellow in the molecular lab of the Kasturba Hospital for Infectious Diseases, Mumbai, India.
The months of May through August 2020 were very difficult in Mumbai. Our medical facilities were overrun, and we needed to set up field medical centers, testing stations, fever clinics, etc. I worked with colleagues and government officials to rapidly design and build these facilities in Mumbai. My colleague Rajit Shah heads a medical company called DIY.health, and he provided crucial support that allowed us to build a rapidly deployable inflatable COVID-19 hospital for patients with cancer and COVID-19.
Art can have a transformative effect on a space and can bring happiness and hope into many lives. One of my friends owned an art gallery, Method Contemporary Art Space. Together we started the 'A Brighter Day' initiative to bring light into somewhat dark spaces and remind everyone that a brighter day lies ahead.
We put out an open call for digital art and received hundreds of applicants. Rajit Shah was kind enough to donate funds to print large panels of a selection of these works for the field hospital. We hoped that patients and medical workers in the inflatable hospital would find them soothing, uplifting and energizing.
Working in COVID-19 facilities is a hard job in a high-stress situation. The hours are long, the work is risky and morale is generally very low. Patients in these facilities often feel isolated, alone and melancholic. In our desperation to heal the body, we must never forget that the mind also needs care. In our efforts to cleanse spaces of a virus, we must not cleanse them of color.
Each artwork is dedicated to healthcare workers serving patients at the inflatable hospital. The artworks inside add much-needed color into the lives of patients recuperating inside and serve as a reminder to all who view them that a brighter day lies ahead.
One artwork, Frontline Heroes, by Khushboo Laguri (https://www.abrighterday.in/artist/frontline-heroes/), expresses how the real battlefront of the COVID-19 pandemic was waged behind ICU and ER doors, and how healthcare workers heroically played many different roles in the war against the virus. Healthcare workers served as healers, scientists, science communicators and infection-control workers. At times they served as the communication link allowing a family to say goodbye to a loved one in their final moments. Sometimes they extended the last comforting hand a patient would hold. All these roles demanded fierce heroism, and healthcare workers around the world selflessly and fearlessly rose to the occasion. This artwork represents their heroism on the frontlines of the COVID-19 pandemic.
The field hospital is still serving patients in Mumbai, and I hope the pandemic art is making it a brighter day.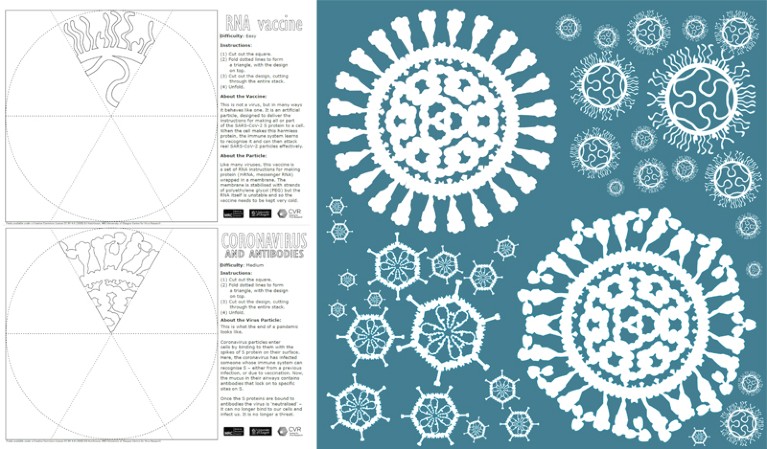 Virus Snowflakes
by Ed Hutchinson
Ed Hutchinson is the lead of a molecular virology group at the MRC–University of Glasgow Centre for Virus Research, Glasgow, UK, working mainly on influenza viruses.
I have used art in 2020 partly for science communication about SARS-CoV-2—often in collaboration with people who, unlike me, have formal training in medical illustration and can do a better job of it! I have also turned to art to give myself some quiet space and something different to focus on during this challenging time.
The 'virus snowflakes' shown here are a bit of both: they were created with science communication in mind, but I made as many as I did because researching and drawing them turned out to be a very good way to switch off.
I wanted to show viruses as paper snowflake decorations because this emphasizes the beauty and regularity of their structures in a way that is accessible to anyone with a pair of scissors and some time on their hands. At a time when viruses can seem unknowable and scary, turning their structures into decorations, and including non-pathogenic viruses, is a reminder that viruses are only another part of the natural world.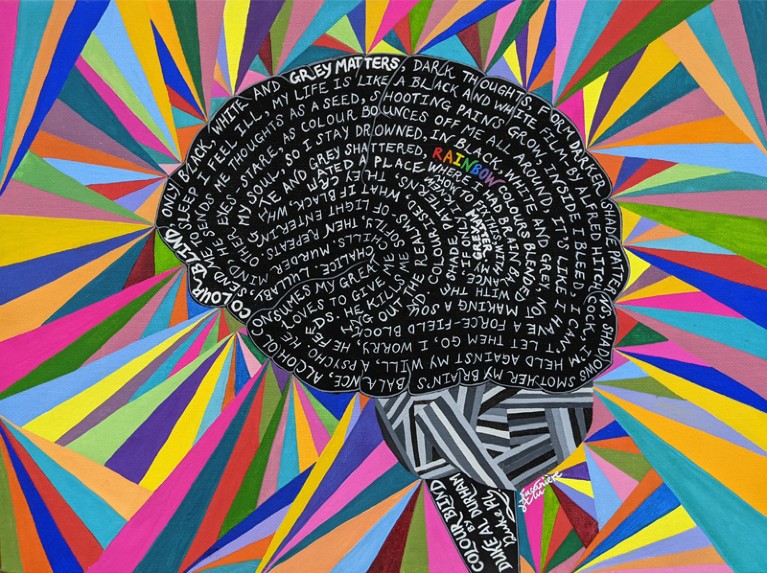 Colour Blind
by Sarah Racanière, featuring Colour Blind, a poem by Duke Al Durham
Sarah Racanière is a consultant physician with a specialist interest in diabetes and endocrinology.
Art and painting with vibrant colors gives me what I call 'colorjoy' and a 'colorfix'. I find the human body a beautiful, remarkable creation. Through art, I express my fascination with its structure and function in an abstract/contemporary fashion, using vibrant colors that are not normally associated with anatomy and often combining paint with ECG, medical investigations or text from Gray's Anatomy.
During the pandemic, I wanted to depict how the pandemic impacted mental health, how the mind felt dark and clouded with anxiety and fear of the future due to the impact the COVID-19 pandemic and lockdown was having on health, loved ones, the economy, etc.
Art has been particularly helpful to me during the pandemic, when my clinical roles changed to more involvement with patients with COVID-19, and longer hours, in a very stressful unknown situation. In the UK, lockdown, with nowhere to go and no social interaction other than my immediate family, gave me more time to reflect on my creative side and allowed me to express my anxieties, isolation, fears and worries in something colorful and more positive to look at.
In Colour Blind, a painting in gouache on canvas, I depicted how we can lose the color in our lives, replaced by darker shades in our mind. Hence, the brain is in black and grayscale. Near its completion, my poet friend Duke Al was inspired by the artwork, which then featured a completely dark brain, to write a poem on mental health, which I subsequently painted in the brain in the finished piece.
The words loop around the structure like the folds of the brain, but are also reminiscent of the uncontrollable nature of mental illness. We wanted the painting and poem to raise awareness of mental health during these lonely moments of isolation. To try and encourage people that if you feel shadowed by mental health, talking to others may help you find each other's colors again. Hence, the brain is surrounded by color.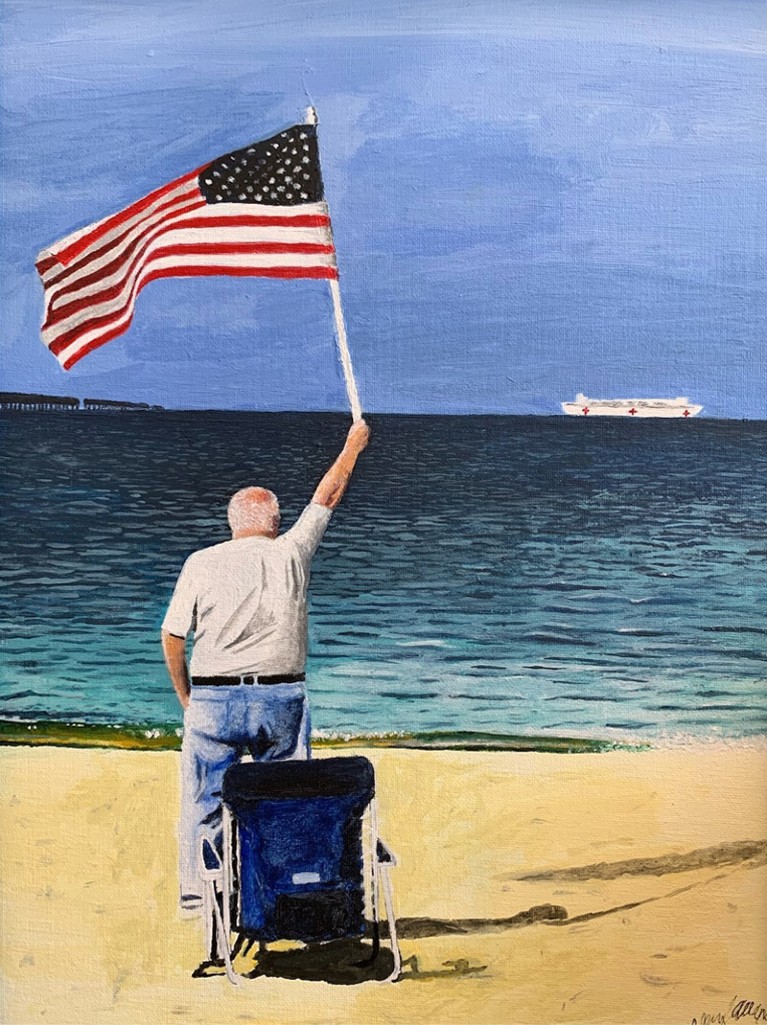 Hope
by Alexander Allen
Alexander Allen is a fourth-year medical student at the Virginia Commonwealth University School of Medicine, Richmond, VA, USA.
I believe the arts are important in medicine because they remind us of the limits of scientific knowledge. If you look at a beautiful painting, or listen to a captivating song, you cannot quantitatively explain the feelings that make you appreciate the work.
The intertwining of medicine and the arts implicitly reminds us of this dimension to life that cannot be fully understood or predicted using instruments we possess. Recognizing this phenomenon reinforces our own humility and appreciation for the staggering complexity of the human body, disease and the natural world around us.
This is a 16.75-inch by 13-inch acrylic painting on canvas, entitled Hope. The image depicts a man standing on the beach and holding a US flag. In the distance, the US Naval Ship Comfort departs its home port of Norfolk, Virginia, for New York City to aid the overwhelmed hospital systems there in the early days of the pandemic.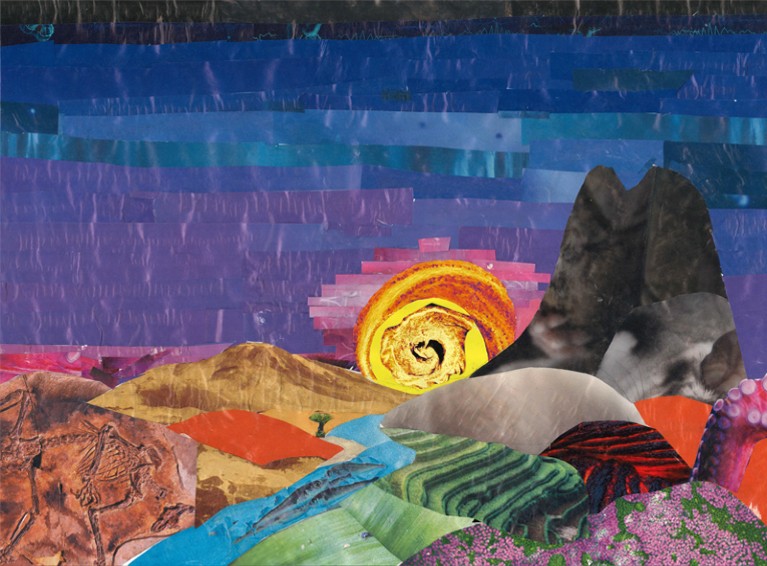 Naturarte
by Angela Araujo
Angela Araujo is a final-year PhD student working on breast-cancer research at the Biodonostia Health Research Institute, San Sebastián, Spain.
Art has helped me to take my mind to beautiful places during my blue/stressful moments and realize how science and art are not that different: both depend on creativity and can be gorgeous.
Naturarte is a sunset made of 'pieces of science'. The entire collage is made from small cuts from Nature covers. It represents the hope for new and better days during the pandemic, when science can save as all from COVID-19, and that we appreciate it like a beautiful piece of art.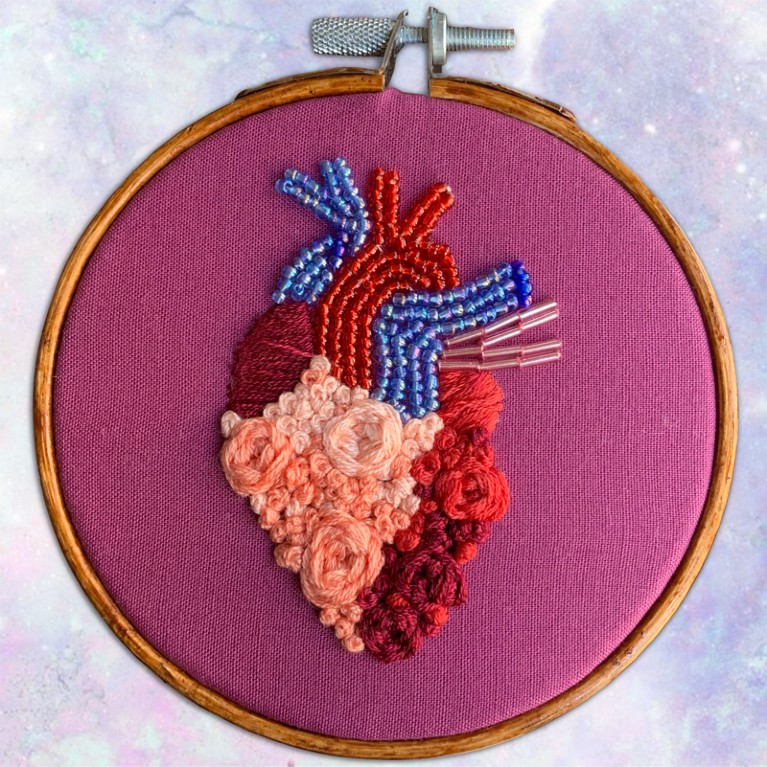 Embroidered heart
by Julie Shade
Julie Shade is a PhD candidate in biomedical engineering at Johns Hopkins University, Baltimore, MD, USA. Julie works in the Trayanova lab, which is part of the Johns Hopkins Alliance for Cardiovascular Diagnostic and Treatment Innovation (ADVANCE).
My research is all about integrating computational cardiac modeling with machine learning to provide personalized risk assessment and treatment to patients with various heart conditions. In the first few weeks after everything shut down, there were increasingly concerning reports about possible cardiac effects of COVID-19.
Several colleagues and I began working on an interdisciplinary grant to study cardiovascular complications in hospitalized patients with COVID-19.
I have always loved art and have used it to relax—constantly reading and writing about the disease while living alone and worrying about my family and friends who are frontline healthcare workers was starting to get to me, so every night I would do some type of art: knit, crochet, paint or embroider.
I started working on this piece in the first few weeks of the pandemic and finished it right before our grant was awarded in April. It has been sitting on my desk since then while I have been researching the cardiovascular effects of COVID-19. I chose to embroider a heart to take my mind off work while reminding myself why I chose to go into the biomedical sciences and to do cardiology research in the first place.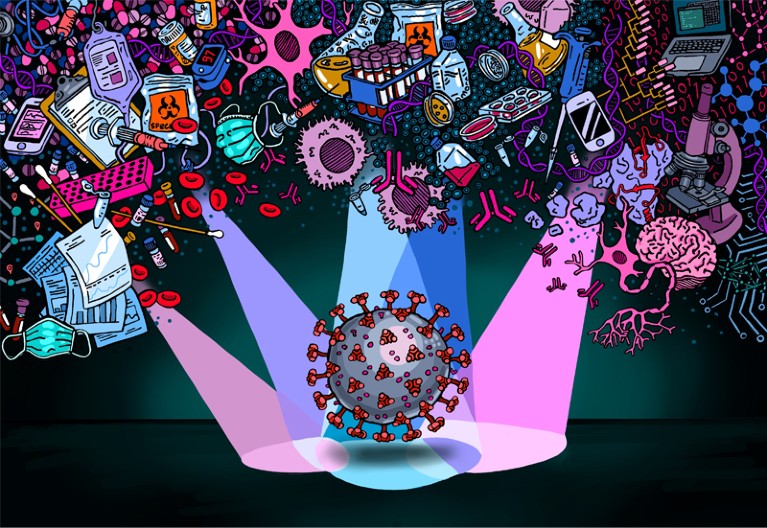 Art in digital form
by Jessica Johnson
Jessica Johnson is a data scientist in Laura Huckins' lab in the Pamela Sklar Division of Psychiatric Genomics at the Icahn School of Medicine at Mount Sinai, New York, NY, USA, who is working on projects that apply transcriptomic imputation methods to electronic health record–based data to better understand the genetic basis of psychiatric disorders.
I have a fairly severe anxiety disorder, and making art is a way for me to relax. I particularly enjoy doing very detailed, repetitious types of work, which becomes almost meditative and really provides a way to focus my attention away from my internal thoughts. I also really enjoy making art to illustrate scientific concepts. Art is a great way to communicate science to everyone, and (especially nowadays) that communication is exceptionally important.
I was commissioned to do this particular piece for a COVID-19 research symposium hosted by the Mount Sinai Clinical Intelligence Center at the Icahn School of Medicine at Mount Sinai, which was a one-day symposium with speakers from many different groups giving updates on the ongoing SARS-CoV-2 research. I wanted to capture all of the different aspects of SARS-CoV-2 research, which involves so many different areas of clinical and biological research, and the overwhelming collaborative effort of the clinical and research groups who put their own studies on pause to focus on fighting the pandemic.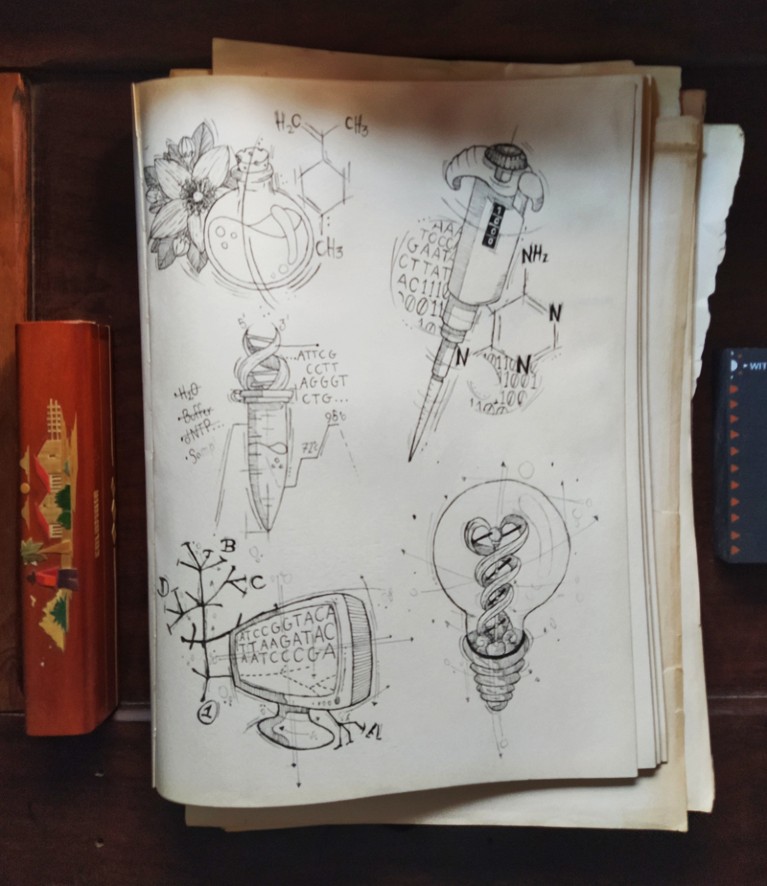 Sketches
by Filipe Dezordi
Filipe Dezordi is a PhD student at the Fundação Oswaldo Cruz–Instituto Aggeu Magalhães, Recife, Brazil, who works with bioinformatics applied to mosquito and viral genomics.
In Brazil we have been in social isolation from February 2020 until now. My art has worked as an escape from reality, a moment for me and myself.