Questions remain following first COVID-19 vaccine results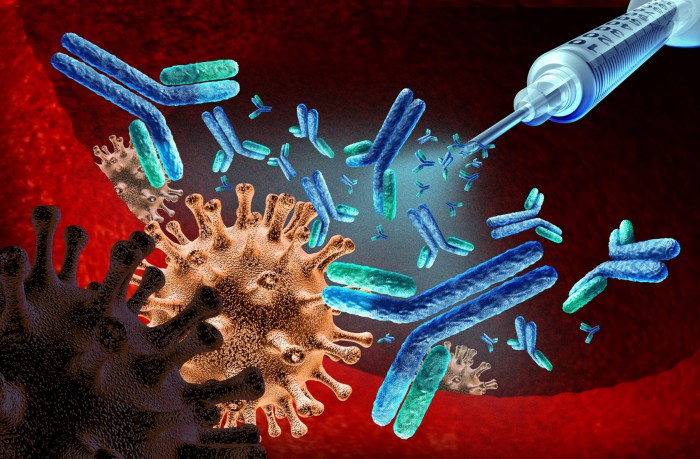 CanSino Biologics and a team of researchers from seven different Chinese institutions have published the results of a phase 1 trial of the company's SARS-CoV-2 spike (S) protein vaccine. The intramuscularly injected adenoviral vaccine elicited both neutralizing antibodies and a T-cell response in a phase 1 study in 108 volunteers. A week earlier, Moderna raised a cool $1.34 billion in a share offering after it press-released preliminary data from just eight healthy volunteers from a phase 1 trial of its mRNA vaccine candidate against SARS-CoV-2. The limited data released suggest that their vaccine can stimulate the production of neutralizing antibodies and appears to be safe in a tiny group of individuals; it is not clear how these relate to antibody responses in the general population.
CanSino's open-label dose-escalation study found that 75–83% of patients in three groups, each with a different dosage (5 × 1011, 1 × 1012 or 5 × 1012 viral particles), reported at least one adverse reaction by day 7, such as pain at the injection site and sometimes fever, fatigue, headache and muscle pain. The effects were most severe at the highest dose, and the vaccine's developers plan to take the medium dose into a phase 2 trial. Tantalizingly, the preliminary data also indicate the adenoviral serotype 5 (Ad5) vaccine generates neutralizing antibody and T-cell responses, although whether the reported responses will prove to be protective is open to question. "We have no idea what titers are needed to protect," says Hildegund Ertl, professor in the Wistar Institute's Vaccine & Immunotherapy Center. The lack of a standardized virus neutralization assay for SARS-CoV-2 complicates data interpretation. "As long as people are using different assays, it's going to be hard to figure that out."
But just 50% of those who received the medium dose developed neutralizing antibodies, a rate that, Ertl says, "is not particularly good." The T-cell response was "not particularly impressive" either.
The choice of the Ad5 vector flies in the face of the experience of more than a decade ago with Merck's failed STEP trial in HIV, in which pre-existing antibodies against another Ad5 vector undermined that vaccine's efficacy. About half of the participants in the present trial exhibited high levels of pre-existing antibodies against Ad5, a prevalence similar to that in the general population in China. The prevalence rates in the United States and in Africa are about 45% and 80–90%, respectively, which will constitute "a large handicap" should the vaccine gain approval. "Do I think it's a winner? No," Ertl says. "It's better than nothing."Although various types of vaccine are in development against the new coronavirus SARS-CoV-2 (severe acute respiratory syndrome coronavirus 2) — including mRNA vaccines, recombinant subunit vaccines, recombinant viral vectors, inactivated virus vaccines, and vaccines based on virus-like particle technology — they all converge on the S protein, a trimeric glycoprotein that enables the virus to enter host epithelial cells.
Moderna's data also provide preliminary confirmation that a vaccine targeting the S protein can induce a systemic neutralizing antibody response, at least in adults aged up to 55 years. Moderna has not disclosed the neutralizing antibody titers but claims they were "at or above levels generally seen in convalescent sera." Given the wide variability in the human antibody response to any pathogen, it is unclear what this means. "Without seeing the data, I cannot make an intelligent assessment," says Michel Nussenzweig, professor and Howard Hughes Medical Institute investigator at the Rockefeller University, who is also a senior physician at the Rockefeller University Hospital. Nussenzweig and colleagues recently reported in a bioRxiv preprint that the level of neutralizing antibodies in the plasma of 68 convalescent individuals was low in a majority, but nevertheless even those with modest levels of neutralizing activity could still produce potent antibodies directed at the receptor-binding domain of the S protein. Adolfo Garcia-Sastre, professor of microbiology at the Icahn School of Medicine at Mt. Sinai Hospital says, despite the lack of published data, "it's quite encouraging, not only for Moderna's vaccine, but for other vaccines too. In general, I feel quite encouraged."
He warns, however, that the systemic antibody response to Moderna's vaccine may not lead to mucosal immunity. Even if the vaccine confers protection against lower respiratory tract infection, subjects may still be vulnerable to a subclinical but potentially contagious infection of the nasal mucosa. "What is unclear is how much protection from [viral] shedding can happen in the upper respiratory tract," Garcia-Sastre says. The phenomenon is well recognized in influenza — most vaccines mainly protect against infection of the lower respiratory tract. "The upper respiratory tract is more difficult to protect," he says.
The extent to which mRNA-1273 can induce a neutralizing antibody response in older subjects is another critical question — and the answer will soon become apparent. The phase 1 trial, sponsored by the US National Institute of Allergy and Infectious Diseases (NIAID), is now recruiting people aged 56 and older across three dose cohorts. The initial glimpse of safety data from the study has, moreover, informed the design of an upcoming phase 2 trial.
Of the three doses used to test for immunogenicity, the highest, 250 micrograms, has been dropped from the protocol because of the emergence of severe flu-like symptoms. The phase 2 protocol will now include arms with 50- and 100-microgram doses, as well as a placebo arm. It will recruit 600 volunteers in all, half of whom will be aged 55 years and over. A phase 3 trial will get underway in July, once early safety data from the phase 2 study emerge.
Garcia-Sastre remains apprehensive about the longer-term perspective. "I'm still concerned about the regulatory pathway needed to approve the vaccine," he says. "If an efficacy trial is required, it's going to be challenging to do it." A field trial requires free circulation of the virus in a naïve population to demonstrate efficacy conclusively, but lockdown measures in operation in many countries effectively rule out that scenario. Moderna's chief medical officer, Tal Zaks, took a similar view on a conference call last week: "The major risk as I look ahead is operationally being able to demonstrate clearly that there's safety and efficacy in a large randomized trial."
All vaccine makers will face that problem as their programs start to mature. AZD1222 (formerly ChAdOx1 nCoV-19), a recombinant adenovirus vaccine encoding the SARS-CoV-2 S protein, which Cambridge, UK-based AstraZeneca licensed from Oxford University, received a $1.2 billion funding boost last week from the US Biomedical Advanced Research and Development Authority. Its developers recently demonstrated that a single dose protected against infection in mouse and rhesus macaque models of coronavirus 2019 disease (COVID-19), although viral shedding from the nose was not reduced. A phase 1/2 trial is ongoing and a phase 2/3 study has just started recruiting over 10,000 volunteers. Beijing-based Sinovac Biotech previously reported that three shots of its purified inactivated SARS-CoV-2 virus vaccine PiCoVacc provided complete protection against COVID-19 in macaques. A phase 1/2 study is ongoing.
Ertl commends the CanSino team and their colleagues for their rapid publication of clinical data, in contrast to certain other developers. "Don't go on TV telling people you'll have a vaccine ready in September without sharing the data."
Table 1. COVID-19 vaccines in clinical development
| | | | |
| --- | --- | --- | --- |
| Developers | Vaccine | Description | Clinical status |
| AstraZeneca, Oxford University (Oxford, UK) | AZD1222 (ChAdOx1 nCoV-19) | Recombinant chimpanzee adenovirus vector expressing the SARS-CoV-2 S protein | Phase 2/3 |
| CanSino Biologics, Beijing Institute of Biotechnology (Beijing) | Ad5-nCoV | Recombinant adenovirus type 5 (Ad5) vector expressing the SARS-CoV-2 S protein | Phase 2 |
| BioNTech (Mainz, Germany), Pfizer, Fosun Pharma (Shanghai, China) | BNT162a1, BNT162b1, BNT162b2, BNT162c1 | mRNA-based vaccines expressing SARS-CoV-2 S protein or its receptor-binding domain | Phase 1/2 |
| Novavax | NVX-CoV2373 | Matrix-M-adjuvanted recombinant subunit vaccine based on SARS-CoV-2 S protein | Phase 1/2 |
| Inovio Pharmaceuticals | INO-4800 | DNA-based vaccine encoding SARS-CoV-2 S protein | Phase 1 |
| Moderna, NIAID | mRNA-1273 | mRNA-based vaccine expressing SARS-CoV-2 S protein | Phase 1 |
doi: 10.1038/d41587-020-00015-x