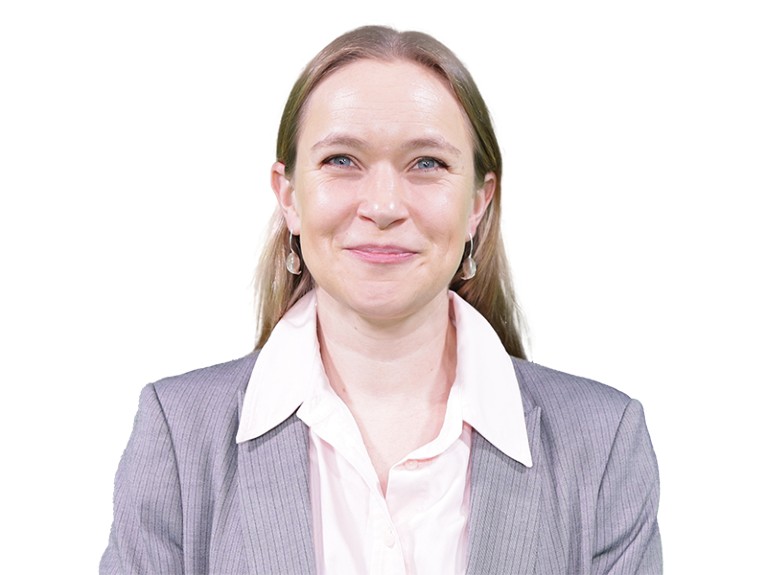 In 2013, Susan Winks joined the Holistic Drug Discovery and Development Centre (H3D) at the University of Cape Town as a research scientist, hoping to help reduce South Africa's huge burden of disease. She had previously done a PhD in organic chemistry at the University of the Witwatersrand in Johannesburg, finishing in 2009, then worked at the now-shuttered start-up iThemba Pharmaceuticals in Johannesburg as a medicinal chemist. In 2011, Winks began a master's of business administration (MBA) at distance-education provider MANCOSA to learn about the business of science and how to improve processes at iThemba. At H3D, she became frustrated with inefficiencies in project management and pivoted to operations; she now heads research operations and business development at the centre.
H3D has a mission to pioneer new drugs to treat infectious diseases and to build Africa-specific treatment models. It gets most of its money through local and international grants from government funding agencies, philanthropic organizations and private companies. Winks's job ranges from writing funding proposals to negotiating legal agreements over intellectual-property rights. Winks gives Nature her best tips for keeping a donor-funded research centre afloat.
Why did you enrol for an MBA alongside your job as a research scientist?
At iThemba, I was exposed to many things that my science degree hadn't prepared me for. You need to manage teams, work with clients and prepare purchase orders. There were also many scientists who had not been trained to be managers. I found myself thinking, 'There has to be a better way of doing this.' That's when I decided to do an MBA and try to implement what I learnt.
How does your scientific background help you on the business side?
Because I've worked in the lab for so many years, I know how it works and what metrics are important. If you're measuring the wrong things, you can incentivize the wrong behaviour. For example, you don't want scientists making new compounds to say, 'Look, I'm the most productive scientist — I've made twice as many as anybody else,' when they haven't actually advanced their key scientific question, such as whether those compounds have improved activity and solubility. Also, I'm able to straddle the divide and speak a language that both scientists and external stakeholders, such as investors, understand.
How do you convince investors that projects are worth funding?
There is pressure on scientists to do relevant research and to tackle problems that are socially important both globally and nationally, and this is one of the things that we've done at H3D. For example, during the COVID-19 pandemic, our government put out a call for COVID-19 projects. At that time, viruses weren't a strategic area for us but, to remain a relevant stakeholder nationally, we said, 'Okay, sure.' You need to be a little bit flexible about what you're working on. If a researcher is very niche and they're not looking at the opportunities that are emerging in the world, finding funding is going to get harder and harder.
What skills translated from the bench to the boardroom?
As a scientist, I learnt to be analytical, to synthesize information and convert it into different formats. In my current role, that allows me to make sure that things are framed properly and understood by the person they're going to. Also, my PhD taught me a lot of patience, and dealing with university bureaucracy, partners and investors requires patience. Sometimes I feel that I'm like water trying to seep through concrete, looking for the crack.
Did you need to pick up new skills?
In the early years of my current role, I had a mentor who worked at the pharmaceutical company Novartis in a similar post. I learnt a lot from her, such as how to design and facilitate workshops. Then, I had to take that training and adapt it to our environment. For example, H3D is a grant-funded unit in an academic environment with a smaller budget. I needed to adapt her approach to tracking and monitoring equipment maintenance, prioritizing new purchases and budgeting.
What is going to keep H3D moving?
We are part of the South Africa national bioeconomy strategy, a plan to use the country's biological resources to drive innovation and the economy. The government is one of our core funders, and I manage that relationship myself. What is great about the government funding is that it isn't project-specific, and we can leverage it to attract other investors.
Some other scientific research centres are just going for the big grants, but sometimes you get them and sometimes you don't. That means you're growing and shrinking, repeatedly, depending on your success at grant writing. That's terrible for sustainability. At H3D, we know that we must raise between 70 million rand (US$3.7 million) and 80 million rand per year to maintain operations. Sometimes it's an absolute blessing when some of the competitive grants don't come in, because we'd rather not have to grow and shrink.
In a recent project, my team and I engaged with people at the university executive level to create a standard service agreement to bring our drug-discovery services to universities across the continent. It was a lot of effort, but we've since had 60 contracts come through, bringing in a little less than one million rand per year. Even though it's relatively small money, we can use it to repair equipment — a common challenge at African institutions.
Do you miss the bench?
Not most days. Every day in my job is very different, and that's exciting and challenging. Our director, Kelly Chibale, is a massive door opener, and then it's my role to convert that conversation with a potential investor or collaborator into a project, into a proposal to get the funds and then get the funds flowing. I believe that the scientists should be focusing on the science, because if they're worrying about all the other things, the science comes essentially last. In operations, we worry about contract renewals and research costs, while the scientists spend until we tell them to stop spending. I'm able to have more of an impact in my current position than I did at the bench.