In Belize, seaweed is a lifeline. In this picture, I'm holding a chunk of Eucheuma isiforme, a seaweed harvested from an underwater farm in the Turneffe Atoll, about 40 kilometres off the coast. As a little girl growing up in Belize City, I remember adults drinking 'seaweed shakes', creamy drinks often served with rum. The shake is tasty and loaded with minerals, and it has a reputation as an aphrodisiac. The seaweed was so sought after that it practically disappeared from the wild. Now, seaweed farms provide locals with a sustainable source of income. Seaweed is easy to grow, and the biomass can multiply tenfold in the space of months.
The clumps of seaweed are like an artificial reef that brings new life to the waters around the atoll. The branches provide habitats for juvenile lobsters, the single most economically important fishery species in the Caribbean. Small invertebrates attract parrotfish and snappers, and those fish bring barracuda and other predators. Tour operators will visit the farms just for the wildlife.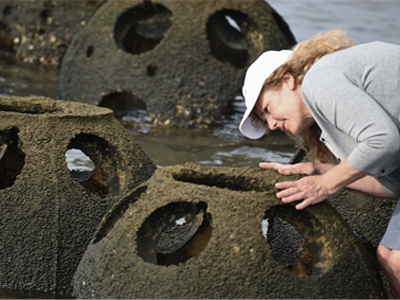 Building a living shoreline to help combat climate change
As director of the Nature Conservancy's Belize Program, I helped to negotiate a deal with the Belize government in 2021 that allowed the country to exchange US$364 million of debt for a commitment to protect 30% of its ocean waters. About half of those protected waters will be completely closed to fishing. Now, some fishers can earn a living from seaweed farming. It was the largest debt swap for marine conservation in history, and it happened in little Belize. It was transformative for the country. I've always wanted to do something positive for my home, and I know that I've accomplished that goal.
I'm trained as a marine ecologist, but now that I work on the policy side, I spend most of my time in front of my computer. Still, I will go out to meet with partners or donors to showcase the seaweed farms and our other projects. That's how I get energized. I'm happiest when I'm in the water.