Hello Nature readers, would you like to get this Briefing in your inbox free every day? Sign up here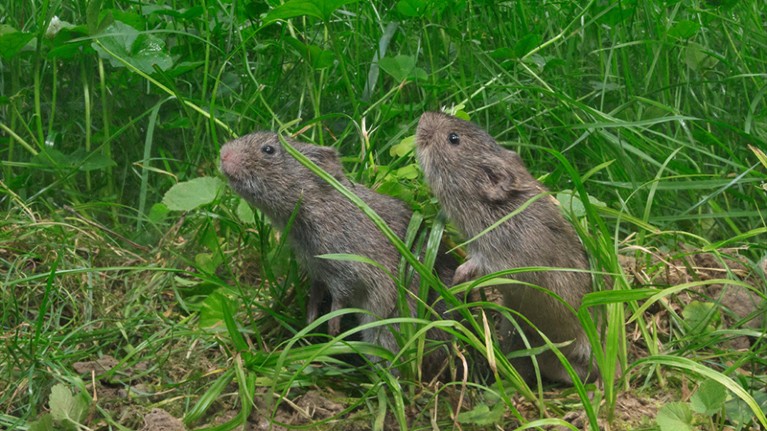 Gene-edited prairie voles that can't detect the 'love hormone' oxytocin still form monogamous relationships and care for their pups. The study challenges decades of research suggesting that prairie voles' unusually strong bonds were down to the way their brains express oxytocin receptors. The study might help scientists to understand oxytocin's role in humans. It has been trialled as a treatment for conditions that can affect social attachment. "There's a sort of eerie similarity between prairie vole social behaviours and human social behaviours," says neuroscientist Nirao Shah. "Prairie voles are one of the few mammalian species that exhibit social attachment."
Worldwide, 776 influenza outbreaks were reported between 1996 and 2019, more than any other infectious disease. The other most common outbreaks were Middle East respiratory syndrome and Ebola, found researchers who compiled 2,789 World Health Organization reports into a searchable database. Their analysis reveals that reporting on disease outbreaks is often subjective and depends on a country's surveillance capacities and priorities. The database will allow researchers to look at how factors such as conflicts, weather and public-health funding affect disease outbreaks.
Reference: PLoS Global Public Health paper
The non-profit organization Mothers in Science (MIS) and 17 partners have created an action plan for grant agencies to remove the systemic barriers faced by women and mothers in academia. Recommendations include funding coverage during maternity leave and allowing parents to explain less productive periods on grant applications. The report follows a MIS survey of about 9,000 researchers in 128 countries, which uncovered a 'maternal wall': in the decade following their first child, mothers publish at least ten fewer papers on average than fathers do, and roughly one-third of mothers ultimately leave their jobs.
Reference: Mothers in Science report
The future of how research with dangerous pathogens is regulated in the United States remains unclear. A biosecurity panel agreed on a long-awaited set of recommendations — but only with significant modifications — and without a firm plan to finalize the guidance. Panel members were concerned about the vagueness of some recommendations: for instance, health officials should review all experiments that could be "reasonably anticipated" to make a pathogen more transmissible or dangerous. The wording, they argued, could stifle crucial research or allow some risky studies to slip through without review.
Features & opinion
Vaccines against respiratory syncytial virus (RSV) from the pharmaceutical companies Pfizer, GSK and Moderna are poised to be approved. They are likely to have very different impacts among the two age groups most at risk from the virus: babies and older people. Scientists suspect that vaccine uptake in people over 60 will be low because there isn't as much awareness and urgency as for COVID-19. Vaccines for pregnant people and newborns are highly anticipated because RSV is the second-highest cause of death for children aged between around one month and one year.
Astronomers are turning fast radio bursts (FRBs) into a tool of "great scientific power" to measure cosmic expansion and find the Universe's missing matter, which isn't concentrated in galaxies. FRBs are powerful radio pulses caused by unknown astrophysical processes. Because the radio waves interact with any medium they traverse, scientists can use FRBs to study diffuse matter that is difficult to spot by other means, such as the gaseous haloes around galaxies.
Andrew Robinson's pick of the top five science books to read this week includes an appealing discussion of animal creativity, a sparkling account of numbers that unlock the Universe (although this one is not for the mathematically faint-hearted) and an environmental history of capitalism.