Hello Nature readers, would you like to get this Briefing in your inbox free every day? Sign up here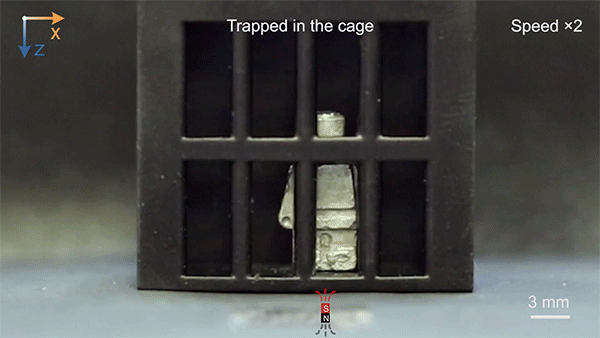 Researchers have created a material that can move, soften and re-harden under the influence of magnetic fields. To demonstrate the material's promise, researchers showed how it could be manipulated to pass through barriers, extract an object from an artificial stomach, and move a tiny light bulb into place and then melt into the solder required to make it work.
New Scientist | 3 min read (free registration required, but worth it for the boggling time-lapse videos)
Antidepressants might contribute to antibiotic resistance, alongside antibiotics overuse. In a laboratory study, five common antidepressants increased the mutation rate of Escherichia coli and triggered cellular defence mechanisms that make the bacteria better able to survive subsequent antibiotic treatment. Researchers now need to assess whether these mechanisms drive resistance in disease-causing bacteria in a real-world scenario.
Features & opinion
A recent finding that the proportion of papers that shake up a field has plummeted over the last 50 years has prompted a lot of soul-searching, says a Nature editorial. Some scientists worry that metrics-driven evaluation, information overload and dividing science into ever-narrower units stops researchers from making disruptive discoveries. Others suggest that the fundamentals in many disciplines are already agreed on, so most further advances are incremental.
Discussing research proposals from (in)famous fictional scientists is a fun way to learn about ethics, say three ethics specialists. How, say, would you deal with Emmett Brown's plan in Back to the Future to secure material from terrorists for his ground-breaking research on time travel? What about 'dual-use' research, such as a fictional freeze ray, that could be dangerous in the wrong hands? Luckily, such outrageous projects are rare in the real world, says Amanda Sly. "Occasionally we do see the ones that you're like, 'You're not quite a mad scientist, but there's some hubris there.'"
Early Mormon culture revolved around farming and careful stewardship, yet some observe that environmentalism has been widely "scoffed at" in the Church of Jesus Christ of Latter-day Saints. Now, church members are rallying to save the Great Salt Lake, at the heart of their settlement in Utah. The lake is on the brink of collapse because of droughts and water being diverted to grow livestock feed. "If we were to follow that clear guidance in scripture to have a plant-based diet, we wouldn't be in this situation," says ecosystem scientist and Mormon Ben Abbott.