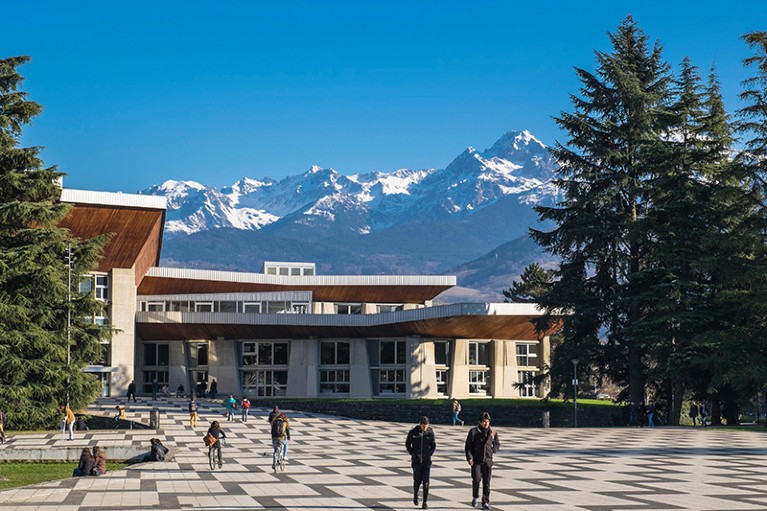 When President Emmanuel Macron unveiled his strategic plan for France's electronics industry on 12 July last year, he did so not in front of any of the familiar Parisian landmarks, but at a factory in the shadow of the tooth-like Dent de Crolles mountain.
Macron's choice of backdrop wasn't motivated by a sense of visual drama. Rather, it allowed him to bask in the reflected glory of news announced the previous day of plans to create 1,000 jobs at a new semiconductor factory at the site, already used by technology giant STMicroelectronics, near Grenoble, in southeast France — as part of a €5.7 billion (US$6.2 billion) investment programme.
With just 158,000 inhabitants, the city of Grenoble fails to make the country's top 10 cities with the largest populations. Yet it and the surrounding metropolitan area are home to 24% of national microelectronics jobs, according to Invest in Grenoble Alpes, an economic development agency. In 2018, Grenoble was named as one of four cities to host new government-funded artificial intelligence (AI) research institutes. The city is home to a spin-out company, Siquance, which is leading national efforts to build the world's first silicon-based universal quantum computer — one that can be used for a broad set of problems, much like a conventional computer: an important step in bringing quantum computing into mainstream use.
It is not just in the areas of electronics and digital technologies that Grenoble outperforms larger French cities. Grenoble Alpes University (UGA) comes fifth when French universities are ranked by the number of articles that list their researchers as authors in 82 leading natural-science journals in the year from October 2021 to September 2022 by Nature Index. Almost one in 13 jobs in the region are in research and development (R&D) — the highest proportion of all French metropolitan areas (see 'Grenoble: in numbers').
However, Grenoble's small size does mean there are areas in which it cannot compete. Larger places can cover a greater breadth of research fields and have the visibility to attract bigger meetings and other events. Nonetheless, the city's successes might offer insights for those seeking to stimulate and commercialize innovation elsewhere. And researchers considering their options in a wide range of fields could benefit from learning more about opportunities on offer in the city.
A culture of innovation
Although the historical roots of the region's innovative strengths are complex, two individuals played big parts. In the late nineteenth century, engineer Aristide Bergès diverted water falling from Alpine lakes to power his paper milling operations, and later to generate electricity for others near Grenoble. His promotion of hydroelectricity helped to speed up subsequent industrial development in the region.
After the Second World War, physicist and 1970 Nobel prizewinner Louis Néel's influence helped to turn Grenoble from a quiet provincial backwater into a major European research centre. In 1956, he founded a nuclear research laboratory that would later become part of the French Alternative Energies and Atomic Energy Commission (CEA). Néel also prepared the ground for the opening of several of the French national research agency's (CNRS) laboratories, the Institut Laue-Langevin (ILL) neutron research centre and construction of the European Synchrotron Radiation Facility (ESRF).
"There is a culture of innovation here that goes back more than a century, linked both to local environmental conditions and certain individuals who took risks," says Hughes Metras, director of IRT Nanoelec, a Grenoble-based technology research institute that supports public–private electronics R&D. Metras credits Néel's legacy for the close relationship between academia and industry in Grenoble.
IRT Nanoelec is a consortium of 22 private- and public-sector partners, which aids R&D programmes to drive competitiveness in the microelectronics industry. Smart Imager, IRT Nanoelec's largest current programme, is exploring the use of 3D microchip stacking to develop higher-performance, AI-enabled image-based sensors for applications such as robotics, driverless cars and smart buildings.
Displed, another IRT Nanoelec collaboration, was launched in 2021 to develop components for brighter displays for applications including smartwatches and high-quality televisions. The technology is based on deploying 3D stacking of a proprietary type of tiny light-emitting diodes (microLEDs). Those micro-LEDs were developed in 2011 by Aledia, a spin-off company from CEA-Leti, a research institute for electronics and information technologies based in Grenoble and launched by the CEA in 1967. "Grenoble provides one of the best examples of close, successful relationships between academia and industry in France," says François Templier, CEA research director and Displed programme director.
Kickstarting companies
The city's emphasis on translational research is providing increasingly fertile ground for new businesses. Start-ups and small- and medium-sized companies in the region raised more than €500 million in 2021, up from €226 million in 2018, according to Invest in Grenoble Alpes.
Last year physicist and engineer Luca Planat co-launched Silent Waves to commercialize quantum-computing hardware he developed during his PhD and completed in 2020 at the CNRS Institut Néel in Grenoble. Planat has overcome some of the challenges involved in the amplification of weak microwave signals at low temperatures.
Planat's path to the private sector was eased by RISE, a CNRS start-up creation support programme. It offered him one year of coaching, networking opportunities and advice on areas such as business-plan development, intellectual property and finance. Silent Waves was provided with office space and manufacturing facilities by the Institut Néel, and seed funding from the local branch of Bpifrance, a public investment bank. "Grenoble has a lot of organizations and initiatives to help those who want to cross the bridge between fundamental science and industry," says Planat. "For a start-up, it is very valuable."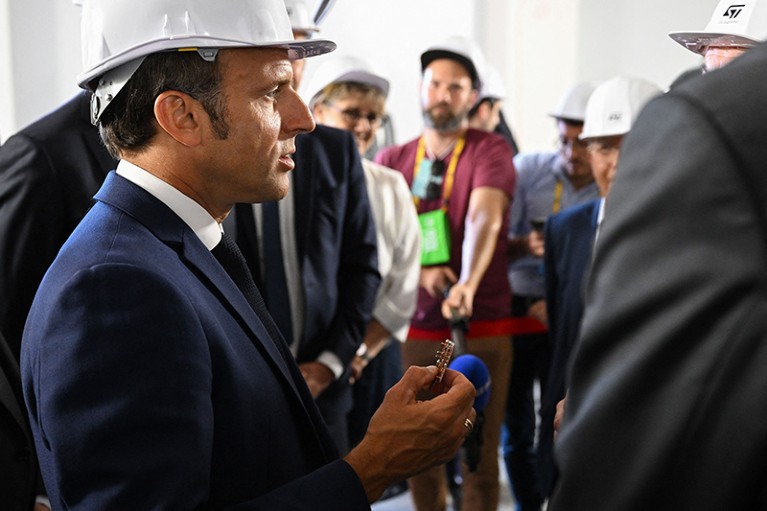 In 2017, Hani Sherry, a Lebanese computer engineer and entrepreneur, launched his start-up TiHive in Grenoble, aiming to improve quality-control processes. TiHive systems generate and detect non-destructive electromagnetic waves in the terahertz range to monitor materials during production, enabling real-time measurement and optimization of parameters such as thickness and density, defect detection and raw-material use. TiHive's customers include manufacturers of personal hygiene products such as nappies and sanitary pads.
Uniting nationalities
There are 11 nationalities represented in TiHive's 22-strong workforce. It's a pattern seen elsewhere in Grenoble. One in 6 of the 59,000 or so students at UGA were born outside France, for example. This, says Sherry, is partly because of the presence of high-profile research facilities such as the ESRF and ILL, and the close proximity to the international airports of Lyon and Geneva. "Grenoble is a melting pot of many different nationalities," says Sherry. "At TiHive, we have a mix of lots of different ways of working. It helps us see there are different ways to do things and generates an extremely beneficial form of creative evolution."
Some international researchers who do not speak French are reluctant to apply for positions because of the perceived language barrier. English is much more widely spoken in France today than it was 30 years ago, especially by scientists. Language is still something for arrivals to consider, says Andrea Quintero, a Venezuelan materials scientist who has lived in Grenoble for six years. "There can be a small barrier for international researchers who want to speak in English because many feel more comfortable speaking French," she says.
Quintero joined the semiconductor materials company Soitec, another CEA-Leti spin-off, in May 2021. She is working to optimize the performance of silicon carbide components for electric vehicles. Quintero finds people in Grenoble welcoming to foreigners, but she doesn't like the weather. "I have always felt well-integrated here. However, in the summer, we are too hot, and in the winter, too cold, because we are in a valley."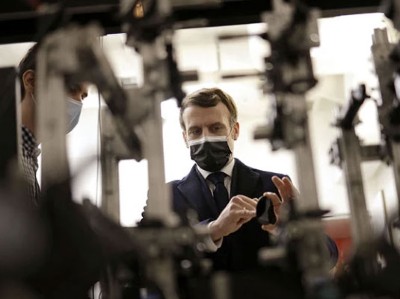 How France ramped up its capacity to innovate
Qunitero is not the only one to point out that living in a city so close to the Alps can have negatives as well as positives. Physicist and engineer Rémi Defrance is in his third year of a PhD under the French Cifre system, which enables researchers to do their doctorates while working in the private sector. Defrance is employed by the infrared-detector manufacturer Lynred, and being supervised by the CEA. "The mountains around Grenoble mean the city sits in a bowl. In the summer, there is no natural air ventilation, the heat gets trapped and we get crazy-high temperatures," says Defrance.
Another consequence of being in a valley is that pollution disperses more slowly than in more-open locations. That is the city's reputation in France anyway, and one that is supported by Numbeo, a large, crowd-sourced quality-of-life database. Its users rated Grenoble as having lower air quality and more air pollution than Lyon, for example, and Grenoble scored close to Paris for both measures.
The power of networks
Although Defrance prefers the climate in other parts of France, he is among many early-career researchers who value what he sees as an ability to foster strong scientific communities. He is investigating the development of high-performance thermistors — a type of resistor that changes electrical resistance according to temperature — which are used in a wide range of commercial and industrial applications.
Defrance is digitally modelling the atomic composition and structure of existing vanadium oxide-based thermistors to inform attempts to develop materials from which more sensitive infrared sensors could be made. He says Grenoble aids networking and that he is more productive as a result. "It is very easy to interact with other scientists here, both experts and those who are also early in their careers," says Defrance. "This allows you to share, not just information, but also your passion for the work, which helps you focus."
Size matters
One key reason why professional interactions are easier in Grenoble is its small size. But the relatively narrow range of research topics can be a problem. Defrance, for example, says that although he had no trouble finding a PhD, it took his partner six months to find hers at the Grenoble Institute of Neuroscience. He acknowledges others will have different experiences, but he thinks that he and his partners' is an example of how it can be much easier to find positions in Grenoble in some subject areas than in others. "That's less of a problem in larger places like Paris," he says.
Julien Mairal, a machine-learning researcher at Inria, a national research institute for digital science and technology at UGA, agrees. "Grenoble is very strong in certain specific areas of computer science, but the scope of topics covered by institutions in Paris is wider. The capital also has more visibility, more events and larger meetings," he says.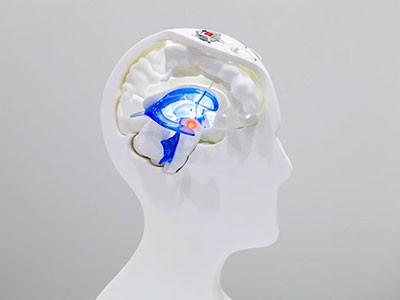 Medical research in the mountains
Last year, Mairal, his PhD student Bruno Lecouat and Jean Ponce, a research director at Inria, showed how machine learning can be used to produce high-resolution images by combining low-quality images taken from slightly different viewpoints in both space and time1. They are part of a group that, in October, launched a start-up called Enhance to commercialize their discovery, initially to provide improved close-up photography capabilities on smartphones. Mairal says the city's Multidisciplinary Institute in Artificial Intelligence (MIAI) — one of the four national AI research and training centres set up by the government and opened in 2019 — has helped to concentrate talent in the field. He thinks that the MIAI is one of the reasons Grenoble attracts many people to his field despite the advantages of the capital. "Some come to us from Paris because the quality of life is better, cost of living is lower and they like the research environment."
Others argue that Grenoble's scale, along with its geography, are the secrets to its success. Sherry says that innovation, whether in basic research or industry, is easier when people you need to work with are nearby. "In R&D, you need to fail and iterate quickly," he says. "That's a lot easier here because you are in close proximity to your collaborators, suppliers, the banks and other decision makers, so you can build really direct links with them."
Physicist Maud Vinet, CEA-Leti's quantum-hardware programme director, visited Grenoble many times with her parents on skiing holidays from the age of two, which she says, helped her choose to do her master's and PhD at UGA. She agrees the city's relatively small population facilitates closer relationships, adding that the mountains provide more than just sporting opportunities and a pretty backdrop. "Grenoble is a small, good-sized city," she says. "We can get to know each other, and get where we want on bikes. Around us, the mountains are not only inspiring, but they also help us to put things into perspective."