Hello Nature readers, would you like to get this Briefing in your inbox free every day? Sign up here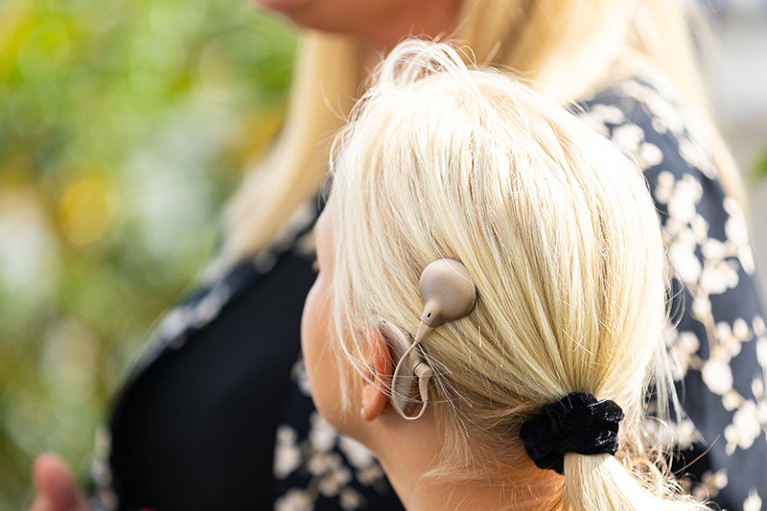 Stimulation in a brain region linked to alertness helps deaf rats with inner-ear implants learn to recognize tunes in just days. The finding could explain why cochlear implants work almost immediately for some people but can take years for others. The implants contain an electrode that converts sounds into electrical signals and feeds them directly into the auditory nerve. Researchers caution that stimulating the alertness region of the brain could be dangerous in humans — it regulates our fight-or-flight response — so the approach is a long way from helping people.
Reference: Nature paper
Climate-change content shrank in university textbooks published in the United States in the 2010s, compared with those published a decade earlier. In the later books, passages on climate change were shorter and appeared farther back, according to an assessment of dozens of introductory biology texts published over the last 50 years. That's concerning, says study co-author Jennifer Landin, because many students reading these books might never take another course that touches on the topic. But instructors might be spending more time on climate change than textbooks indicate, says political scientist Eric Plutzer.
Reference: PLoS ONE paper
Large measles outbreaks, centred mostly in four cities, mean India is set to miss its self-imposed deadline of eliminating the disease by 2023. The country already had persistently low immunization rates when the COVID-19 pandemic disrupted measles vaccination campaigns. Between 2019 and 2021, only 56% of children received both doses of the measles vaccine by the time they were 3 years old.
In a fossil graveyard in Nevada, palaeontologists have found more than 100 individual Shonisaurus popularis ichthyosaurs — including both adults and embryonic or newborn individuals, but no juveniles. The finding supports the theory that the prehistoric marine reptile migrated to sheltered waters and gathered in groups to give birth, as some whales do today.
Reference: Current Biology paper
Features & opinion
The global scientific workforce has had a tumultuous 2022. Academic workers have gone on strike in countries including Nigeria, the United States and the United Kingdom. PhD students across the world demanded stipend increases in response to rising costs of living. Major funders, such as the US government and the US National Institutes of Health, pushed open-access science further to the forefront. And science continues to wrestle with a fundamental question: what's the best way to measure researcher performance?
Artificial human embryos allow scientists to watch how a lump of tissue lengthens and segments to form a spine. The embryo surrogates are created from pluripotent stem cells, which differentiate into embryonic structures when exposed to chemical signals. The researchers were able to model human congenital spine diseases such as scoliosis by disrupting the artificial spine's development.
Reference: Nature paper