Hello Nature readers, would you like to get this Briefing in your inbox free every day? Sign up here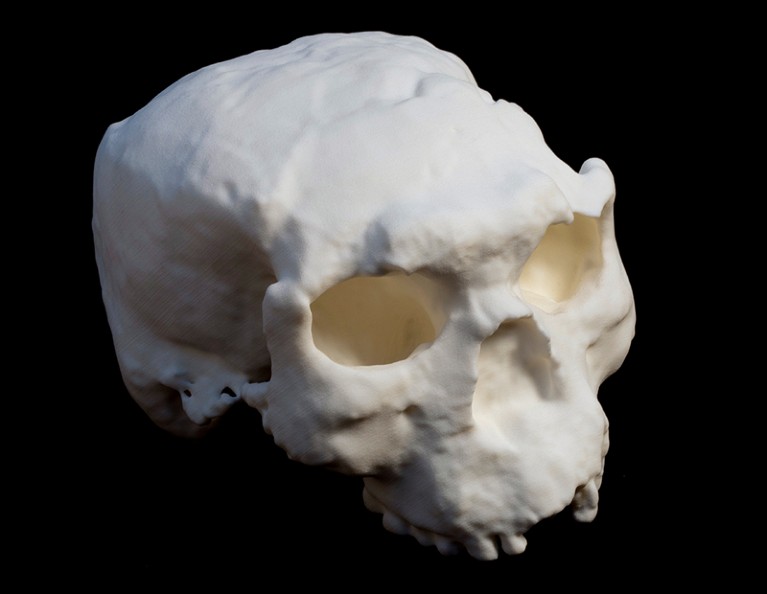 A rare, well-preserved ancient human skull found in central China could be a million-year-old Homo erectus. As excavation of the fossil continues, archaeologists and palaeoanthropologists anticipate that the skull could give a fuller picture of the diverse family tree of archaic humans living throughout Eurasia in prehistoric times. It lies 35 metres from where two significant finds — dubbed the Yunxian Man skulls — were unearthed in 1989 and 1990 but, unlike them, it has not been crushed and distorted after millennia underground.
Epidemiologists who have been tracking monkeypox for years say that its spread comes as no surprise to them. "We had always warned that in favourable circumstances, like what led to this outbreak, the disease could pose a great threat to global health," says Adesola Yinka-Ogunleye at the Nigeria Centre for Disease Control. Yinka-Ogunleye and epidemiologist Anne Rimoin, who has worked on monkeypox outbreaks in the Democratic Republic of the Congo since 2002, explain how the virus gained its hold in Africa, and what can be done to stem its spread and prevent future global outbreaks of the disease.
Researchers have identified two, possibly even three, new minerals in a huge iron-based meteorite that landed in Somalia. The minerals have been named elaliite, after the meteorite's location near the town of El Ali, and elkinstantonite after Lindy Elkins-Tanton, lead investigator of a NASA mission to a metal-rich asteroid. The 2-metre-wide meteorite has been well known to generations of people who live in the area, where it was named Nightfall.
The eruption of the Mauna Loa volcano in Hawaii has disrupted data collection for the Keeling curve, a key record of atmospheric carbon dioxide that has been maintained almost continuously for more than 60 years. Equipment lost power on Monday and is not currently recording data. Lava "is flowing close to the observatory", said the Scripps Institution of Oceanography, which maintains the measurement facility on Mauna Loa.
The Washington Post | 4 min read
Features & opinion
Enough of silos, argues a group of European scientists: we must develop a joint scientific agenda to understand biodiversity loss and climate extremes. "To thoroughly quantify the risk that lies ahead, ecologists, climate scientists, remote-sensing experts, modellers and data scientists need to work together," they write. "The upcoming meeting of the United Nations Convention on Biological Diversity in Montreal, Canada, in December is a good opportunity to catalyse such collaboration."