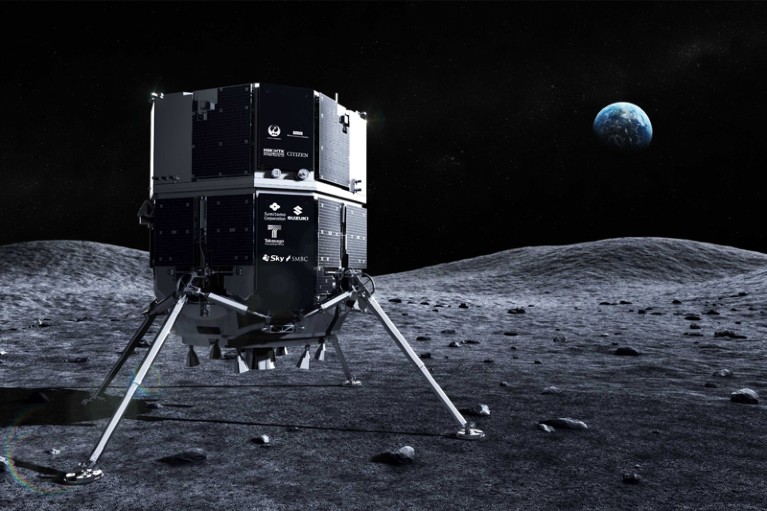 A lunar craft made by a Japanese company is vying to become the first commercial mission to land on the Moon. ispace's M1 lander is scheduled to launch around 22 November from Cape Canaveral, Florida.
The lander will carry payloads, including Moon rovers, for the United Arab Emirates (UAE) and the Japanese Space Agency, JAXA. If the mission is successful, the vehicles will mark both countries' first forays onto the Moon's surface; so far only the space agencies of the United States, China and the Soviet Union have successfully landed there.
M1, part of ispace's Hakuto-R programme, will launch on a rocket built by SpaceX, based in Hawthorne, California. The craft will take a circuitous route to the Moon, so it will land sometime at the end of March or in early April 2023, depending on its final launch date. This means that it could yet be overtaken by other commercial missions launching in 2023.
At least two other landers supported by NASA's Commercial Lunar Payload Services programme will launch early next year and take a more direct route. Nova-C — the first mission by US firm Intuitive Machines in Houston, Texas — is scheduled to launch in March 2023 and will take only six days to reach the Moon. "It's going to be a race," says Abigail Calzada Diaz, a geologist and lunar-exploration specialist at the European Space Resources Innovation Centre in Luxembourg. "It's going to be really fun to watch."
Destination, Moon!
The Moon has become a popular destination among national space agencies and private companies. The success of the missions by ispace and other firms will be a "huge, important step to developing the lunar ecosystem", says Ryo Ujiie, chief technology officer at ispace. This system is ultimately geared towards harvesting water on the Moon. Some companies hope that lunar water can be used to produce rocket fuel that could eventually make Solar System exploration cheaper.
A successful mission for a private company funded by its customers will be "pretty exciting", because it will show that the model works, opening the door for other firms, says Calzada Diaz, who previously worked at ispace. And research is likely to benefit, she adds. "Just knowing that it's easier, faster and possible to go to the Moon more often is already important for science."
But a successful landing is far from assured. The first privately backed mission to attempt a lunar landing — Israel's Beresheet craft — crashed on the Moon in 2019.
Energy-saving route
M1 will make a four-month journey, using the gravitational pull of Earth and the Sun to guide it to the Moon. This requires less propellant than taking a direct route, meaning that M1 can carry a heavier payload for the same launch costs. Ujiie declined to disclose the mission's price tag.
Once it arrives at the Moon, the lander will orbit with an increasingly elliptical trajectory, getting closer to the surface, before performing a fully automated landing that will see it brake and angle itself vertically to softly land on the Moon.
The landing — intended for the Atlas crater on the Moon's nearside — is the riskiest part of the journey. "We sometimes say that it's fifty–fifty" whether the landing will be successful, says Hamad Al Marzooqi, project manager for the UAE's Rashid rover, built by the Mohammed Bin Rashid Space Centre (MBRSC) in Dubai. "Anything can go wrong."
The site — which is mostly flat and boulder-free — was mainly chosen because it is relatively low risk to land on. But scientists have so few data from the Moon that any new location is scientifically interesting, says Calzada Diaz.
Tiny rover
Rashid is part of a ramp-up in the UAE's space ambitions after the launch of its Hope probe, which is orbiting Mars. Unusually for a space mission, Rashid has been delivered well ahead of the 2024 deadline set for the MBRSC by the UAE government. Building the rover in such a short time required rapid prototyping, says Al Marqoozi. "We went through five modules until we reached the one that is now ready to launch," he adds.
The rover is tiny, just over 50 centimetres long and weighing only 10 kilograms — less than one-tenth the mass of China's Yutu-2, the Moon's only active rover. Rashid's mission will last one lunar day, around 14 Earth days, and the toy-sized robot will be guided by an artificial-intelligence algorithm that will automatically identify features of the terrain.
Among the rover's instruments are four Langmuir probes, which will map the temperature and density of the charged particles that affect the dust movements across the lunar surface. Rashid will also carry four cameras: two to observe its environment, built by the French space agency CNES, one microscopic camera to study the lunar soil, known as regolith, and a thermal imager to analyse the geological features of the landing site.
Finally, samples of various materials — such as graphene-based composites — will be attached to the rover's wheels to test how they fare in the harsh lunar environment, which will inform future exploration, says Al Marzooqi. "The data that we will collect will enable future rover and robot development to be improved," he adds.
Among M1's other cargo is a two-wheeled JAXA robot intended to operate for only a few hours. The rover will drive around the lunar surface and gather data that will be used for designing a future, crewed, rover, says the agency. As well as the rovers, M1 will carry a 360-degree camera made by Canadian firm Canadensys, and it will test the performance of a solid-state battery built by NGK Spark Plug, a firm based in Nagoya, Japan.
ispace is already planning future missions: M2, scheduled for 2024, will carry a suite of payloads, including the company's own lunar rover, says Ujiie. Even if M1 fails, "we can still learn something", he adds. But "I'm expecting it will be a success".