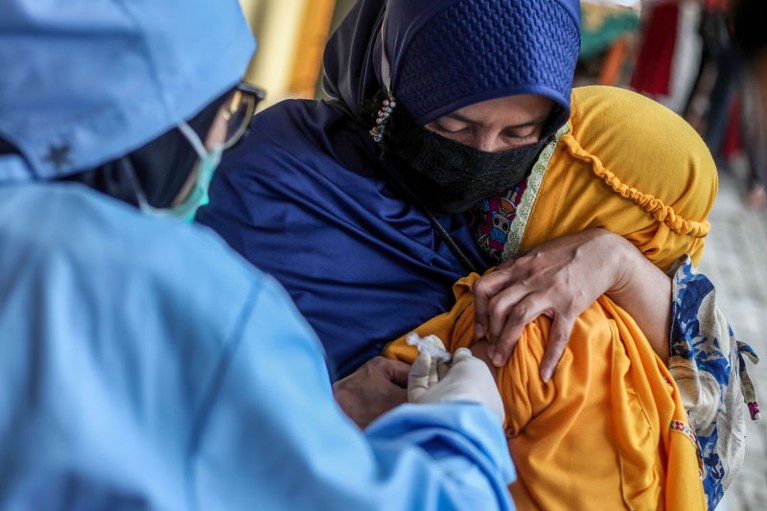 Since the start of the COVID-19 pandemic, global childhood vaccinations have experienced the largest sustained decline in about 30 years, according to a report published this month.
Data collected by the World Health Organization (WHO) and the United Nations children's charity UNICEF show that the percentage of children who received three doses of the vaccine against diphtheria, tetanus and whooping cough (DTP3) decreased by 5 percentage points between 2019 and 2021, to 81% worldwide (see 'Childhood immunizations decline'). DTP3 is considered to be a marker of vaccine coverage; if children miss these jabs, they're probably also missing out on crucial vaccinations for many other diseases.
The report found that in 2021, 25 million children missed out on routine immunizations against diseases such as measles — leading to avoidable outbreaks. "If this downward trend continues, we can expect to see more cases, outbreaks and deaths from diseases which are completely preventable," a WHO spokesperson told Nature.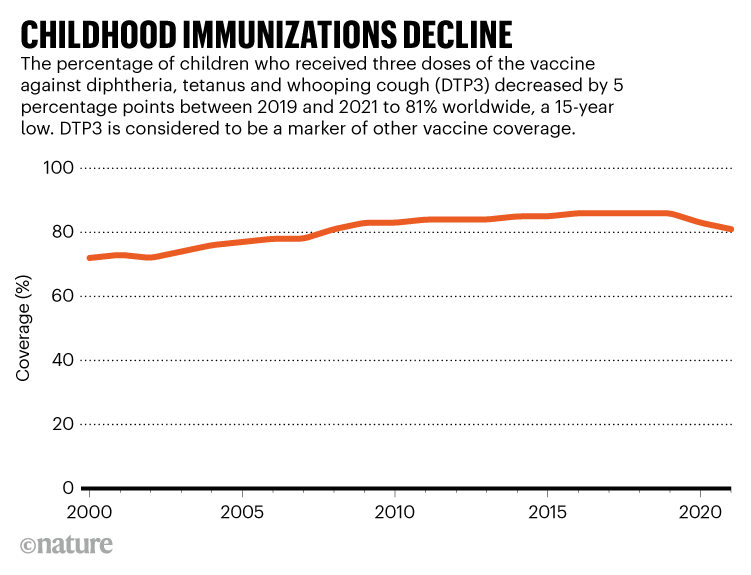 From 2011 to 2019, global vaccination coverage stagnated at around 85%. That rate plummeted in 2020 and 2021 during the pandemic, particularly in low- and middle-income nations: of the 18 million children who did not receive a single dose of DTP during 2021, the highest numbers live in India, Nigeria, Indonesia, Ethiopia and the Philippines.
Higher-income countries saw only a slight decrease in vaccination coverage — from 95% in 2019 to 94% in 2021. But the WHO spokesperson said that "even a small decrease in vaccine coverage combined with an increased number of vaccine-preventable disease cases worldwide can open the door for outbreaks to occur anywhere".
Missed doses
The backslide in vaccine coverage has pushed the world off-track on efforts to meet global immunization goals, which include reducing the number of children who have not received any routine vaccinations by 50% by 2030. According to the WHO, nearly 25 million children missed their first measles dose in 2021, 5 million more than in 2019. Between January and April 2022, nearly 50,000 measles cases were reported worldwide — more than double the number of cases reported during the first 4 months of 2021. And in February and May, Malawi and Mozambique reported their first outbreaks of wild poliovirus in almost 30 years.
The WHO and UNICEF also found alarming drops in the number of girls receiving the vaccine against human papillomavirus, a pathogen that can lead to cervical cancer later in life.
According to the WHO, the drop in childhood immunizations is attributable, in part, to the pandemic, which has caused supply-chain disruption, diversion of resources and lockdowns, which have limited immunization services. Economic challenges have also decreased some governments' financing of routine vaccinations. Other factors, such as a rise in the number of communities affected by conflict or natural disasters, have also played a part.
There is hope that vaccination efforts can get back on track. Many countries are implementing catch-up immunization campaigns. India, for example, has intensified its Indradhanush mission, which seeks to ensure that routine immunization services reach unvaccinated and partially vaccinated children and pregnant women.
However, as countries look to rebound from the pandemic, they will probably shift resources from health care to other sectors, says Giridhar Babu, an epidemiologist at the Public Health Foundation of India, a non-profit organization in New Delhi. "The next few months should be dedicated to ensure catch-up campaigns, especially in those countries where there's a high proportion of [unvaccinated] children," he says. "Saving children's lives can't be stopped."