Hello Nature readers, would you like to get this Briefing in your inbox free every day? Sign up here
Scientists in Thailand have established that a cat passed SARS-CoV-2 to a veterinary surgeon. Given the scale of the pandemic and the close contact between cats and people, some researchers are not surprised. But establishing the direction of viral spread — from cat to person or from person to cat — is tricky. In this case, a cat belonging to a COVID-19-positive family sneezed in the face of a vet who was testing it for the disease. Such cases of cat-to-human transmission are probably rare, and researchers emphasize that people should care for their cats — and perhaps take extra precautions when handling cats that might be infected — and not abandon them.
Reference: Emerging Infectious Diseases paper
Early in the COVID-19 pandemic, before vaccines were available, the fatality rate was 2.7 times higher for 20-year-olds living in lower-income countries than for young people in rich nations. Researchers examined blood samples for signs of infection and segmented age groups to calculate the proportion of infected people who died from the disease. Despite the relative youth of populations in lower-income countries, a lack of access to health care and higher infection rates in older people raised the overall infection fatality rate to levels similar to those in older, richer countries.
Reference: BMJ Global Health paper
A small NASA-funded spacecraft called CAPSTONE launched from New Zealand on Tuesday and should reach the Moon by 13 November. CAPSTONE will study the lunar orbit where NASA plans to lodge a space station. The space station, known as Gateway, will orbit the Moon in a stable path that will make it easier for astronauts to reach more parts of its surface.
The New York Times | 5 min read
Features & opinion
Promising drugs made from antibodies have gained little traction against COVID-19, despite having saved lives. Instead, governments and drug developers threw their weight behind vaccines, which are cheaper to make and easier to dispense (antibody drugs for COVID-19 can cost thousands of dollars a dose, compared with just a few dollars for vaccines). That could be set to change: non-profit groups are hoping to support the development of antibodies as a way to prepare for future outbreaks.
"Reliance on [Russian oil] delayed a dignified, united condemnation of the invasion of Ukraine, and continues to interfere with the European Union's response," writes energy researcher Nicolas Mazzucchi. He argues that the EU must conquer its squeamishness about nuclear power and take advantage of practical, agile new nuclear technologies. For example, fast neutron reactors operate with enough energy to cause fission of many heavy atoms, potentially eliminating both nuclear waste material and reliance on uranium as the sole fuel source, he writes.
Tangled supply chains can make it difficult to enforce companies' sustainability obligations in areas ranging from modern slavery to deforestation. Nine specialists in development economics, food systems and environmental policy set out six research priorities to support corporate due-diligence policies. "Voluntary pledges by companies to free their supply chains from unethical practices have been ineffective," write the authors. "The evidence on these voluntary commitments says little about what shifts might happen under stricter mandatory measures."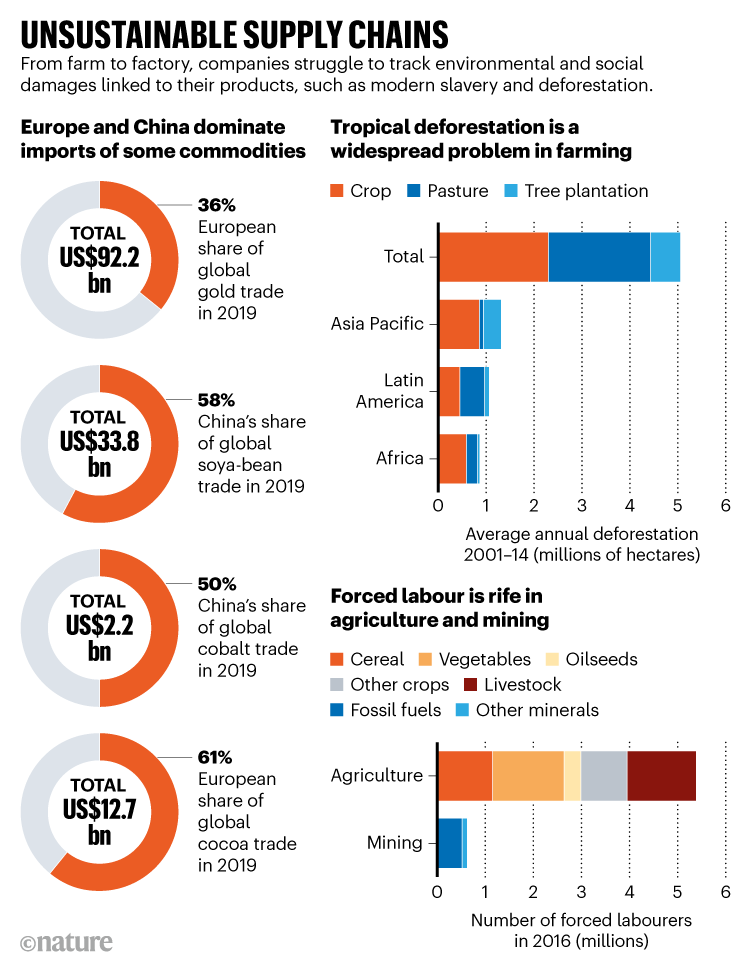 Author Annie Proulx urges us to learn to love swamps, which absorb carbon dioxide, filter pollutants and recharge aquifers. "Bogs and swamps take thousands of years to build up and develop; humans and their machinery can wipe out those centuries in a few months," writes Proulx. "But once a few interested people put on their boots and go into the damaged wetland, and once their curiosity is aroused about how the water moves, and what plants, amphibians, and birds formerly thrived in their local remnant swamp, they are hard to stop. There is unequalled joy in restoration."
Infographic of the week