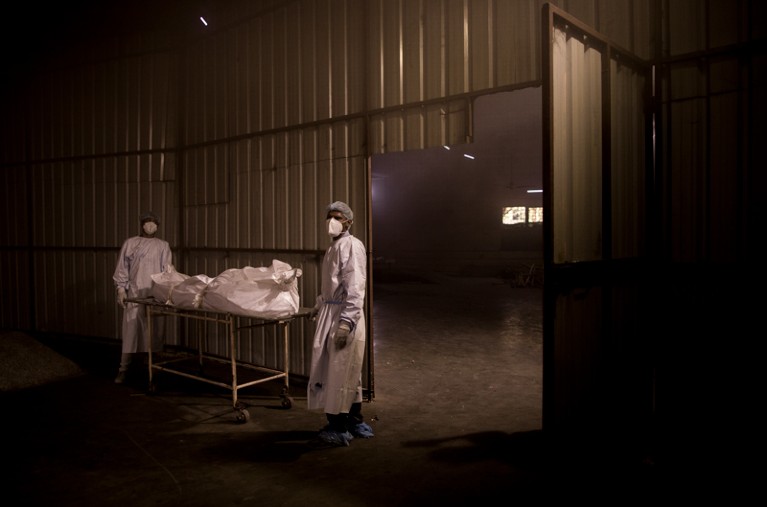 Some 15 million people died during the first two years of the COVID-19 pandemic, new figures from the World Health Organization (WHO) suggest. That's about 2.7 times the toll officially reported to the agency by individual countries. The difference is based on estimates of 'excess mortality', which include deaths missed by national reporting systems.
The figures, released today, are the latest in a series of estimates of the global pandemic death toll, which epidemiologists and public-health experts say are necessary to assess decisions taken and plan more effectively for future events.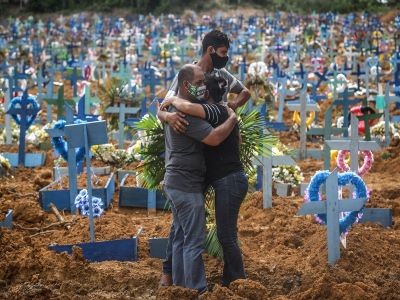 The pandemic's true death toll: millions more than official counts
"These sobering data not only point to the impact of the pandemic but also to the need for all countries to invest in more resilient health systems that can sustain essential health services during crises, including stronger health information systems," WHO director-general Tedros Adhanom Ghebreyesus said in a press statement.
The WHO's estimates of total deaths broadly agree with previous studies. Its numbers have already proved controversial, however. India has publicly disputed the organization's estimate of excess deaths there, and argued that the process is flawed.
Filling data gaps
Official pandemic death statistics are lower than excess-deaths estimates because of delayed and incomplete reporting and a lack of data in dozens of countries. To fill in these gaps, statisticians and data scientists look at overall death figures for the pandemic period and compare them with those of pre-pandemic years. Even these baseline mortality data are not available for many countries, so global estimates of excess deaths also rely on computer models to estimate COVID-19 fatalities.
The WHO's global excess-deaths estimate for 2020 and 2021 is 14.9 million (see 'COVID's true toll'). Most of these deaths (84%) are concentrated in southeast Asia, Europe and the Americas, with more than two-thirds (68%) occurring in just 10 countries.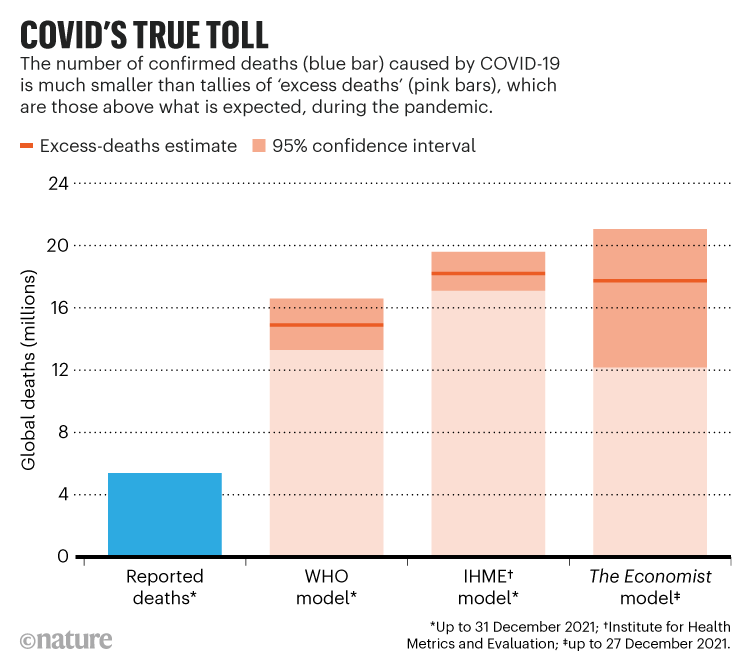 "The work by the WHO is applaudable, and I know a huge effort has gone into it. Broadly speaking, they lend credence to the estimates of the pandemic's true death toll," says Sondre Solstad, who leads modelling work at The Economist magazine in London to estimate excess pandemic deaths. The Economist estimated between 12.3 million and 21.3 million excess deaths in 2020 and 2021. A third effort, by the Institute for Health Metrics and Evaluation in Seattle, Washington, put excess deaths for the period at between 17.1 million and 19.6 million. The models use varying data sets and techniques, which produce different results.
"This model is a live model, and these are just the latest results, but we plan on updating it with more data for existing and additional countries, which will improve it," says Ariel Karlinsky, an economist at the Hebrew University of Jerusalem in Israel who worked on the WHO project.
"It's high time for reliable global, regional, national and local all-cause-mortality surveillance," Karlinsky adds. "It will help us better know the toll of other disasters and might even alert us to the next possible pandemic."
Haggling over figures
India remains a sticking point in the death figures. The WHO estimates that pandemic deaths in the country in 2020 and 2021 were between 3.3 million and 6.5 million — around 10 times India's official COVID-19 death toll of 481,000 for the same period. India shared its national data for 2020 with the WHO only on 4 May, and has been haggling over the figures for months, a source involved in the WHO work, but who wished to remain anonymous because of political sensitivity, told Nature. "They're basically trying to derail the whole thing."
In a public statement, India's Ministry of Health and Family Welfare said that it had "concerns with the methodology" of the estimates and had been in "regular and in-depth technical exchange with WHO on the issue".
Shahid Jameel, a virologist and former chair of India's COVID-19 genome-sequencing committee, says that he trusts the WHO's estimates more than the government's figures. "The ballpark figure that India has produced so far, of about 500,000, is certainly very low. Those of us who were there and who have experienced it know that it is very low," he says. "And now there are studies to support that."