Hello Nature readers, would you like to get this Briefing in your inbox free every day? Sign up here.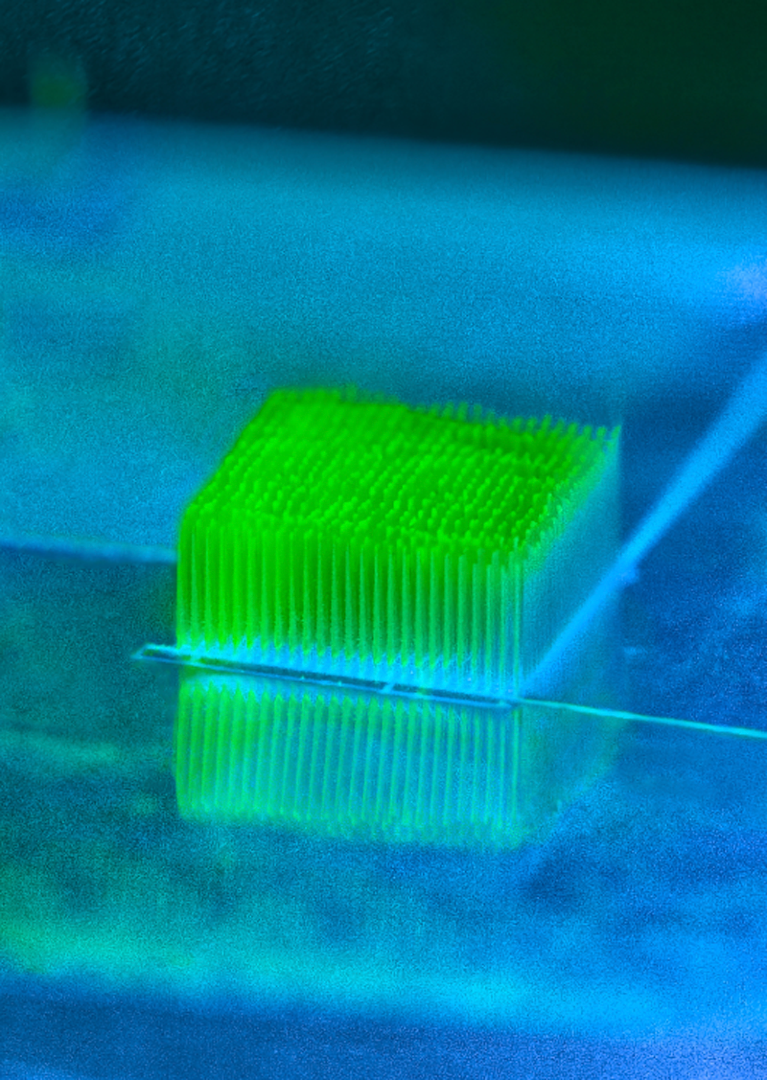 Using a 3D printer, researchers have built minuscule tower blocks for bacteria, creating a system that can generate electricity from sunlight and water. The tiny pillars — coloured green in this electron-microscopy image — are just 600 micrometres high and have a branching, densely packed structure that provides surfaces for the bacteria to grow on. They are made of metal oxide nanoparticles, so that they can act as electrodes harvesting waste electrons that the bacteria generate during photosynthesis. "The electrodes have excellent light-handling properties, like a high-rise apartment with lots of windows," says bioinorganic chemist and co-author Jenny Zhang. They "allow for a balance between lots of surface area and lots of light — like a glass skyscraper". The technique proved more efficient than other methods of producing bioenergy from photosynthesis.
See more great science images, selected by Nature's photo team.
Tropical forests have a crucial role in cooling Earth's surface by extracting carbon dioxide from the air. But only two-thirds of their cooling power comes from their ability to suck in CO2 and store it. The other one-third comes from their ability to create clouds, humidify the air and release cooling chemicals. When scientists analysed these 'biophysical' effects alongside carbon storage, they found that the world's tropical forests collectively cool the surface of the planet by around 1 °C.
Reference: Frontiers in Forests and Global Change paper
An uncrewed boat will soon begin surveying the underwater volcano Hunga Tonga–Hunga Ha'apai in the Pacific Ocean to understand exactly what happened when it erupted in January. The explosion sent a giant plume of ash into the upper atmosphere and triggered a tsunami that damaged buildings on nearby Tonga. A 12-metre-long robotic boat, Maxlimer, will map the shape of the volcano's submerged opening over several weeks. A crewed ship from New Zealand, the RV Tangaroa, will help to investigate, but for safety reasons will spend limited time over the volcano's opening.
Read more: Why the Tongan eruption will go down in the history of volcanology (Nature | 8 min read)
Features & opinion
"Japan is ageing so rapidly that if current trends continue, the nation could eventually disappear altogether", writes Jennifer Sciubba in her data-packed book 8 Billion and Counting. The twenty-first century "is less a story about exponential population growth than it is a story about differential growth — marked by a stark divide between the world's richest and poorest countries", she writes.
A controllable blob made of polymer mixed with particles of neodymium magnet could crawl around your body to engulf harmful objects, such as button batteries, that were accidentally swallowed. The prototype "magnetic turd" can also grasp and reconnect cut wires and squeeze through narrow 1.5-millimetre channels. "It's very much like mixing water with [corn] starch at home," says engineer and co-author Li Zhang. "When you touch it very quickly, it behaves like a solid. When you touch it gently and slowly, it behaves like a liquid."
Reference: Advanced Functional Materials paper
Where I work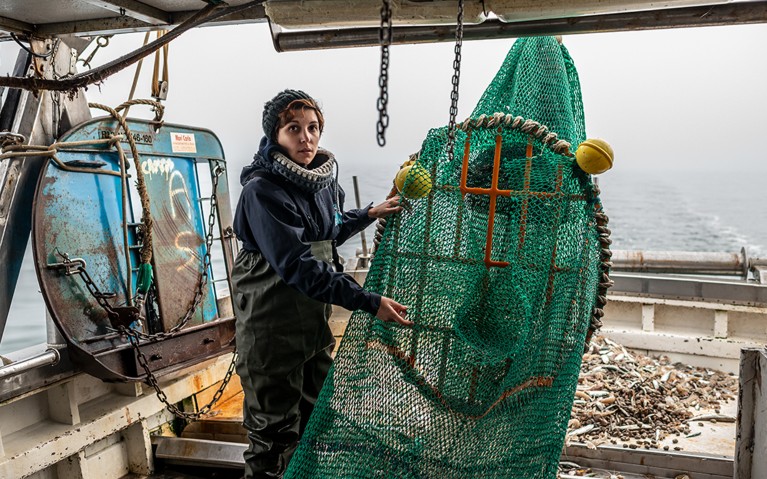 Marine biologist Laura Aiudi is working on a net that saves the lives of endangered species — but still protects the livelihood of fishermen. She holds a net designed to allow turtles to escape: it has a hole at the top they can swim out of. The net is dubbed TED — short for 'turtle excluder device'. "I love this work," says Aiudi. "I'm from a fishing family … I'm used to the smell of fish." (Nature | 3 min read)
See more shots from this story on the Nature instagram account.