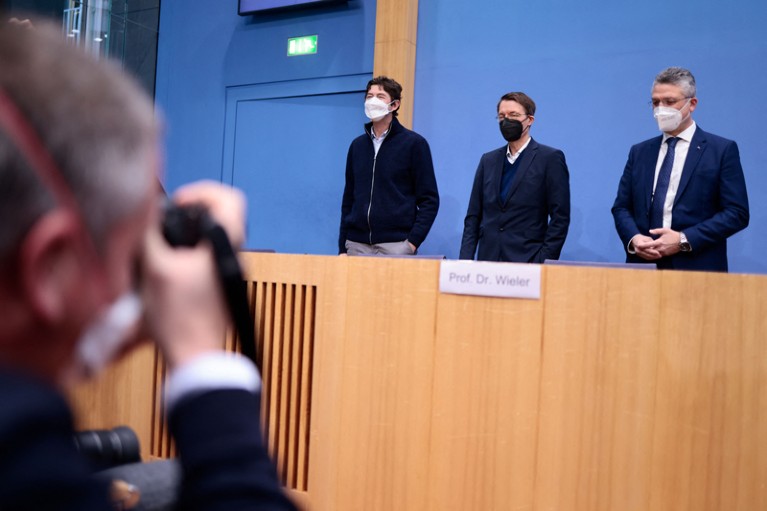 Two surveys of scientists' experiences of harassment during the pandemic, from personal insults to death threats, suggest a dispiriting, if unsurprising, trend: researchers with greater news-media prominence are more likely to be harassed.
In March, Science's news team reported that 38% of researchers who have published multiple papers on COVID-19 said they had experienced at least one type of harassment related to their COVID-19 work. "You just get overwhelmed by the hate," epidemiologist Tara Smith at Kent State University in Ohio told Science.
The results have parallels with the findings of a Nature news survey, published in October. In this survey, 81% of respondents said that they had experienced personal attacks or trolling — even if only rarely — after talking to the media about COVID-19. And 70% reported at least one kind of negative impact after speaking to the media or posting on social media, ranging from receiving physical threats to experiencing emotional distress. "It is very harrowing if every day, you open up your e-mails, your Twitter, you get the death threats," Andrew Hill, a pharmacologist at the University of Liverpool's Institute of Translational Medicine, UK, told Nature last year.
The proportions are different, but the surveys polled different groups of people. Nature aimed its survey at scientists who were likely to be prominent in the media: most of the 321 respondents said they talked to journalists at least once a month. Conversely, Science asked authors of papers on COVID-19; just over 60% of the 510 respondents said that they had received public news-media attention about matters related to COVID-19 – while 40% had none.
A further analysis of both data sets by Nature underlines that scientists with the most coverage in news media were most likely to report harassment (see 'The Media Effect').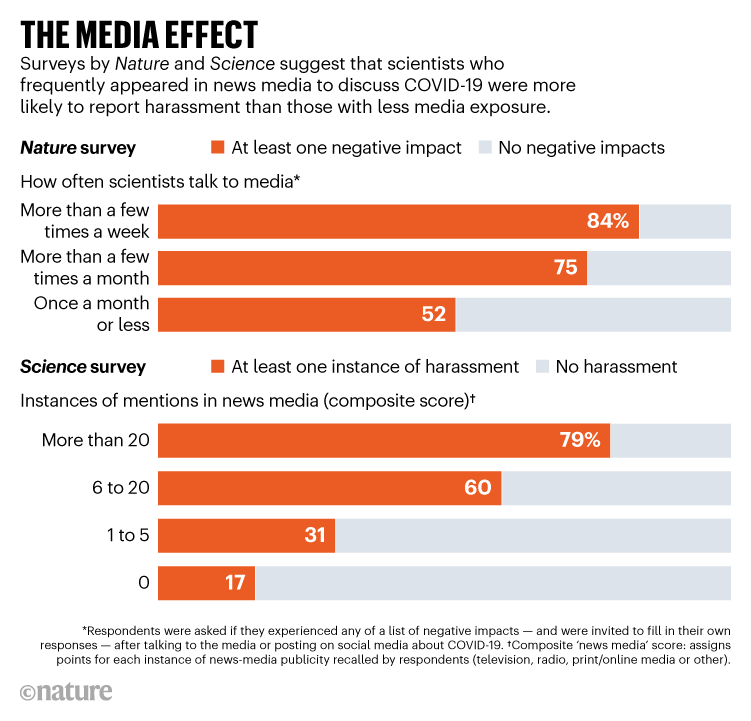 The surveys show that "scientists who do a lot of media work on the big topical stories hitting the news will almost inevitably suffer some level of harassment", says Fiona Fox, the chief executive of the Science Media Centre in London, an organization that collates scientific comment and organizes press briefings for journalists. "I know of many very good scientists who have chosen to stay out of the media fray rather than deal with this and that troubles me," she adds.
Science's report also found that a composite score of all public attention — including mentions in social media or news media, and invitations to give policy advice to public authorities, or to speak at public events — showed a high correlation (Spearman's rank, r = 0.56) with a composite score of the intensity of harassment.
However, Science's report notes that this correlation does not necessarily mean that news mentions lead to more harassment. Prominent scientists might receive both more harassment and more interview invitations, for example.
Fox adds that the high numbers are, in part, a reflection of scientists becoming bigger players in public discourse during the pandemic. "I now think the focus has to be on preparing scientists whom we ask to speak in the media for this possible outcome and supporting them such that they can manage it," she says.
The two surveys drew their samples from different sources, in different ways, and asked different questions, so can't be compared in detail, notes Kevin McConway, a statistician and emeritus researcher at the Open University, headquartered in Milton Keynes, UK.
But, he says, "I don't think they detract from the overall picture that both surveys provide: that, even though harassment of scientists is nothing new, some of the harassment and threats related to COVID-19 research have been extreme, and both surveys found an association between the amount of media involvement scientists have and the level of harassment they suffer."
"If, as seems likely to me, the results might mean that good research is not pursued for fear of the harassment consequences, or that scientists are deterred from communicating their findings, that can only be bad for science and for the public," he adds.