Hello Nature readers, would you like to get this Briefing in your inbox free every day? Sign up here.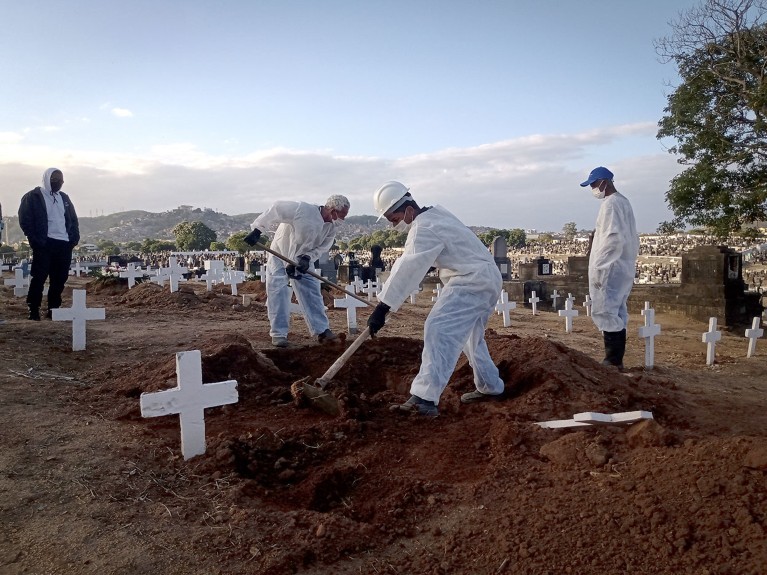 The number of people who have died because of the COVID-19 pandemic could be close to 18 million — roughly three times higher than official figures. The difference is down to significant undercounts in official statistics due to delayed and incomplete reporting and a lack of data in dozens of countries. The true toll is based on excess mortality, a comparison of the total reported deaths from all causes in a region or country with how many deaths would be expected given trends in the past few years. Such estimates include deaths from indirect causes, such as people who died because of inadequate medical care in overwhelmed hospitals.
Reference: The Lancet paper
A host of genetic variants are linked to an increased risk of developing severe COVID-19. Understanding these variants could help researchers to target new therapies for people who are very ill. The functions of implicated genes suggest two potential pathways for developing severe COVID-19:
•Some people become severely ill after their immune systems initially fail to curb the virus's reproduction
•Others might be predisposed to lung inflammation or clotting, so even relatively low levels of the virus in the body could lead to dangerous illness.
Chile's new president is ushering in what many scientists see as a new era for the country. Gabriel Boric, who is only 36, enlisted scientists in his election campaign and has given some of them top jobs in his administration. He has promised to take strong climate action, boost stagnant science funding and fight inequality. For scientists who lived through the 17-year dictatorship that followed a coup in the country in 1973, the promise of this new era is exciting — and long overdue. "Hope is the word" to describe how researchers are feeling, says neuroscientist Jacqueline Sepúlveda.
Features & opinion
From the coal-fired British steamships that invaded China in the First Opium War to the Suez Crisis, fossil fuels have been the foundation of centuries of conflicts. The necessary transition to renewable energy sources won't change the centrality of energy to geopolitics, argues political economist Helen Thompson. "Energy research — from materials science to emissions modelling to carbon pricing — that does not account for such realities can only ever give a partial picture," she writes.
The death last month of physician, medical anthropologist and activist Paul Farmer, aged 62, triggered an outpouring of grief across the global health field. He co-founded Partners In Health (PIH), a non-profit organization that provides free medical care in low-income countries, including Haiti, Peru and Rwanda. PIH stands apart from most aid organizations: it attempts not only to build clinics, but also to ensure they remain sustainable by operating within government-run services and enlisting local staff at every level. Farmer felt that health care is a human right — and was willing to 'hustle' to ensure that people got the treatment they needed. "He wasn't just a guy with a vision," says anthropologist Adia Benton. "He was brilliant."
Andrew Robinson's pick of the top five science books to read this week includes a history of probably the most expensive scientific experiment ever: ITER, a nuclear-fusion reactor being built in France. Also recommended: an olfactory overview of birds and the story of how modern neuroscience was born in Turin.
Tina Lasisi has spent more than a decade on a quest to understand the evolution of hair diversity and why hair looks and feels the way it does. In her search for the roots of hair variation, she has built a methodology for determining the curvature of hair fibres. Her work suggests that tightly curled hair protects humans from the Sun by creating air ventilation structures that allow the head to breathe while protecting against solar radiation. Through her work, Lasisi hopes to untangle the study of hair from its racialized history.
Researchers have developed an artificial intelligence (AI) that can restore and date ancient Greek inscriptions. They hope that it will help historians by speeding up the process of reconstructing damaged texts.
Nature Podcast | 28 min listen
Subscribe to the Nature Podcast on Apple Podcasts, Google Podcasts or Spotify.