Hello Nature readers, would you like to get this Briefing in your inbox free every day? Sign up here.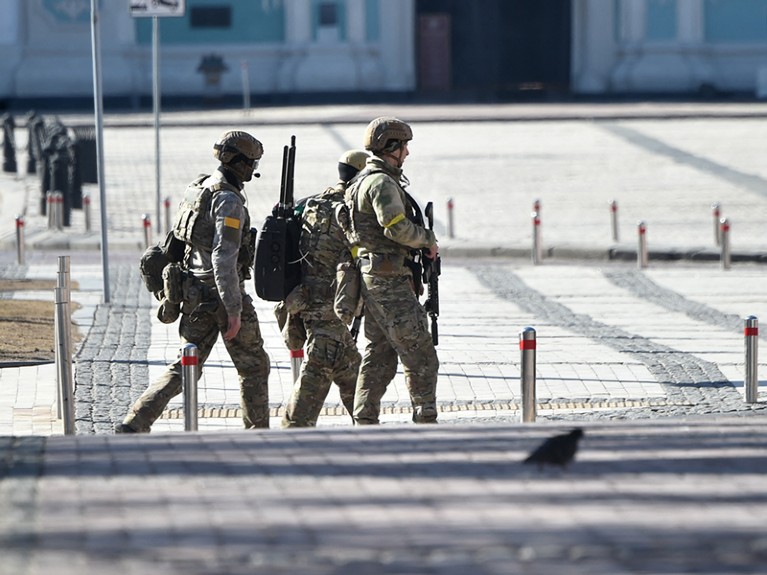 Scientists and research organizations worldwide have condemned Russia's attack on Ukraine. Some organizations have severed links with Russia — cutting off funding and ending collaborations with Russian scientists. And many national science academies and groups of researchers have issued statements sharply criticizing the conflict and supporting their Ukrainian colleagues. In Russia, more than 5,000 people, including around 85 scientists who are members of the Russian Academy of Sciences, have signed a letter denouncing the hostilities and saying that the Russian leadership has launched an unjustifiable war.
"I think it is inevitable that we will see new variants with varying degrees of immune evasion," says Andrew Rambaut, who studies viral evolution. "They could emerge from wherever there is widespread transmission." As they wait for the next SARS-CoV-2 mutant to enter the scene, scientists are studying the currently dominant Omicron variant to better predict the future. They are seeking to find out when the next variant of concern will emerge, whether it will cause severe disease and how it will fare against our arsenal of vaccines.
Tyrannosaurus rex might not have been one species, but three. Palaeontologists studying 37 T. rex specimens say there is too much variation in their 'stout build' and teeth to be a single species. Instead, they propose that fossils found in lower layers of rock are probably from a species they call Tyrannosaurus imperator, and slender-boned specimens are likely from a creature they've named Tyrannosaurus regina. The work has prompted widespread discussion, but many palaeontologists are not convinced. "I understand the temptation to divide T. rex into different species because there is some variation in the fossil bones that we have," says palaeontologist Steve Brusatte. "But ultimately, to me, this variation is very minor and not indicative of meaningful biological separation of distinct species."
Reference: Evolutionary Biology paper
Features & opinion
Hundreds of COVID-19 drug trials are underway around the world. The US National Institutes of Health (NIH) ACTIV programme has included more than 30 studies looking at possible treatments. "The next three to four months are, we hope, going to be very exciting," says Lawrence Tabak, the acting director of the NIH. Others are seeking new uses for older drugs that might be cheaper and more readily available. The ANTICOV trial is enrolling participants across 13 countries in sub-Saharan Africa to look at a range of repurposed treatments, including the anti-parasitic drug ivermectin, an inhaled steroid called budesonide and the antidepressant fluoxetine.
The latest United Nations Intergovernmental Panel on Climate Change (IPCC) report makes it clear that dangerous and unavoidable climate-change impacts are already happening. The most vulnerable countries in the global south, which bear almost none of the blame for the problem, need the support of rich countries to endure unavoidable loss and damage. They also have valuable lessons to share, writes Saleemul Huq, the director of the International Center for Climate Change and Development in Bangladesh. The country has already had to adapt by developing probably the best cyclone-warning and evacuation programme in the world. "The kind of loss of life from flooding seen in Germany and the US would not have happened in Bangladesh," says Huq. "We in Bangladesh can help other countries learn how to adapt to climate change, yet we need their help as well. Let's make this a whole-of-world effort."
Scientific American | 4 min read
Reference: IPCC Sixth Assessment Report: Impacts, Adaptation and Vulnerability
Infographic of the week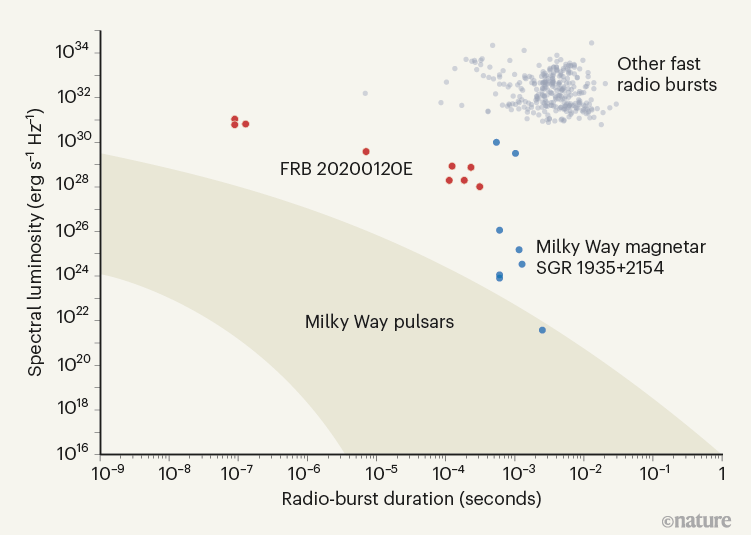 If you were to look up at the sky with radio goggles, you would notice bright flashes at random locations roughly once every minute. Over the past 15 years, astronomers have detected more than 600 sources of such radio bursts — as this graphic explains.Fast radio bursts are luminous radio emissions that typically emanate from distant galaxies but can be emitted by highly magnetized neutron stars called magnetars. The bursts are also commonly observed from less-magnetized neutron stars, known as pulsars, in and around the Milky Way. The shaded region defines the range of luminosities and durations of radio bursts from these pulsars. Only one Milky Way magnetar, called SGR 1935+2154, has been seen to emit fast radio bursts (blue dots) similar to those from other galaxies.
A paper in Nature reports the unusual location of a relatively nearby source of fast radio bursts, known as FRB 20200120E, and a paper in Nature Astronomy shows that some of its emissions were just tens of nanoseconds long (red dots). Although the spectral luminosities of the FRB 20200120E emissions are similar to those of fast radio bursts, the durations are more like those of some pulsars. A News & Views article explains more about these discoveries.
See more of the week's key infographics, selected by Nature's news and art teams.
Nature News & Views | 8 min read, Nature paywall
News & Views are available to readers with subscriber access to Nature. Get help logging in with your institution's subscription.