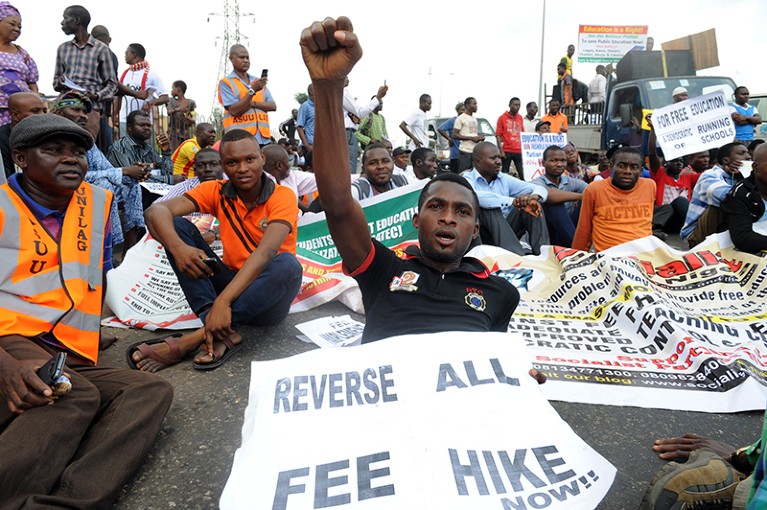 Teaching and research are at a standstill across Nigeria's public universities as thousands of academics are in the middle of a one-month strike over pay and lack of funding for research infrastructure.
Academic strikes in the country are not uncommon — lecturers have gone on strikes more than a dozen times since 1999. But the Academic Staff Union of Universities, the Nigerian body representing lecturers and professors, says that this time its members are going on strike to force the government to implement a 2009 agreement in which the government said it would fund higher salaries, provide compensation for unpaid work (such as reviewing grants or external examination) and invest in Nigeria's public universities. The median monthly salary for lecturers ranges between $330 for an entry-level assistant lecturer and $1200 for a more experienced professor.
A government spokesperson says they are committed to implementing the agreement. The two sides are in talks to try to resolve the dispute. If they cannot, the union plans to go on indefinite strike.
Nature spoke to Oyewale Tomori, virologist, fellow of the Nigerian Academy of Science and chair of the government's COVID-19 advisory committee about the wider impact on research in Nigeria and the world.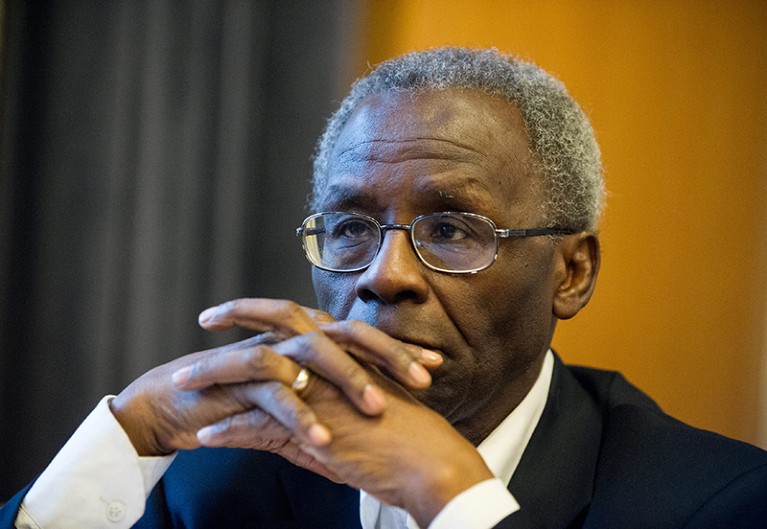 What led to this?
For more than two decades, Nigeria's government has made promises and reached agreements with university lecturers, which include revitalizing public universities and improving remuneration for researchers — but these weren't fulfilled. That's the primary reason for the nationwide strikes. The government often meets with lecturers and makes certain promises to them, but they renege on those agreements, or implement them only halfway. That's why the strikes have persisted for many years.
How are strikes affecting research?
Nothing functions when the universities are on strike. If an international collaborator had an agreement with a scientist doing research in Nigeria, and they fail to deliver results because the university is on strike, it will disrupt the programme or project because research grants have a time limit. So, when our university system goes haywire, researchers can't go to their laboratories or access their funds — and that means they can't buy reagents and work, or attend scientific conferences. Equipment that requires constant servicing and maintenance suffers damages. And in an ongoing study that, for example, requires samples to be collected from a group of people, but the samples can't be collected for six months because of strikes, then that's the end of the experiment. Those are ways that the strikes have been affecting scientists. They're taking us steps backwards!
What's the impact on students?
A student on a four-year course could end up staying in university for six years or longer. Some don't know when they're going to finish. There's no worse impact than this, in my opinion. I know a family with a child who started university here in Nigeria but who later spent several months out of university because of strikes. The family had a younger child whom they sent abroad because the system here is not functioning. The younger one graduated before the one who started in Nigeria.
We've had students who, after finally graduating from public universities in Nigeria, go abroad for postgraduate studies and get asked about the years they missed in school. It's embarrassing for these students to say that their university in Nigeria was on strike. How will they be looked at? In other parts of the world, when students take time off school, they go do company internships. Nigerian public universities go on strike, and the students have to sit at home doing nothing — and that's sad.
How can this issue be resolved properly so strikes do not reoccur?
The government should fulfil whatever agreements they have reached with the university lecturers. At the same time, lecturers must be transparent and accountable to the university system. Some researchers get awarded grants by the government, but they fail to submit their reports, even after ten years. So, both sides must be transparent and accountable — the government should fulfil its commitments, and scientists must abide by the tenets of integrity that they are asking the government to follow. It's as simple as that: there should be integrity, transparency and accountability on both sides. If the government fulfils it promises, strikes won't be as frequent. And if they create an environment with infrastructure for science to thrive, researchers won't have time for strikes; they won't want to disrupt the good work they are doing.
Are you worried that things might get worse?
I am very worried. Our government doesn't seem to care about science and research or about fulfilling its promises. So I fear that things will get worse. To expect any change immediately is a dream. I don't think it will get better soon.