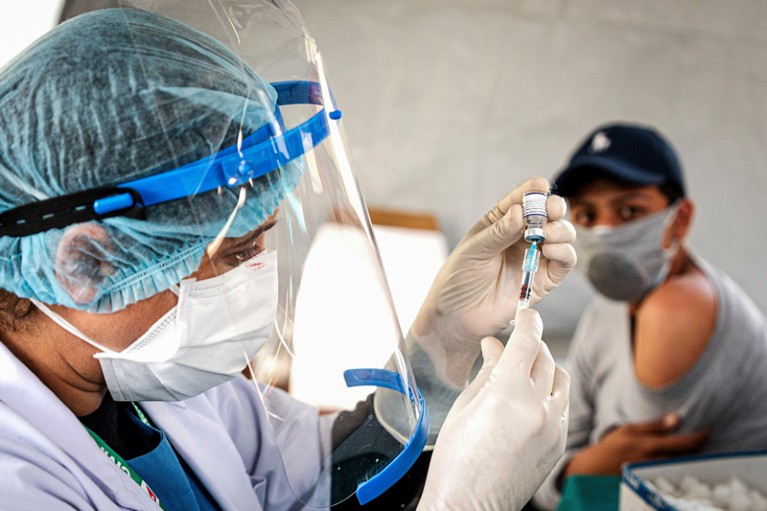 COVID-19 vaccine hesitancy has long been recognized as a problem in high- and middle-income nations. But in some of the world's poorest countries, lack of access to vaccines has been a much bigger hurdle. Now researchers say that as doses are trickling in, resistance to getting vaccinated is also emerging as a major issue in those nations.
Scientists fear that persistent pools of unvaccinated people around the world will present a greater risk for the emergence of new variants of concern, such as Omicron. "When you have a lot of community transmission, that's where variants will emerge," says Jeffrey Lazarus, a global health researcher at the Barcelona Institute for Global Health, Spain. Addressing people's hesitancy is therefore crucial, to curb viral spread and to avert hospitalizations and deaths, he says.
Scientists report that hesitancy might now be contributing to the slow uptake of vaccines in some nations where large proportions of the populations remain unvaccinated. These include South Africa — one of the nations where Omicron was first detected — Tanzania, the Democratic Republic of the Congo (DRC), Papua New Guinea and Nepal.
"We have more hesitant people in the global south than we ever thought we did," says Rupali Limaye, a behavioural scientist at Johns Hopkins Bloomberg School of Public Health in Baltimore, Maryland. Although in many countries, limited supply is still the main problem, say researchers.
Adequate doses?
Until late October, the problem in many African nations "was that we just didn't have enough doses", says Salim Abdool Karim, director of the Centre for the AIDS Programme of Research in South Africa (CAPRISA) in Durban. "But we now have adequate amounts of vaccines in most countries," he says. According to the Africa Centres for Disease Control and Prevention, just 64% of the vaccines supplied to the continent have so far been administered.
In South Africa, for example, the number of doses administered each week has fallen to less than one-quarter of doses given at the peak of the vaccination drive in September. This is despite only 44% of adults having been vaccinated with at least one dose.
The calls on social media for more doses from Western countries are perplexing, says Espoir Malembaka, an epidemiologist at the Johns Hopkins Bloomberg School of Public Health, who is based in Bukavu, DRC. Four types of vaccine are now available in eastern DRC, "but we don't see people really in a rush to get the vaccine", except for travellers getting ready to board flights, says Malembaka. He believes that the problem is not access to, but mistrust of, the vaccines.
Researchers say that countries might be struggling to get vaccines into arms for many reasons — some of which have nothing to with hesitancy — including poorly funded health-care systems, the fact that doses are often close to their expiry dates and logistical issues getting vaccines to remote regions. But people's delay or refusal to get vaccinated is also part of the puzzle.
Global hesitancy
Studies have attempted to estimate the extent of hesitancy worldwide. One survey1 of nearly 45,000 participants in 12 countries — conducted before COVID-19 vaccines started being rolled out, and published in July — found that hesitancy was lower in the 10 low- and middle-income nations than in Russia and the United States. But researchers say that the situation has changed throughout the pandemic. In Nepal, for example, where the study found acceptance was highest (97%), the pace of vaccination has slowed, despite only 40% of adults having received one dose.
Another survey2 of almost 27,000 people in 32 countries conducted from October to December 2020 found that people's intentions varied considerably, with high levels of hesitancy in some developing nations. At the extreme, 43% of respondents in Lebanon said they definitely would not be vaccinated.
Another survey of a few thousand people observed even lower acceptance in Papua New Guinea, where only 3% of people have been vaccinated. Researchers found that more than 80% were not planning on getting vaccinated or were uncertain.
Similar but different
Some reasons for hesitancy are shared globally, but there are also local differences. A major concern is safety, especially because the vaccines were developed and delivered rapidly and the recommendations for their use have often changed, say researchers.
Trust in governments is a related concern. The 32-country survey found that a belief that a government was handling the pandemic well was associated with higher acceptance of vaccines. Another analysis3 found that increased trust in medical and scientific authorities made people more likely to agree to vaccination.
The spread of inaccurate information has also hampered roll-outs in some developing nations. "Misinformation in many places is outpacing evidence-based information," says Limaye.
But local differences also influence people's views. In the eastern DRC, for example, decades of war and devastating Ebola outbreaks have fuelled distrust in the leadership and in products from the West, says Malembaka. He also found, in a recent unpublished survey, that COVID-19 vaccine hesitancy might have spilled over to affect people's willingness to accept other vaccines.
Global vaccine inequity might have also contributed to hesitancy, because of "how we're distributing vaccines to the global south", says Limaye. "It's sort of like — here's our leftovers, they expire in a week."
The long wait for doses could have encouraged hesitancy, adds Kaushik Ramaiya, a physician-researcher and chief executive of Shree Hindu Mandal Hospital in Dar es Salaam, Tanzania. People start to wonder if they even need to be vaccinated if they have so far avoided becoming infected, says Ramaiya.
Vaccine appeal
There are ways to overcome hesitancy, say researchers. Abdool Karim argues that South Africa has hit the point at which people need incentives or even government mandates to get vaccinated.
In a recent unpublished survey of people in a number of countries, Lazarus and his colleagues found that mandates — such as requiring vaccination to travel by air or attend a workplace — could help to sway decisions. It found that, among people who were hesitant about COVID-19 vaccines, one-third said they would get vaccinated if they had to so that they could travel internationally.
Patrick Mdletshe, who heads the community programmes at CAPRISA, says the South African government should take lessons from HIV epidemic and engage directly with communities to persuade them, instead of investing in mass-media campaigns.
Opportunities to be vaccinated should also be integrated into existing services for the treatment and prevention of other infectious diseases, such as tuberculosis screening or distribution of HIV medications, which are accessible and familiar to people. "COVID-19 mustn't be a stand-alone issue," he says.