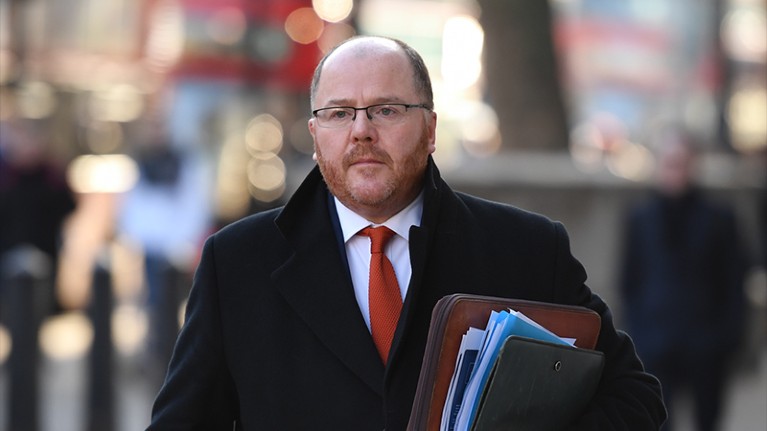 The United Kingdom has a new science minister — its ninth since 2010, following a reshuffle of Prime Minister Boris Johnson's cabinet. George Freeman, a former investor in life-sciences companies, takes the role at a time when the coronavirus pandemic has renewed focus on research. But there are concerns that the Conservative government's ambitious target for research spending will not be met. The United Kingdom's relationship with Europe is also likely to influence the minister's agenda.
Freeman has been a Conservative Member of Parliament since 2010 and has previously served as a government life-sciences adviser and as transport minister. He takes over his latest role — a junior ministerial job — from Amanda Solloway, who was appointed in early 2020.
His background, as a minister and a biotechnology venture capitalist, makes Freeman a relatively popular choice for some researchers. "I think it's a good appointment," says James Wilsdon, who studies research policy at the University of Sheffield, UK. "It's great to have someone in the role who understands the research and innovation system." Kieron Flanagan, who studies science and technology policy at the University of Manchester, UK, agrees. "I think most scientists will be happy to have an enthusiast who values science for its commercial and economic potential," he says.
Scientists will be watching closely how Freeman plans to achieve the United Kingdom's bold funding target for research: the government wants Britain to regain its 'scientific superpower' status and has committed to increasing public and private research and development (R&D) investment to 2.4% of gross domestic product (GDP) by 2027. An interim target aims to raise government research spending to £22 billion (US$30 billion) by 2024–25.
But progress towards both has stalled. Currently, research investment is at 1.74% of GDP and the government is spending £14.9 billion on research for 2021–22. "I'm pessimistic about the 2.4% target," says Nick Hillman, director of the Higher Education Policy Institute in Oxford, UK. "We need a bolder road map for getting there."
Funding negotiations
The reshuffle comes less than two months before the government's spending review on 27 October, before which ministers must vie for funding for their departments. Freeman will have a short window to fight his corner to boost UK R&D. Even though departments will have already made bids for funding, "the serious negotiations will be happening over the next few weeks", says David Willetts, a Conservative politician who was science minister from 2010 to 2014. "It is a challenge because Britain has been stuck on 1.7% for a long time."
Freeman will also have to work with the newly created Office for Science and Technology Strategy, headed by the prime minister's chief scientific adviser, Patrick Vallance. But the exact responsibilities of the two roles are unclear. The office's creation "raises significant questions" about who will lead the push for increased R&D in the United Kingdom, says Wilsdon.
Brexit-related issues, too, will be high on the science minister's agenda — including the possibility of deregulating certain areas, such as gene editing, in an effort to bolster UK scientific research. "There's clearly a pro-Brexit deregulatory agenda," says Wilsdon. "The problem, of course, is if we diverge too rapidly from European norms, we run into problems in terms of collaboration and co-funding."
The United Kingdom and European Union have yet to work out how those collaborations will operate; the country has yet to formalize its involvement with the bloc's flagship funding programme, Horizon Europe, which awards billions of euros in research funding. "Our participation in European research programmes was agreed in principle" in December 2020, says Sarah Main, executive director of the Campaign for Science and Engineering in London. "But the UK and EU still haven't formally signed that agreement."