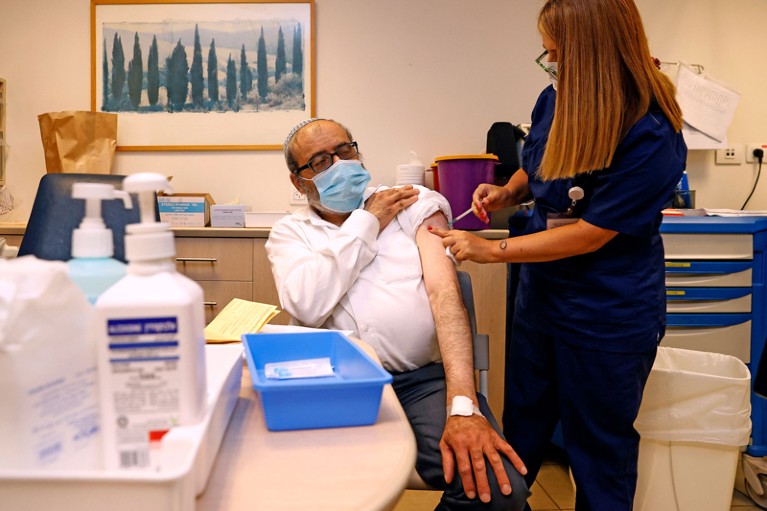 Many vaccines have been shown to provide strong protection against COVID-19. Now, growing evidence finds that they also substantially reduce the risk of passing on the virus SARS-CoV-2 — crucial information for governments making decisions about how best to control the pandemic.
However, the studies were done before the highly transmissible Delta variant became prevalent — and scientists say it might be more easily spread by vaccinated people than are earlier variants.
Two studies1,2 from Israel, posted as preprints on 16 July, find that two doses of the vaccine made by pharmaceutical company Pfizer, based in New York City, and biotechnology company BioNTech, based in Mainz, Germany, are 81% effective at preventing SARS-CoV-2 infections. And vaccinated people who do get infected are up to 78% less likely to spread the virus to household members than are unvaccinated people. Overall, this adds up to very high protection against transmission, say researchers.
The studies reflect population-level trends, say researchers. "It's good news," says Natalie Dean, a biostatistician at Emory University in Atlanta, Georgia. "But it's not quite good enough," she notes, because it means that vaccinated people can still occasionally spread the infection.
And the highly transmissible Delta variant is a major source of uncertainty. The Israeli studies and others are based on the circulation of earlier variants, in particular Alpha, but research suggests that vaccines offer slightly reduced protection against Delta.
Robust estimates
The studies "help us understand why cases were falling in most highly vaccinated populations before the emergence of the Delta variant", says Marm Kilpatrick, an infectious-disease researcher at the University of California, Santa Cruz. "If that variant hadn't arisen and spread, it's likely that case burdens would be very, very low in many countries" with high rates of vaccination, he says.
The studies provide robust estimates for various aspects of transmission that had previously been inferred through multiple studies, says Kilpatrick.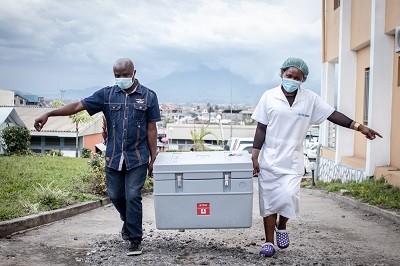 Six months of COVID vaccines: what 1.7 billion doses have taught scientists
The first study1, co-authored by researchers in Israel and France, looked at transmission in 210 households of infected people who worked at the Sheba Medical Center near Tel Aviv, which is Israel's largest hospital. The data come from between December 2020 and April 2021 — a time when a massive vaccination drive in Israel was competing with a surge in cases driven by Alpha.
The second study2, co-authored by researchers in Israel and the United States, was based on a retrospective analysis of data from about 66,000 multiperson households with at least one infected member, collected by Maccabi Healthcare Services, a large health-care provider based in Tel Aviv, Israel, between June 2020 and March 2021.
Both studies found that two doses of the Pfizer–BioNTech vaccine were 81% effective at preventing infections. Those who did get infected were also less likely to pass the infection to household members than were unvaccinated individuals.
The first study saw a drop of 78%, and the second 41%, in infectiousness — with the large difference in numbers perhaps explained by the fact that the estimates are based on a very small number of vaccinated people who were infected and then infected others.
Reduce infectiousness
Nevertheless, "both papers provide good evidence of a substantial reduction in infectiousness", says Elizabeth Halloran, a biostatistician at the Fred Hutchinson Cancer Research Center in Seattle, Washington.
And whereas the studies provide an insight into transmission within households, the protection could be even higher outside the home, where people might be exposed to smaller doses of virus, notes Kilpatrick.
Although most of the benefit is because vaccines prevent infection in the first place, "the fact that they also reduce the infectiousness of breakthrough cases is important and reassuring", says Virginia Pitzer, an infectious-diseases modeller at Yale School of Public Health in New Haven, Connecticut, and co-author of one of the Israel studies2.
The results correspond well with studies conducted elsewhere. One analysis3 of some 365,000 households in the United Kingdom, published on 23 June, estimated that individuals infected with SARS-CoV-2 were 40–50% less likely to spread the infection if they had received at least one dose of the Pfizer–BioNTech vaccine or that developed by the University of Oxford, UK, and pharmaceutical company AstraZeneca, based in Cambridge, UK, at least three weeks previously
A study4 from Finland, posted as a preprint on 10 July, found that spouses of infected health-care workers who had received a single dose of the Pfizer–BioNTech vaccine or that produced by Moderna in Cambridge, Massachusetts, were 43% less likely to get infected than were spouses of unvaccinated health workers.
Confounding factor of Delta
But studies on Alpha and other variants cannot be easily generalized to Delta, says Steven Riley, an infectious-diseases researcher at Imperial College London.
So far, there are no published data on how vaccines affect infections and infectiousness with Delta, but a UK study5 published on 21 July shows that the Pfizer–BioNTech and Oxford–AstraZeneca vaccines both protect slightly less well against symptomatic disease caused by Delta than against that caused by Alpha. This could also mean a drop in how well they protect against transmission of Delta, but there is still a lot of uncertainty, says Dean.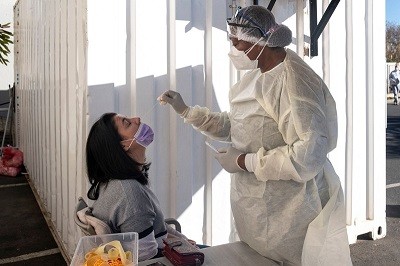 COVID vaccines to reach poorest countries in 2023 — despite recent pledges
Unpublished preliminary data from Israel's Ministry of Health show that Delta could chip away at some of the reduction in transmission provided by the Pfizer–BioNTech vaccine. And case numbers have risen sharply in Israel following Delta's arrival, despite more than 60% of the population being fully vaccinated. This hints at what might happen elsewhere, say researchers.
Even if vaccines are just as effective at preventing infections with Delta as with earlier variants, if Delta is more infectious, transmission in households could still increase, says Dean.
A study6 from China, posted as a preprint on 12 July, found that the concentration of viral particles — a proxy for infectiousness — in people infected with Delta was roughly 1,000 times that in people infected with the original strain of SARS-CoV-2.
Delta's increased infectiousness could mean that the proportion of people in a population who need to be vaccinated to bring the pandemic under control will be larger than would have been required with earlier variants.