Pandemic pressures made parents consider quitting academia
The stress of balancing work and home life during the COVID-19 pandemic has left many medical scientists with children questioning their future careers, and women are the hardest hit, according to a survey at a US university.
The study, published on 15 June in JAMA Network Open, concluded that an increase in reported work–life stress since the start of the pandemic "may disproportionately decrease the long-term retention and promotion of junior and midcareer women faculty"1.
Last September, Susan Matulevicius, the assistant dean for faculty wellness at the University of Texas Southwestern Medical Center in Dallas, and her colleagues sent a survey about work–life balance to the more than 3,000 members of academic staff in the university's faculty of medicine. Just over one-third responded.
The survey asked about two periods of time: one before the pandemic, from March 2019 to March 2020, and one more recent, from March to September 2020. Questions included whether staff had considered leaving the institution, whether they had considered reducing their hours and whether they had turned down promotion opportunities because of problems with work–life balance. The survey also collected data about respondents' gender and race, whether they had children living with them and their academic rank.
The proportion of respondents considering leaving the university rose by 9 percentage points to 23% between the pre- and post-pandemic time periods, suggesting that the pandemic has caused stress for all staff members (see 'Pandemic pressures'). But women were almost twice as likely to have considered leaving the university since the pandemic started compared with before it began.
Women were also more likely than men to have considered leaving their job or reducing their hours since the pandemic hit. For the March to September 2020 period, the proportion of women who said they had considered turning down leadership roles was double that of men. For both periods, working parents of both genders were more likely to have declined leadership opportunities than were those without children.
"We know that working parents, and women especially, have been hit hard by the pandemic regardless of their profession and regardless of their institution," says Matulevicius. "Medicine in particular as a discipline feels this stress acutely."
She says that, as a result of the findings, the department is working on a flexible work policy and has already introduced remote working, focus groups to provide an opportunity for those with children to share their concerns with senior members of staff, and support groups for caregivers.
Stress of caring
The survey adds to emerging evidence about how the pandemic has affected the careers of researchers with children. In April, the results of a similar survey of around 5,000 members of staff in the University of Utah's academic health-care system — including researchers, medics and support staff — found that the stress of caring for children during the pandemic left many women considering leaving their jobs or reducing their hours2.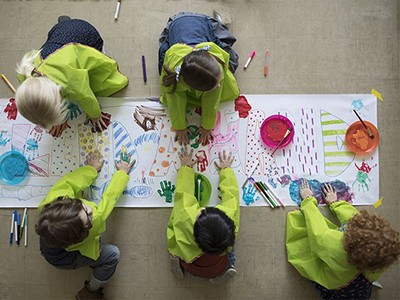 How conferences are getting better at accommodating child-caring scientists
The findings from staff members at the University of Texas might not paint the whole picture. Matulevicius and her colleagues note that the study was small, relied on voluntary responses and has limitations that could lead to bias. Respondents gauged their own stress levels pre- and post-pandemic, and no data were collected about why people were thinking of leaving, or any other factors that might have contributed to their deliberations. Virginia Valian, a psychologist at the City University of New York, adds that, despite the limitations, the research is solid. "It allows us to see where there are problems and move on to solutions," she says.
Sophie Acton, a cancer immunologist at University College London whose own research (pre-pandemic) found that female scientists get less money and fewer staff to start their own laboratories than men do, says that the study highlights a problem that is likely to be seen around the world. "Women have borne a greater share of the stress over the last year," she says. "My feeling is that this is primarily due to taking on greater than a 50% share of childcare, home-schooling or other household needs," she adds.
Previous research has also found that despite a surge in the number of papers being published across all subjects since the start of the pandemic, the growth in submissions to scientific journals by women has trailed that of men.
The pandemic has worsened and intensified the existing "fault lines" in academia, says Valian. "The problem is multifaceted — gender has effects above and beyond motherhood."
doi: https://doi.org/10.1038/d41586-021-01761-x
References
1.

Matulevicius, S. A., Kho, K. A., Reisch, J. & Yin, H. JAMA Netw. Open 4, e2113539 (2021).

2.

Delaney, R. K. et al. JAMA Netw. Open 4, e213997 (2021).