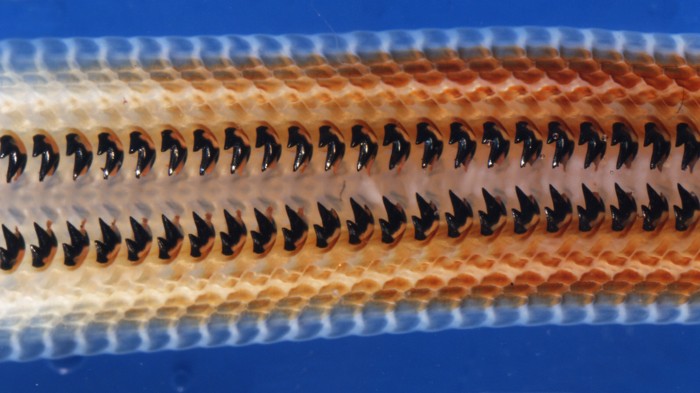 Biomaterials
The surprise hidden in the teeth of the 'wandering meatloaf'
The discovery of a rare iron mineral in the teeth of an alga-eating marine creature has inspired inks for 3D-printing strong, lightweight materials.
The coast-dwelling mollusc Cryptochiton stelleri has been dubbed the wandering meatloaf because of its large, oval, reddish-brown body, which can reach more than 30 centimetres long. However, the mollusc's modest exterior conceals several dozen rows of sharp teeth, which are among the hardest organic objects known in nature. The mollusc feeds by scraping these teeth along rocks covered in algae.
Derk Joester at Northwestern University in Evanston, Illinois, and his colleagues analysed C. stelleri teeth using a range of advanced imaging techniques. Unexpectedly, they detected nanoparticles of santabarbaraite, an iron mineral that had previously been observed only in rocks. The researchers suggest that these particles could toughen the teeth without adding much weight.
The team then designed 3D-printing inks inspired by the composition of C. stelleri teeth. They used these inks to make strong, lightweight materials that vary in hardness and stiffness and might find applications in fields such as soft robotics.